Pinkish-yellow color-dotted clouds fill the sky and that familiar feeling of adventure fills my heart. Reflections of these cotton candy clouds catch my eye in the ponds of over-watered rice paddy's through the oval window of the aircraft.  I am seated in the front row of the plane, a first, and I've been sharing warm smiles and waves with the flight staff. I realize that for once I will be able to unfasten my seatbelt and immediately disembark the plane upon landing and taxing into the gate. And with this, Cambodia welcomes me with one of the shortest transitional flights in BLMSD history; 30 minutes.
Cotton Candy Clouds On Arrival to Siem Reap
The owner of the bnb I'm staying at works nearby the airport and has offered to pick me up and take me to the property. I offer to cover the petrol as a thank you. The ride over is a hilarious sight; him with my 10-pound backpack on his front and me on the back of the bike with my 60L pack strapped to my back. We pass glamorous hotels and lit up night markets, heaps of trash and plenty of pedestrians daring to cross the busy roads. Massive trucks transporting cement to new developments block the roads, but kick up clouds of smoke as they slowly grind their wheels to move again. A family of three pull up on a motorbike next to us and come to a stop. I giggle and wave at the little boy sitting between his mother and father staring wide-eyed at the size of my pack with his mouth gaping. He points while trying to get his mothers attention, but we take off by the time he brings his attention back to the sight which initially entertained him.
I'm feeling a sense of calm to be in yet another new place. Being back on the road stirs a mixture of emotions; excitement, per usual, leading the pack. Completing my two-month residency (that was honestly more like an internship) in the south of Thailand, I'm elated at the thought of stepping foot in Angkor Wat and learning more about the culture and history of this county I've longed to witness over half of my life. My host assists me in lining up a tuk-tuk to take me to the National Museum so that I can educate myself about the ancient temple city ahead of my scheduled visit in a few days. I suppose I could have read more about it before coming to the country, but there simply wasn't time not to mention I enjoy learning about a new culture when I arrive; I like to allow it to introduce itself to me slowly and without prejudice.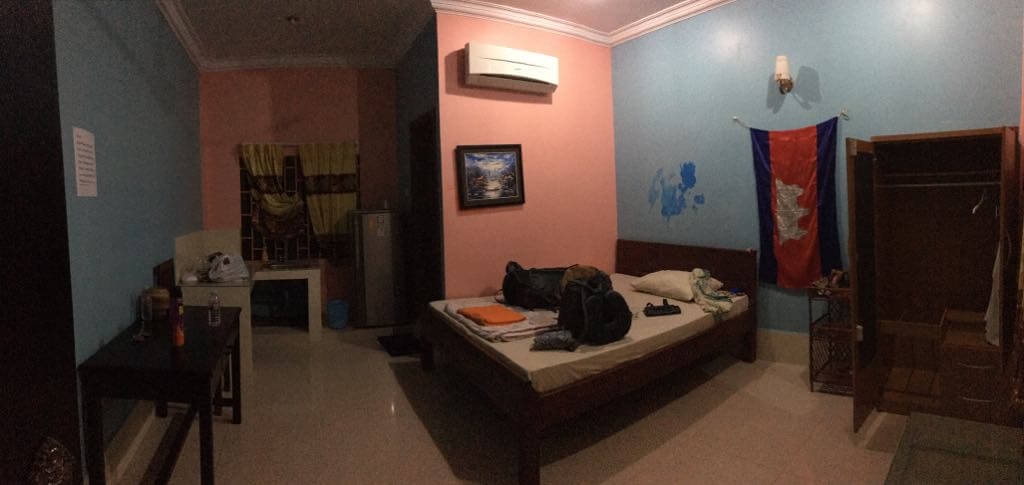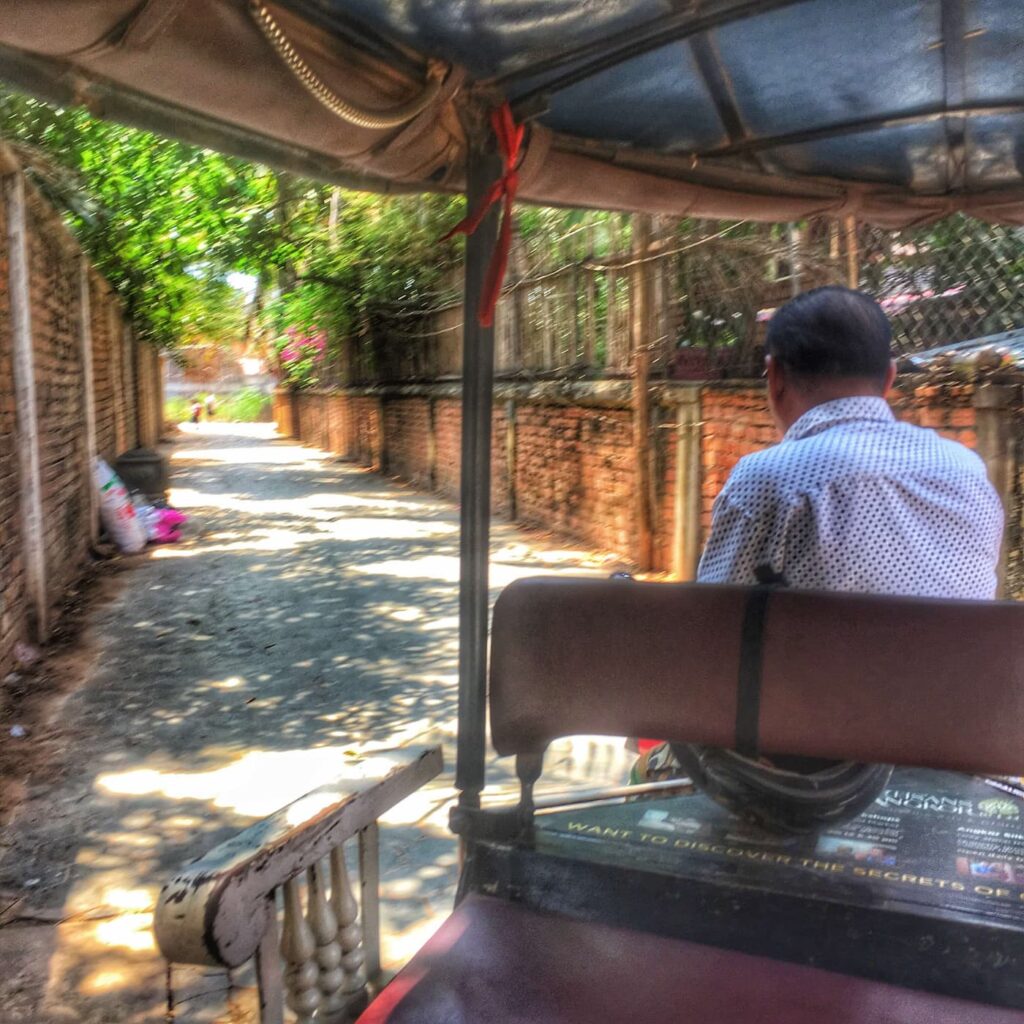 I rush to plug in my laptop to charge when I get in; paying work to get done. After a few solid hours of researching and writing about a topic that I care not for, anti-scratch lenses, I receive an invitation from my host to join him at the local markets for dinner. The markets are stalls set up on either side of one long road selling food, clothing and soft furnishings. We weave through the congestion on his motorbike before finding an empty food stall to occupy. The tables and stools are made of plastic, low to the ground and remind me of the kiddie tables at a backyard bbq, making it comical for me to try and squat down far enough to take a seat. The colors of the plastic table coverings are saturated shades of red, gold or blue and are poorly lit by hanging, fluorescent lights. We order two pork pancakes, two pepper boiled eggs and a bowl of fish and lemongrass soup.
The pancakes are thin like a crepe on the edges, but are thick and stuffed with bean sprouts and pork in the center. They're meant to be consumed by wrapping bits of it inside a piece of lettuce then dipped into one of three sauces served on the side. The soup is rich in flavor and features rice noodles and moderate chunks of fish; which kind, I know not. The soup is lukewarm at best, but intoxicates me with the freshness of the ingredients and garnish flooding my olfactory as lean over the bowl. Though the soup was divine, it was the pepper boiled eggs that were the champion of my food-filled evening. A small hole is poked in the bottom of a raw egg, the innards are drained, whisked with salt and pepper then slowly sifted back inside the eggshell and then finally, hard boiled. When cracked open, the egg white is clouded with the darkness of the pepper and the flavor is enhanced when dipped into the black pepper (from a region known as Kampot) drowned in lime juice with a tad of vinegar that is served with each order.
Local Night Markets in Siem Reap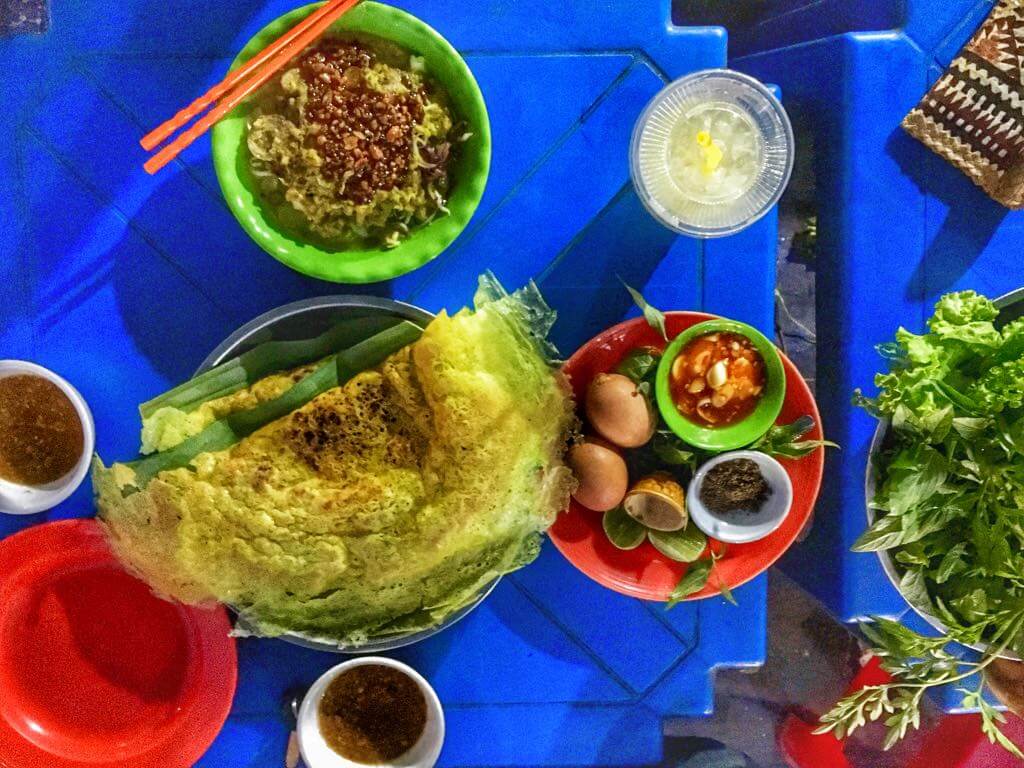 The morning comes quickly, mostly because I'm half awake already, but also because the sky has opened up and dumped half of the Gulf of Thailand on the dusty rooftops of this city I'm told is named for the defeat of that very country; Siam (Thailand) defeated. The sound on the tin roof is thunderous and the lightening serves as enough natural light in my studio space to navigate to and from without running into anything. The weather has been beautiful for days, but this morning, well… Siri has been warning me of rain for a week, but so far not a drop. No matter, it suites the day; the Spring equinox. The first of spring serving as a springboard to the next season, the next chapter of my nomadic life. A dramatic decision that has led me to the gates of Angkor Wat, the ancient Khmer city of temples, to watch the sunrise and learn more about this once fierce empire of the East.
The rain has made things sloppy, but has brought the temperature down ever so slightly. It aids the humidity, however, making things extra sticky. Not so welcomed when having to be fully covered in order to visit these temples with respect to cultural expectations. Joining my explorations today are two friends in town for a handful of days on their own journey through Asia. I relish the opportunity to speak English, quickly and using slang terminology, but mostly the chance to share this experience with others. Traveling as a solo female can be more lonely than most would assume and I'm quite fond of the concept, the more the merrier, when the opportunity presents itself. Connections being the backbone of human nature I'm enchanted to connect with these antediluvian structures where archaic royalty stood giving praise to their deity. Spring hangs on the dank air, fresh rainfall drips from the edges of my umbrella and onto my white pants as we leap from cobblestone to cobblestone avoiding puddles as we go. My sense of adventure is heightened by the details etched into these walls that tell the stories of what was. I liken the notion to my own quest to travel, write and inspire others toward adventure. I hold this thought at the forefront of my mind as we pass hallway after hallway realizing at last, that I am etching my own stories into my story, into my history.
**Above: a slideshow of the main temple of Angkor Wat at sunrise**
*************************************************************************************
BLMSD Angkor Wat Travel Tips
Tickets
to the temples CANNOT be purchased on site. They must be purchased at the ticket office beside the new National Angkor Museum. As of 2018, tickets can now be bought with plastic aka credit cards.
Tickets vary in price and can be purchased as one, three, five or seven day passes.
Your photo will be taken and printed onto your ticket at the time of purchase.
Do not lose or damage your ticket in any way or you will be denied entry.
The temples are miles apart and some require an hour drive to reach so do not assume you can see them all on your own or on foot.
Be respectful, cover your knees and shoulders (and midriff ladies) and keep your voice down. It's a spiritual place, not a party zone.
Only licensed guides are allowed on the grounds so that tuk-tuk or private car driver you hired will not be able to go in with you and you will not get the history or stories behind each temple.
Tours for Angkor Wat can be booked affordable on Pub Street-a tourist trap, but fun area. Be sure to bargain, especially if you're in a group of three or more.
Bring a small day pack with you with snacks, a sweat rag (it can get hot as balls) a fan and plenty of water.
There are plenty of death-defying steps to climb, be warned and be ready, but most importantly, wear the right shoes.