I side eye hard as I'm woken by the applause happening around me as the plane touches down in Buenos Aires. It's comical to me at best, but apparently, people DO still do that… The usual cattle lines form as we shuffle ourselves from the plane to customs, to the bathroom then to baggage claim. It's late, but the busyness of the airport-my most productive work space-wouldn't reveal this truth. Bodies busy chatting and navigating the corridors, bright lights and the food courts are fully functional and overcrowded.
Argentina! The land of secrets! You boast zero of seven of the 'New 7 World Wonders', but you've been in my heart for years!! When a private moment presents itself I stomp my feet and pump my arms up and down, jubilantly possessed like a child throwing a happy tantrum at the site of their favorite cake. Ecstatic is an understatement and I'm impatient for my first bite.
In the taxi I'm exhausted but humbled to be fully in this moment. The streets are calm at this hour on a weekday-not what I expected. When I arrive at the hotel I pause before ringing the doorbell. The building is massive, dated, and smack in the middle of town. Winding staircases, rot iron balconies, crown molding, and the original fireplace has my excitement and imagination twisted in knots.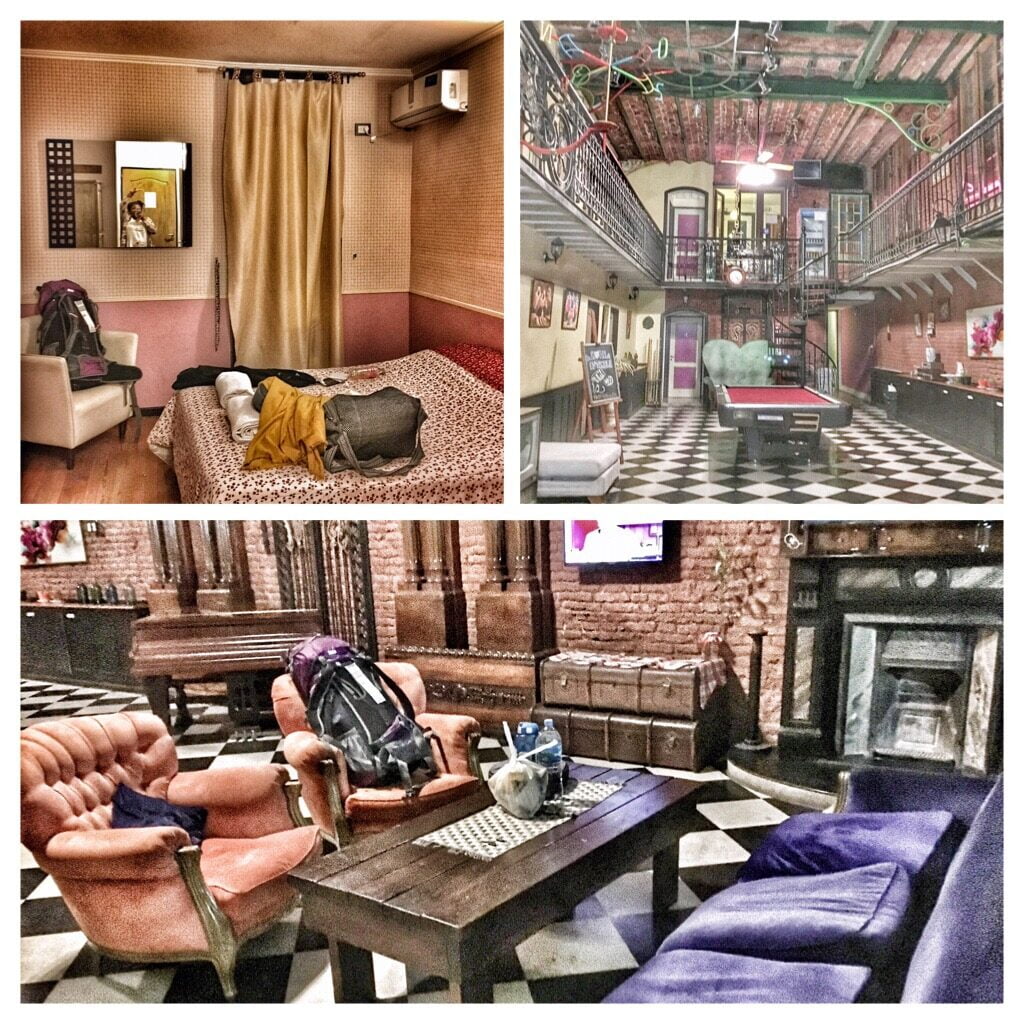 I'm overly eager to style my hair, brush on fresh a bit of rouge and paint my lips a signature red then pretend to tango down those gorgeous winding stairs to the artistic streets below. Standing at reception to check in I catch a whiff of my travel funk and settle, realistically, on a shower instead. Covered in memories and the scents of Peru, I'm sullen in the shower. Missing the faces and British or Australian slang I'd become accustomed to hearing from my international company. Missing the trail, the altitude sickness symptoms and my hiking boots none at all.
I rise refreshed, smelling of soap and full of childish wonder. I spin around the room (with a balcony cameo, of course) channeling my best Madonna-in my pajamas- singing Evita songs. Too excited to explore the back alleyways, try the food and wine while ogling the chiseled jawlines and fashion on these Latin men! I lace up my sneakers and trot down the winding staircase headed for the front door.
Searching for an anchor, a city outside of the United States, to settle short term, I take immediate notice of the large amounts of homeless here. A foundation of sorts giving assistance to such an issue an underlying personal goal of mine I run scenarios of what such an organization can do in this city as I observe them. Some sit or sleep on cardboard boxes, some on the hard concrete and others on mattresses pulled together to form small fortresses. They congregate, harassing passersby while the children in their care cry and shake empty cartons of milk, wanting food or money. A few dogs cluster in the shade desperately seeking a place to cool down.
My time serving in the Peace Corps has taught me to be and stay vigilant when traveling so I cross the street to observe from a distance. When my heart can take it no longer I cross back over and hand the children the small pieces of fruit I had in my day pack and a large bottle of cold water I'd purchased earlier. I give them blessings, tell them God loves them and continue to make my way towards the San Telmo markets. When I arrive I am amazed at the sheer size of the place and the various components and shops that create the guts of this beast. It breathes antiques, fresh fruit carts, and elegance. I wander aimlessly, stopping to peruse, purchase some gifts while engaging the locals to practice my broken Spanish.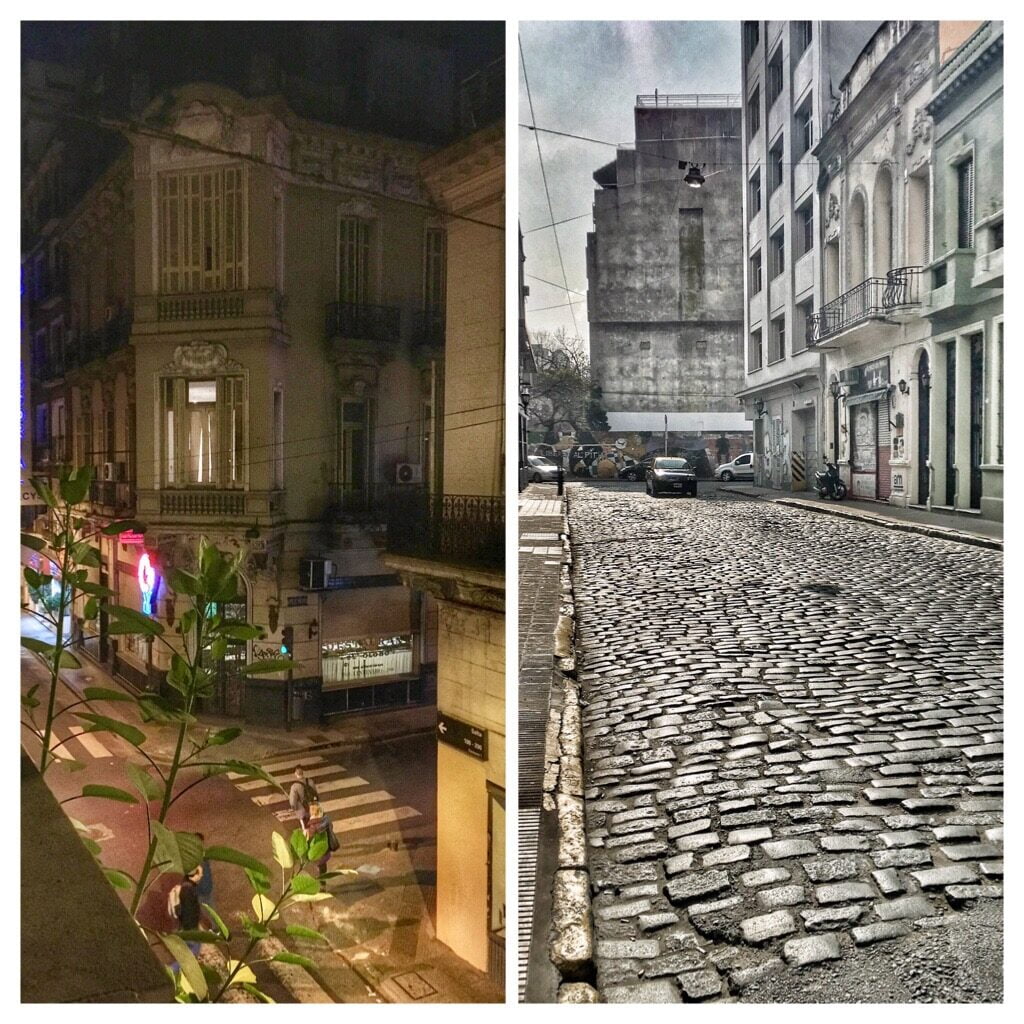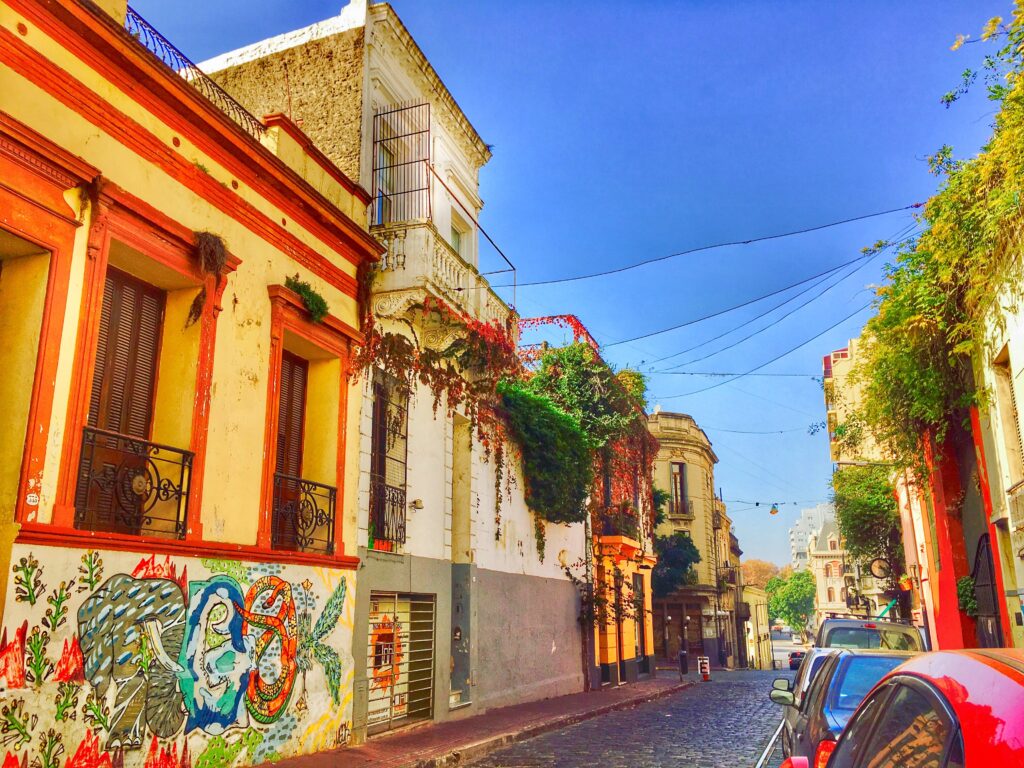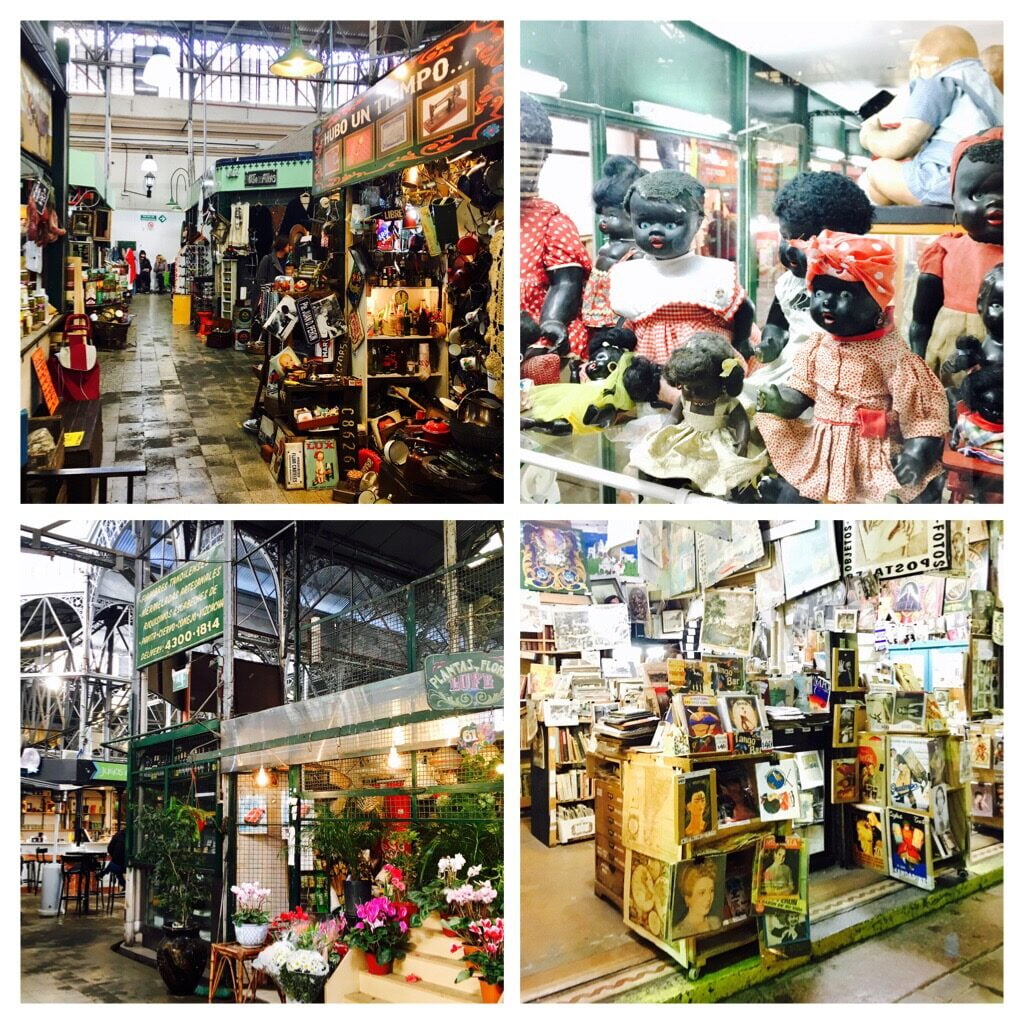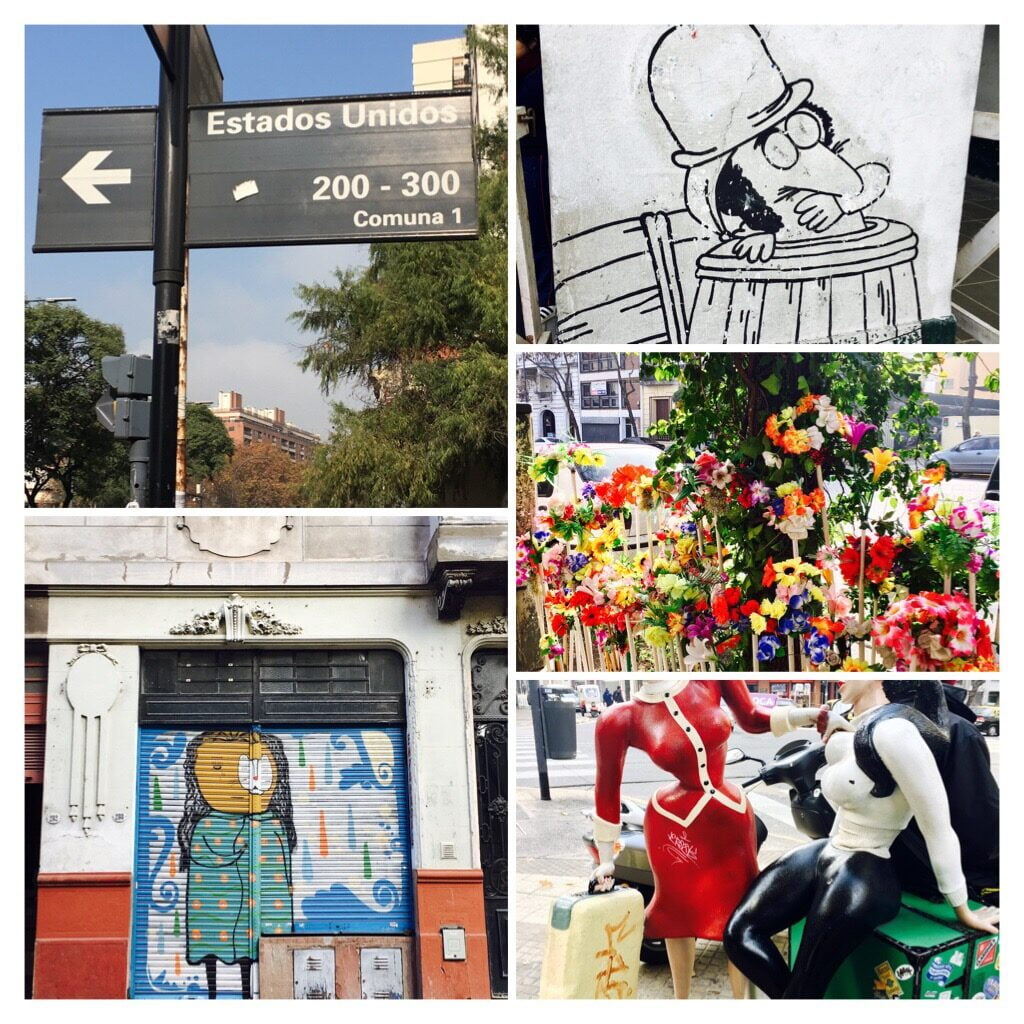 The next morning I arrive early at the meeting point for the first of two free walking tours I'll partake in today and take it all in. Inhaling slowly I do a quick, mindful meditation to heighten my senses. I listen to the birds chirping, the cars honking, the bus drivers yelling. I recognize the language, Spanish, but notice the delivery sounds Italian. The tour guide explains later that the large amounts of Italian immigrants in Buenos Aires are to blame. People talk with their hands and overemphasize vowels and are proud to have Italian heritage-a right of passage for locals (portania) born and raised in this port city.
We walk along learning about this history of the flatlands, the decisions to build, destroy and rebuild the city during its time under Spanish rule. Memorable tidbits of the tours include the birthplace of tango, La Bocca, how ridiculously popular football (soccer to us North Americans) is, that the city has the largest fully kosher McDonalds, and how angry it makes South Americans when they hear North Americans say they're American… I learn quickly and the next opportunity to share where I'm from, I correctly utter the United (divided) States.
The group shuffles across the now busier streets, down beautiful median walkways, through parks, past statues, and on what seems like every other corner, a store or image of one Mrs. Eva Peron. You may know her better as Evita and depending on who you ask she is a symbol of feminism and respected as a national hero. Her presence is prevalent almost hanging in the air. Her name is tagged in graffiti on the brick urban walls, her face on monuments, postcards, t-shirts, you name it. A woman of humble means who rose to fame when she met and married then President, Juan Peron. Weaving through the crypts of the Recoleta cemetery, what has finally become her final resting place more than twenty years after her death. I come upon her grave and stand in silent reflection; she was thirty-three years old. I am thirty-five.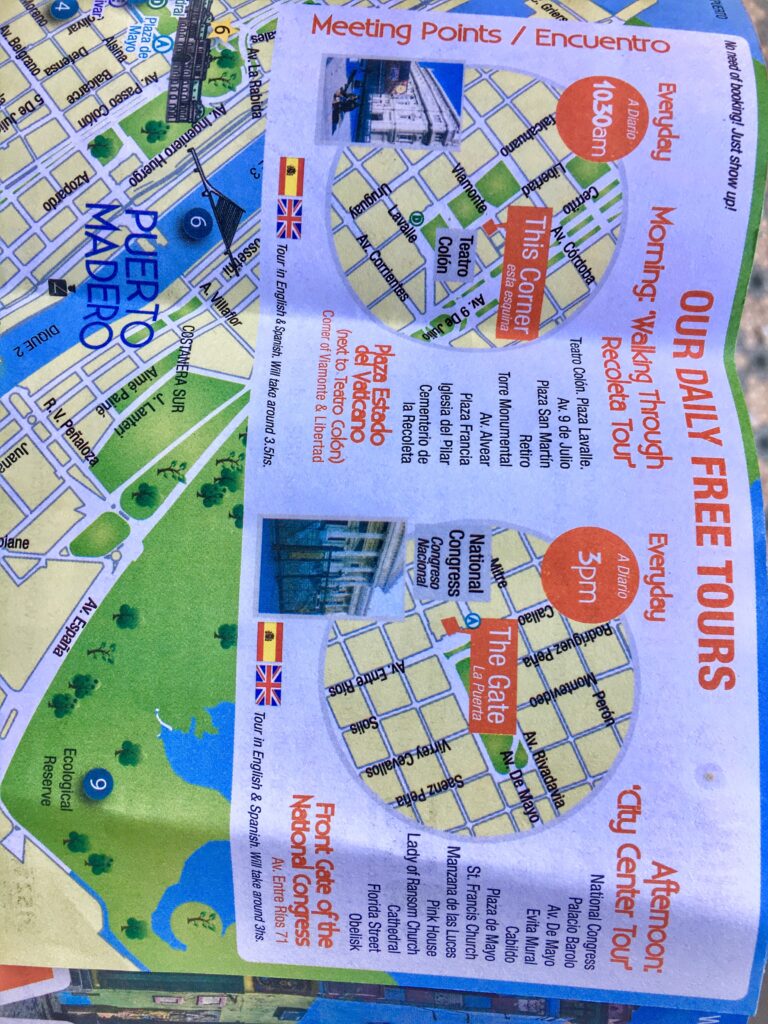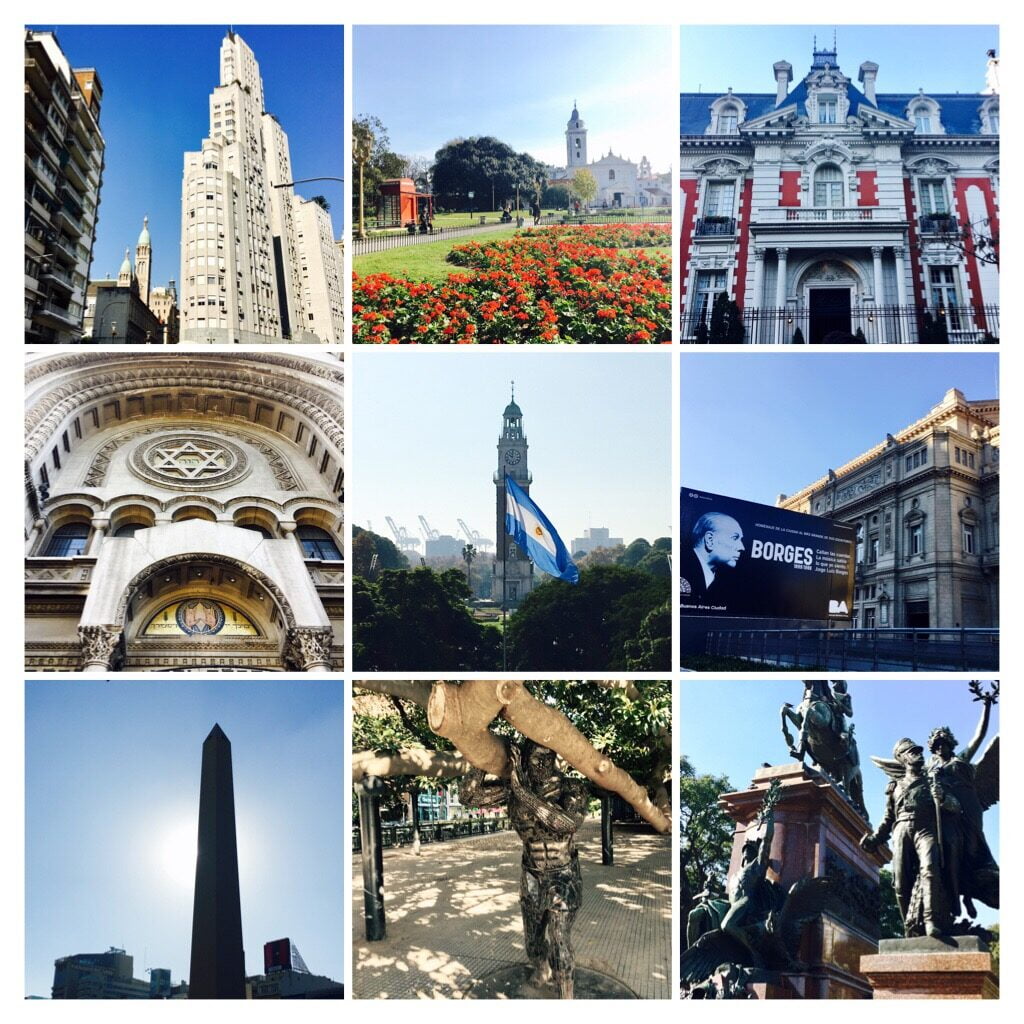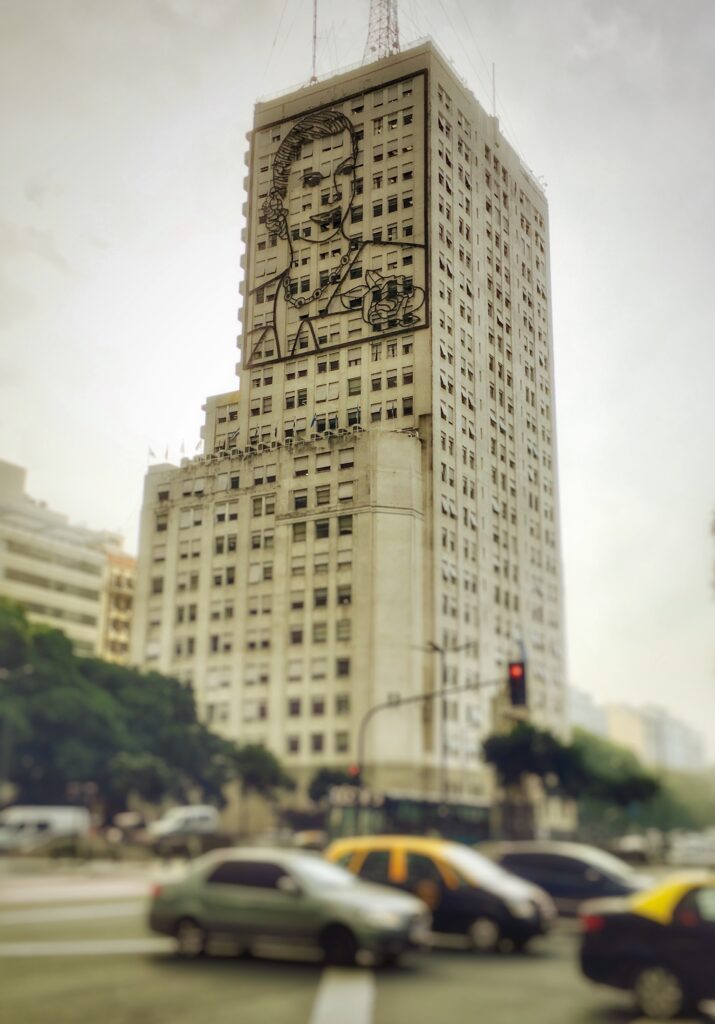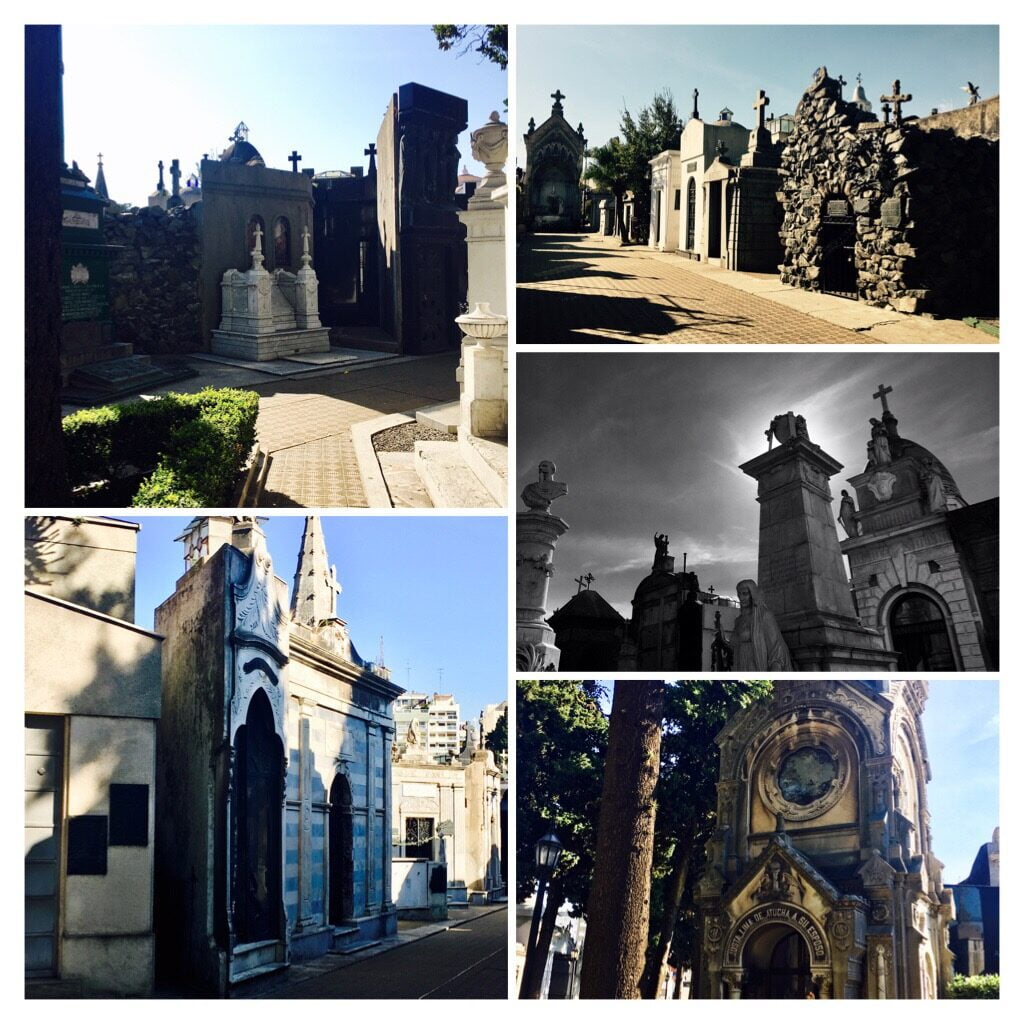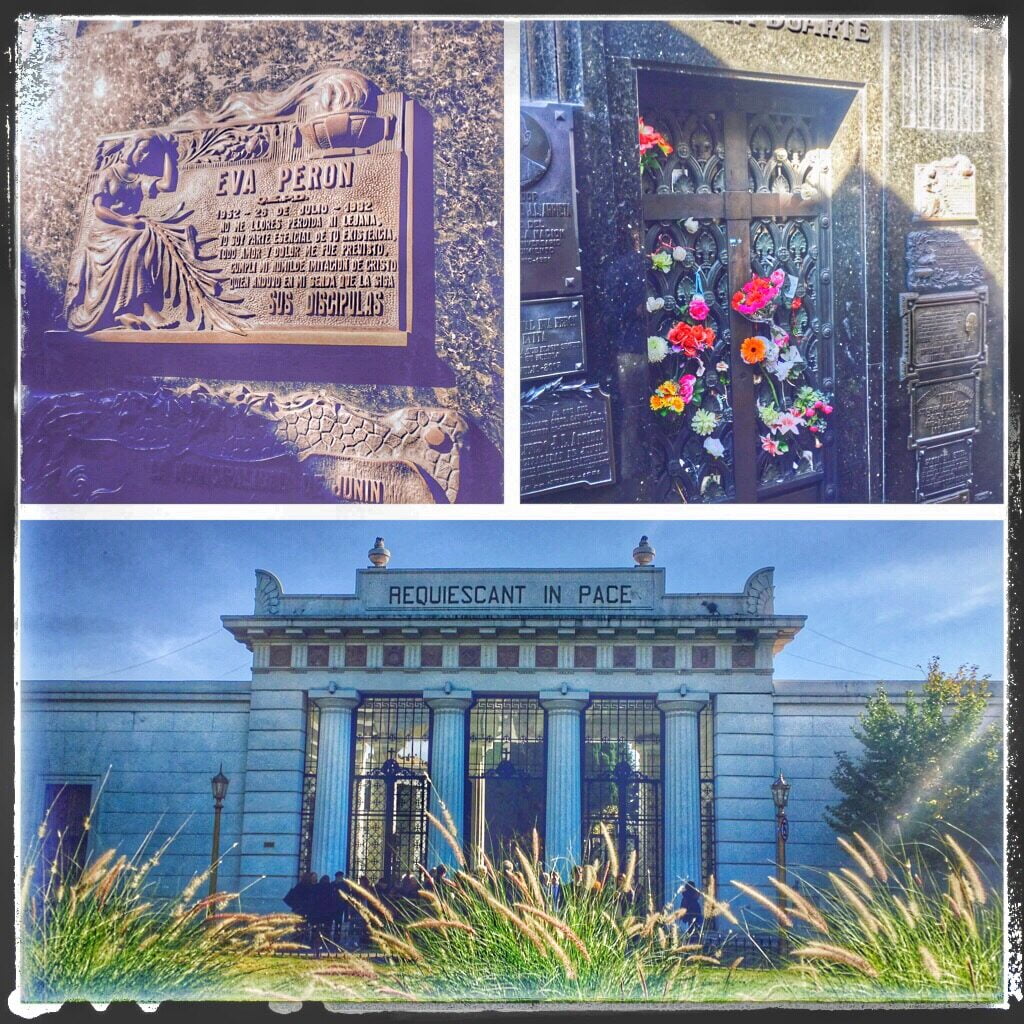 After studying a little more of the life of Evita I shift focus to learning more about classic Argentinian food. While in La Boca, the birth place of the legendary, sultry dance form known as Tango, I have an opportunity to learn a few steps from a couple doing a live performance. Shy and outside of my comfort zone I seize the chance and am lead around the floor in my sneakers, gliding like I've done this at least a half dozen times. Checking periodically with my instructors on the correct way to point my toe or spin out of the last position and curtesy. I live for this!
Hungry for deliciousness after that workout I settle on churipan, grilled chorizo sausage on a bun with a sort of chimichurri, chili sauce and fresh onions. Having tried other favorites, proveletta (melted or grilled provolone cheese topped with spices, sundries tomatoes or pieces of crisp bacon), the empanadas (meat or vegetable stuffed bread rolls), and rump steak cooked to perfection, churipan is the least expensive and most delicious choice. Argentinian style pizza or a classic burgers are inexpensive choices as well. The variety of street vendors on every other corner allows any traveler the opportunity to experience these gastronomic sensations at a fraction of the cost than most restaurants. Grab a bite, smile at your neighbor and beat feet on the streets of what once was the South American version of the Big Apple!