Khmer cuisine isn't as spicy as Thai food, but not as humdrum as the meals that crossed my lips while in other countries that subsume the South East Asian region of the planet. Sour or tart spices such as star anise and lemongrass, or colorful seasonings like turmeric, ginger, and Kampot black pepper (my neoteric, favorite everything) are widely used in soup bases and gravy fixents for various meats and fishes. Rice, a staple food item, is typically eaten three times per day.
With an overabundance of Western or Chinese choices on menus across the city (not all suitable for a backpackers budget), I did my best to stay true to sampling a decent amount of local Khmer foods during my three and a half week stint in the country. Capturing the content for this blog post, however, was made affordable with the timely arrival of friends also traveling the area. This deflected cost and allowed for my unapologetic ability to take photos of their food (their patience is profoundly appreciated). Although I did default to some of the "must haves" and adventurous bites, I did manage to hold true to my quest to try the local cuisine and the innovative flavors of the piquancy and nature.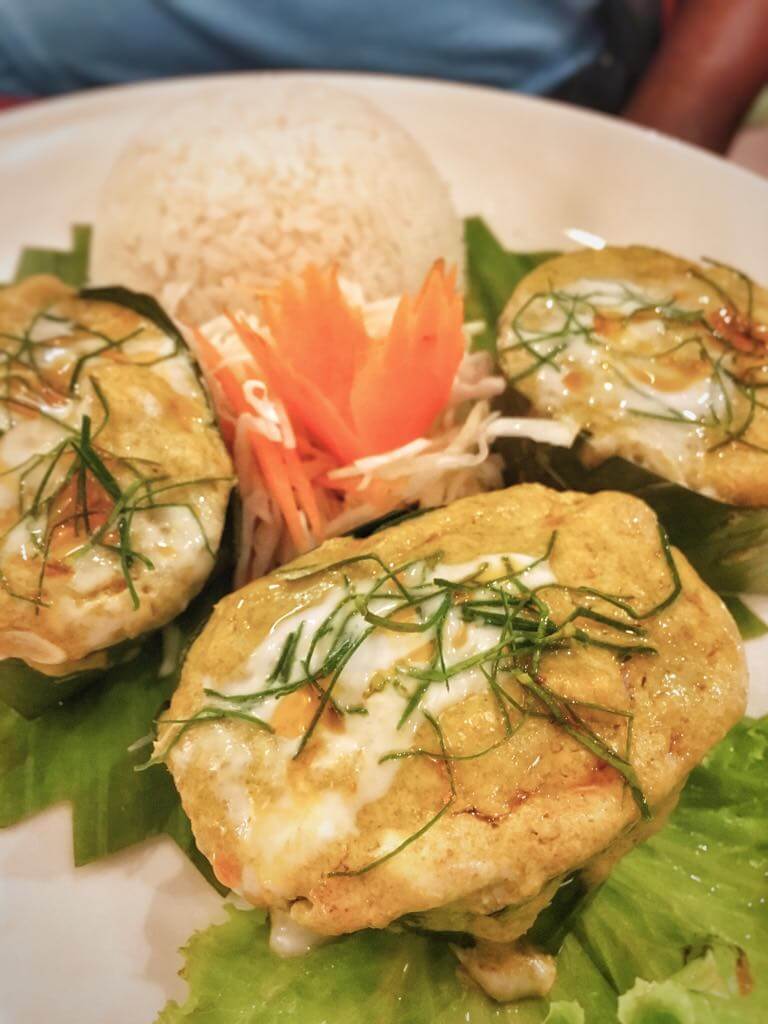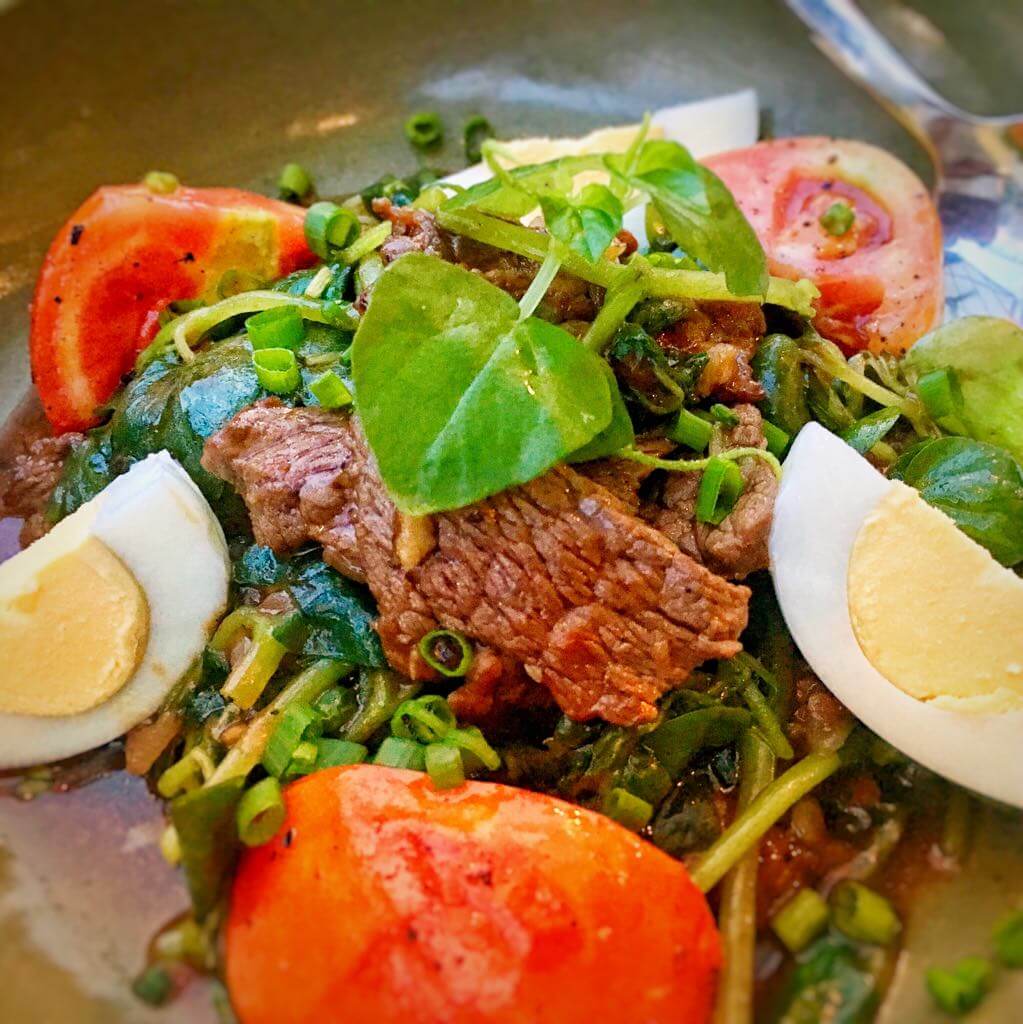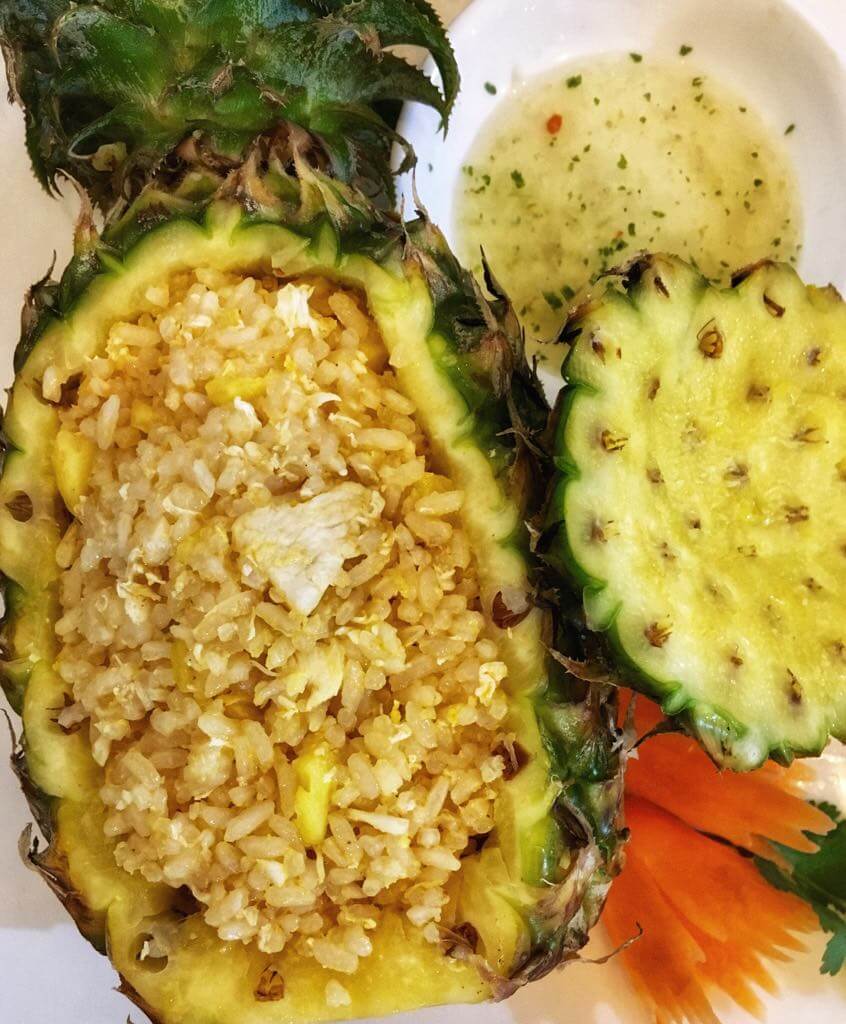 The run-off of Chinese influences within the Khmer culture, which were more prominent—in my experience—as I moved south throughout the country, left me plenty of opportunity for favorites like sweet and sour chicken, fried chicken wings and, of course, dim sum. I found the overbearing presence of the all mighty dollar during my time in the south, primarily in Sihanoukville, which presented itself via Chinese-owned developments along the southern coast; shanty towns that back right up to the beach edges are the result. The images of poverty in this country were formidable and created an overabundance of experiences: constant requests to be paid alarming prices for transportation, hotel stays, or a bag of chips—pretty much anything.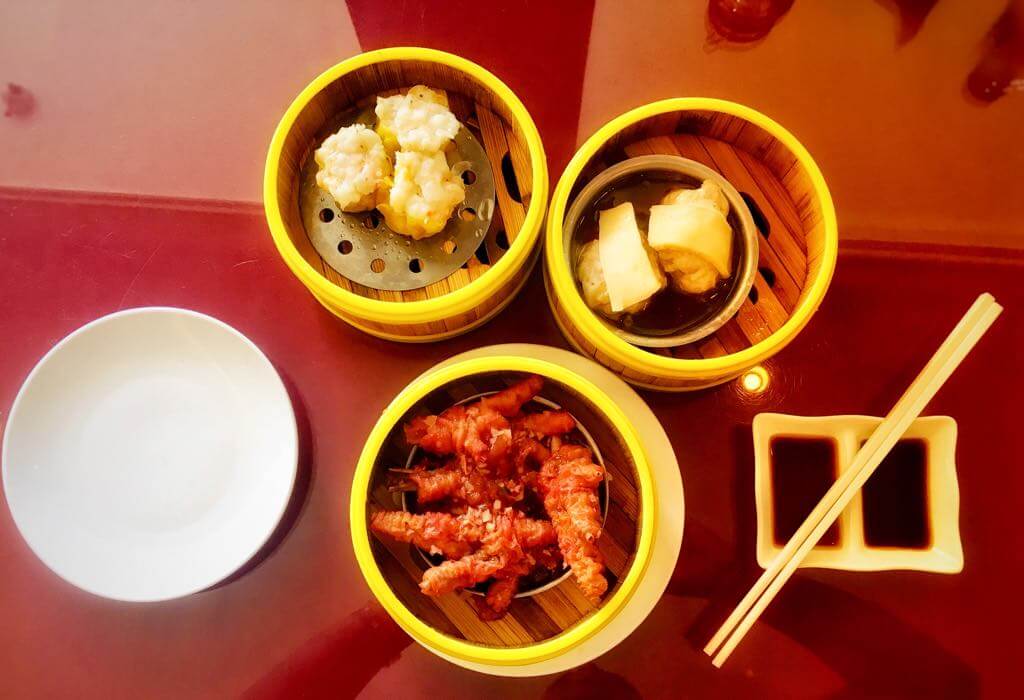 Palm fruit is another staple in the Khmer culture. Its flowers are used to feed livestock, decorate and even create a deliciously refreshing juice. This juice is primarily sold at vendors that line the dusty roads leading to and from Angkor Wat temples and is generally sold for KHR 2000, which is $.50. The price and hot weather made this smokey-flavored, sugary juice (with a yellow tint) along with sliced pineapple or mango sprinkled with chili-salt, an inexpensive snack time go-to. The juice itself is harvested year-round and is the product of the meeting of both male and female flowers. One tree can produce up to 5 liters every evening. The juice is stored in plastic containers in the bloom of the treetops and collected each morning then funneled into repurposed plastic bottles or a plastic bag with a straw conveniently stuffed in the opening. This lovely liquid is best served chilled and can have a strange aftertaste if drunken warm.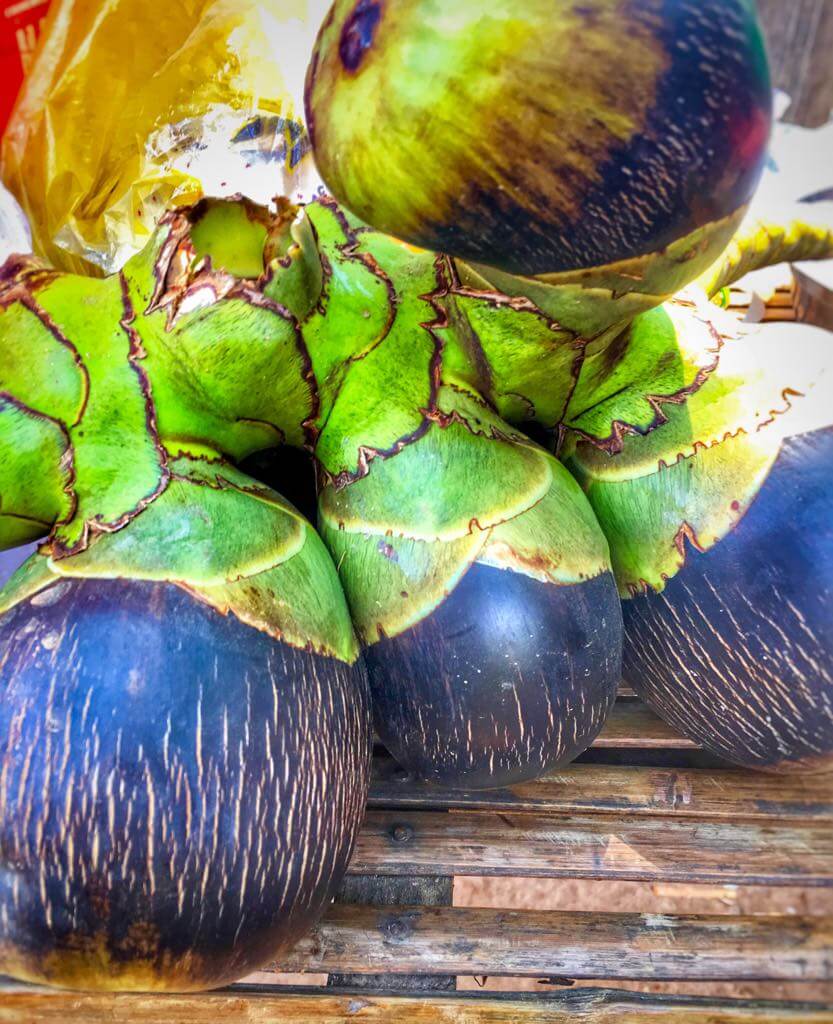 Before galivanting off to Cambodia, I did what any researcher would do and watched a few videos on the more adventurous items one could inexpensively consume. No surprise when insects such as crickets popped up, but when I saw things like a tarantula, snake and even scorpion available for consumption, my heart went a flutter. Stimulated by the idea of trying something so far outside of my comfort zone and animated by the taste of bile in the back of my throat I made a bet with myself that I had to try this if the universe presented me with the opportunity.
A little difficult to pinpoint than I'd originally anticipated, I was ultimately able to locate grilled scorpion, tarantula (served on a stick) on the back streets of Pub Street. This promenade is arguably the most touristy area of Siem Reap. It is also the default fallback for stimulating nightlife and body massages (foot massages for as cheap as $2/hr). Leaning on the liquid courage of previously guzzled drinks, I worked up the courage to sink my pearly whites into the back-end of a scorpion. I'm unsure whether or not these exoskeletal creepy-crawlies were marinated prior to being mounted on a stick and roasted, but I was pleasantly surprised with my discovery of taste. Crunchy, absolutely. Smelly, undoubtedly. Wicked tough to swallow, you bet ya!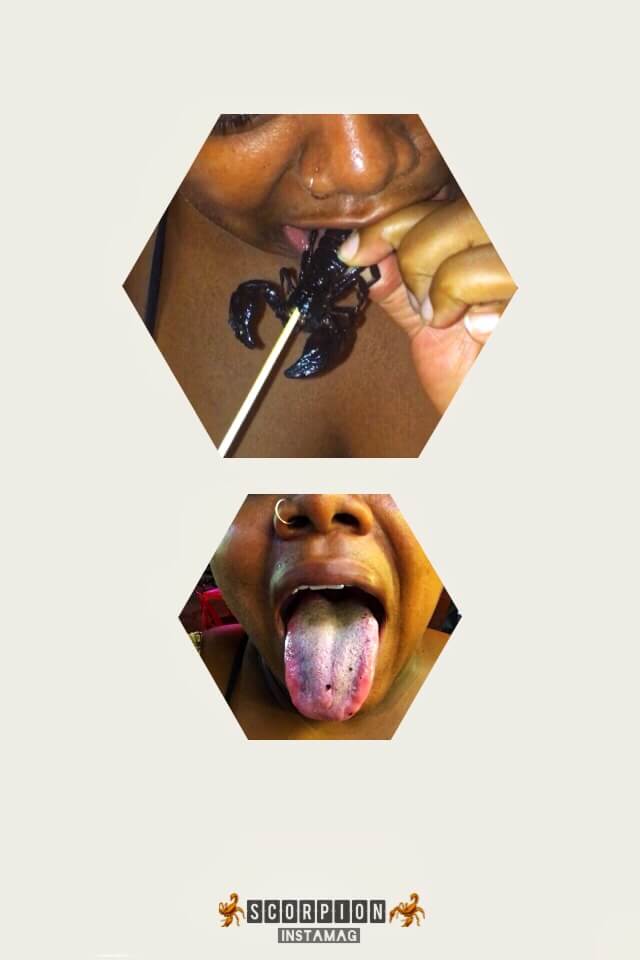 Far less daring dining experiences greeted me in the south where the white-sand islands dominate tourism. My favorite dish (which only cost me KHR 2000) came out of hot pot being carried on the shoulders of a local woman. This was a fish curry broth served over steamed rice noodles. I can still taste the invigorating saltiness of the fish consummately matched with the tart spices of the yellow curry. I ate this happy bowl of noodles while waiting for my ferry to sail me to Koh Rong island. Yet another illustrious encounter with locals happened in the village town of Prek Svay on Koh Rong when a local woman was boiling down coconut meat to harvest the oil it produces. It smelled delicious. I began to wonder if I could adopt this method, not only to make my own coconut oil, but also as an interesting meat substitute. When she completed her task she cut up some pork and began frying. She added loads of colorful, fresh veggies into the pan and let everything steam together. Needless to say, it was a great afternoon.
The south brings with it the salty-sea breeze and fresh seafood. The street stalls and restaurants all offer various seafood dishes plucked fresh from the depths of the Gulf of Thailand. A favorable seafood snack of mine was sweet and spicy flavored cockles.
When confronted by long days full of adventuring around the city via tuk-tuk, these tiny shellfish were a quick and convenient snack. Coated in sweet and spicy chili sauce and coarse sea salt then baked, made for a mouthwatering experience.  They're a pricey snack, KHR 5000 ($1.25), but remain a favorite among locals. Sellers park their cart on a corner and play a recording in the Khmer language, undoubtedly announcing what's for sale, and people gather expeditiously. Personally, I enjoyed sucking the flavor off first, like a sunflower seed, before using half of a shell from a cockle previously consumed to assist me in prying open the next.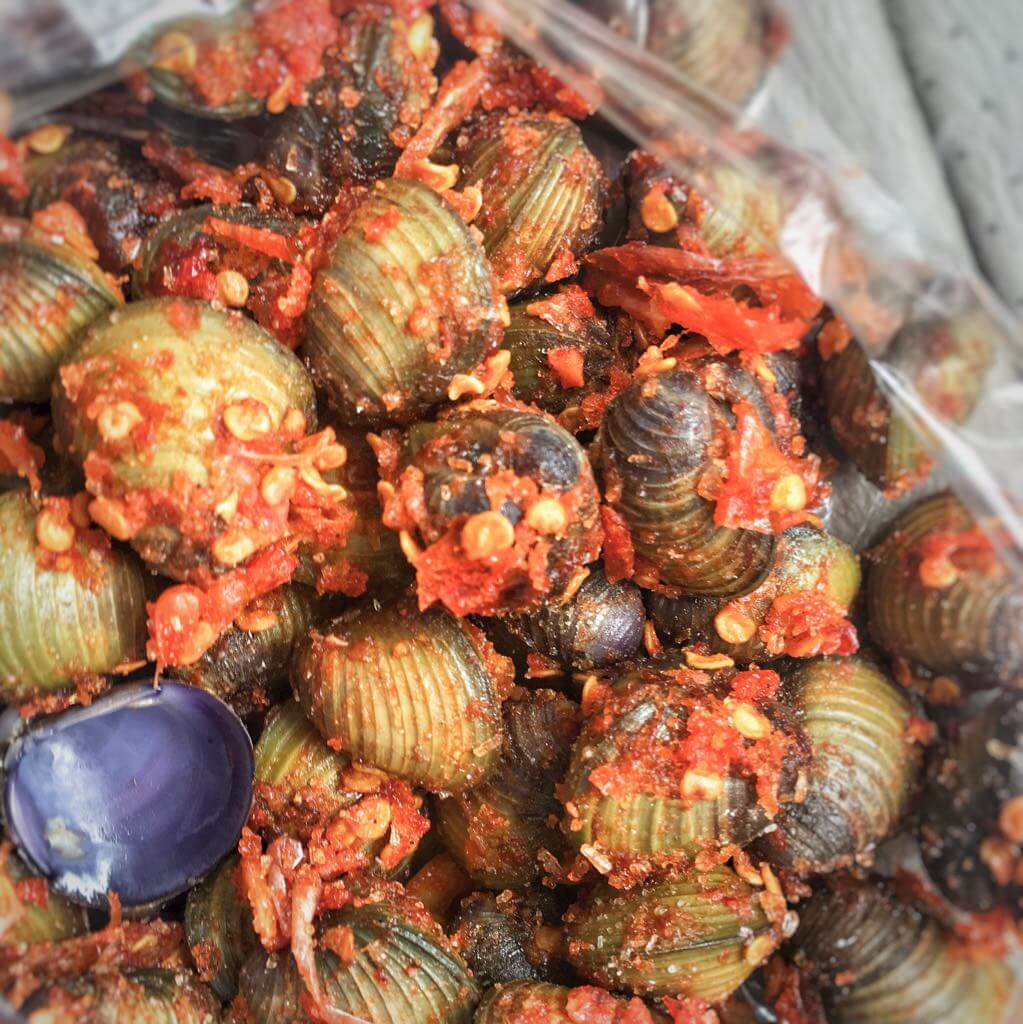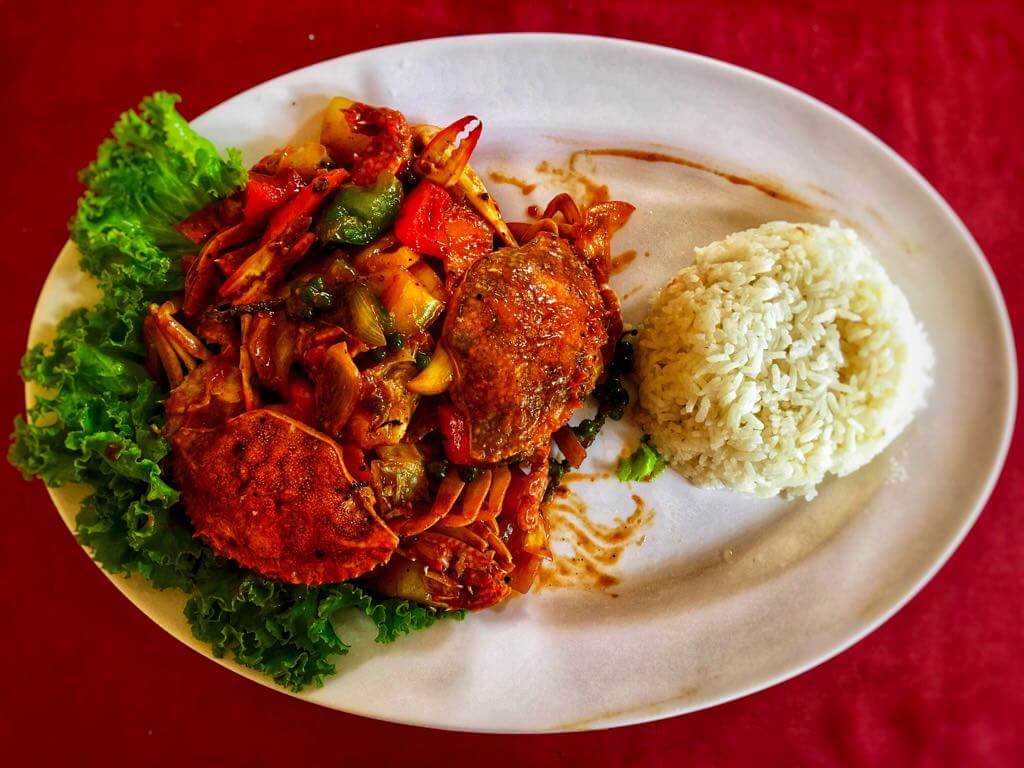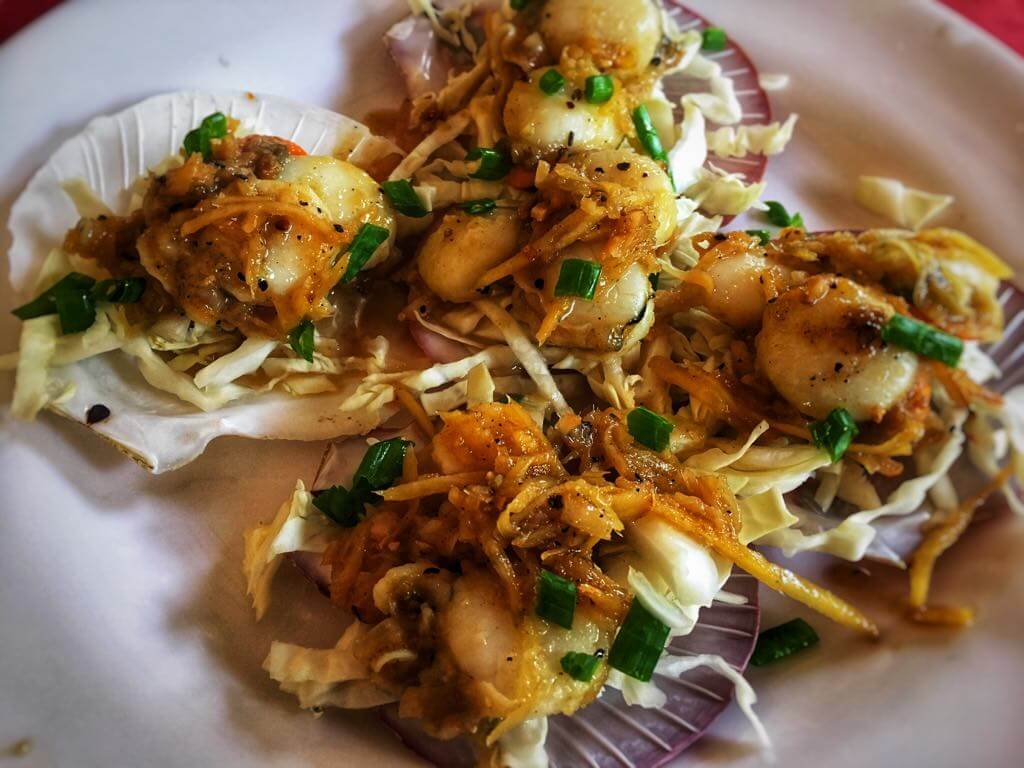 Given the Khmer New Year, which was rapidly approaching during my time in Cambodia, dozens of street (or house) parties were happening around the country. This granted me the opportunity for a handful of flavorful food options intwined with cross-cultural experiences. My tastebuds are not likely to forget the flavors of Cambodia (Khmer) anytime soon. A huge thank you to my host in Siem Reap and all of the people who indulged me in the gastronomical and diverting taste tests throughout the country.
***Slideshow featuring local's night market food and scenery as well as a Khmer New Year pre-party on the beach of Koh Rong.