There's sweat dripping into my eyes, but with my hands wrapped and securely fastened by inside these borrowed boxing gloves, it's impossible to wipe it out. I blink hard instead, squeezing them out like fresh tears. Frustrations I've been attempting to suppress seize the opportunity to race for first place as I connect my right fist with the punching bag. Jab, jab, hook, uppercut. Repeat. I'm getting winded and I love it. I swivel on my big toe, pivoting my hips and leading with my whole body the way I was taught five years ago when I first began kickboxing for fitness. It's come full circle as I'm focused on the swinging bag in front of me at the Muay Thai gym I've begun training with during my travel hiatus here in Hua Hin, Thailand. I'm in the zone, pretending as if each punch would equal a direct deposit of ten thousand dollars if landed correctly.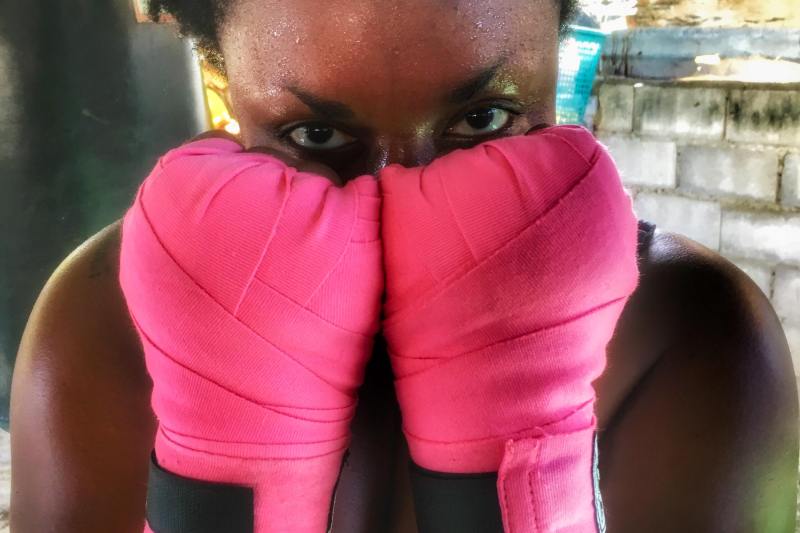 It's been two weeks since signing up for these training/fitness classes. My trainer, Chen, is only 22 years old, married and has two children. He only went to school until the tender age of 11. Over the years he had witnessed Muay Thai fighters all the while convinced that without any formal training that he could (and would) fight better than them. The mixed martial arts dates back hundreds of years and was utilized as a form of hand-to-hand combat during times of war in Siam's (Thailand) ancient history. The training is unyielding and the body is the weapon, meaning it must be lean and dynamically strong. Chen quit school by the time he was 12 in order to start training for the sport, earning quick cash for each match he'd enter and win. So far he's taught me the basics of Muay Thai form and combinations, which we rotate along with calisthenics for an hour. I'm drenched in my own sweat and my legs wobble by the end of each session.
It's about a 40-minute drive one way (via motorbike) from my place in the south to the training camp, but the price and atmosphere make it worth it. There are no shoes allowed on the mats so I train barefoot. The lesson is private, making it less threatening to my insecurities and empowering me to do my best without the worry of judging eyes while I grunt and trip over my own feet. The training facility has a roof, but is for the most part open. Strong winds and/or rain whisk up pet hair (the owner is also an avid dog rescuer) and dust, which I ignore as I lie there doing crunches. My abdomen admittedly houses a cluster of the sleepiest muscles on my body. Overtly obvious in protrusion, Chen targets them relentlessly during our sessions.
My hips are the second victim; Chen calls out commands for the high kick rotations I know in vicious repetition. Breaks are few and far between – at my request – and Chen, truly amiable and arguably drunk on power in the moment, engineers punishments on the fly. Breaks, as I mentioned, are not granted freely, they are earned. Water breaks, which I feel fall into a different subcategory of "break", happened all the time. This session though, Chen, in all of his 22 years of wisdom, implements a new punishment requiring a round of situps every time I needed to take a "water break". He does this in air quotes trying his damnedest not to crack the smile invading his lips as I stare at him mid-reach for my tumbler, mouth agape.
Chen pulls out a foldable metal chair instructing me first visually, then verbally his expectations for my targeted exercise. It takes all of my energy (I've been fasting intermittently since arriving in Thailand) to complete these activities. My body responds, reluctantly at first, but I steady gradually. I speak inaudibly under my breath and he chirps back at me in Thai. The cultural exchanges between Chen and I are priceless in this way. He coaches me in Thai, teaching me the English word for the commands a bit at a time. Often doublechecking the word with me adding inflections to tell me he is asking me if the word is correct before repeating it to me confidently.
Chen & Me @ Por Promin Muay Thai Camp
**This blog post contains affiliate links.