I ring the bell, which sets off a charming melody alerting the staff to my arrival. Friendly faces, two male, one female, greet me at the front door. The sun had long set on this day and I am happy to be here and alive. Every well-traveled human I've met has expressed how essential it is for a woman to travel on her own at least once in life. I'm half scared all the time and masterminding the horrors of my untimely death far too often to say I concur with the advice I took for face value months ago when purchasing this one-way flight. I'm far too far outside of my comfort zone and it shows as I waddle along behind the staffers directing me to the back of the compound where my private room waits.
Trying to relax into the moment I begin to play scenes from EPL (Eat, Pray, Love) in my mind again and of Liz's strategically negotiated villa tucked into the mountainside surrounded by rice paddies. I pass the pool, dark and uninhabited, but it excites me all the same. The walkway narrows now and I watch one of the members of my welcome party beeline towards a rickety-looking bamboo ladder of sorts. The other two members of the entourage hang back, but encourage me forward using their overly enthusiastic limbs. I ducked my head under the beams of the foyer and throw my purse strap over my head so it sits across my chest in order to free my hands. The whole way up I'm holding my breath and thinking to myself that there's no way these steps are up to any sort of Americanized code.
From below me, the lady calls for me to look to my right as she explains that over that wall is my shower. It's pitch black, I can't see a thing that far away and can barely make out the steps in front of me so I politely say okay to acknowledge here words and keep climbing. There's (what looks to me to be) one death-defying gap between the last two steps then a second gaping divide to cross the plank that doubles as both the top of this "ladder" and the threshold of my room. At this point, I just have to go with all of this. I watch the skinny man take this leap while toting my luggage and tilt my head as an internal conversation plays out in my mind about seeing this through. He shines a flashlight in my direction to help me see… I shift back and forth on my feet, like I always do when I'm genuinely terrified, then count to myself… 1, 2, then jump.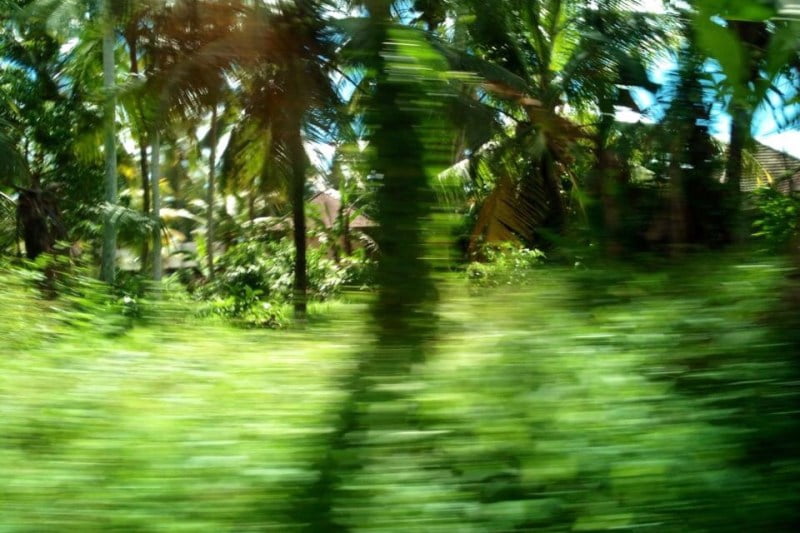 The ceiling is vaulted, shooting upward into the night sky like a teepee. Everything is made of wood and there are two lion-shaped sculptures at either end of the balcony door. The slits in the French-style shutters can't be closed alerting me that there's a long night of uncomfortable moments with insects ahead of me. The mattress is on the floor and has only a sheet on it, there's no mosquito net and the drapes are practically see-through. A gecko call rings out overhead and the stories of my mother's childhood on Guam come to mind. She'd explain to me that sometimes geckos lose their suction and fall from the ceiling onto your person. A story I laughed at multiple times, but I'm not laughing at now.
I remind myself that I leave for the Peace Corps and the great unknown in less than six months time and that this sort of "roughnecking" it is undoubtedly in abundance in my immediate future, but it doesn't soothe me. Finally alone in the room, I change out of my now three-day-old underwear (ready for the Peace Corps after all I chuckle) and sweaty clothing into something with sleeves and some leggings. I lay down and watch the geckos prance around the ceiling feasting on various winged creatures. I leave the bedside lamp on, slip my sleep mask over my eyes and shimmy down the length of the mattress bringing my knees to my chest and the sheet over my head. If a gecko should fall on me in the night it won't actually touch me and I'll be free to chuck it clear across the room with the aid of my clever sheet-barrier.
As I begin to play out the events of the evening in hopes of processing the realities that I am here, in Indonesia, alone. I'm excited and grateful, but most of all scared and nervous. Did I make the right choice coming here? Was I really cut out for this kind of travel? Too late to turn back, that's for sure. I sit up to grab my journal and a pen and feel a familiar pressure against my colon. I blew off the instructions for getting to the toilet battling my anxieties and fear of heights on the "stairs" and I'm partially paralyzed at the thought that anything (literally anything) could be crawling around out there… shit (pun intended)!
To be continued…