Wondering how you can feel like a kid in Vienna? Perhaps at this point, the only thing you're wondering about is what I mean by the question itself. To be honest, the idea came to me ahead of my arrival in the historic city. And after locating several unique experiences in the city, I realized how childlike activities in Vienna can be.
Initially, when I thought of things to do during my adventures in Austria, I defaulted to museums, free-walking tours, and the like. My mind envisioned breathtaking landscapes, muted colors, divine pastries, and sausage— tons of sausages. But the city had so much more than that to offer tourists.
The artist formerly known as Prince once sang, "Act your age! Not your shoe size." But the truth is that we're only as young as we allow ourselves to feel. So lace up your walking shoes, and get ready to act the corresponding age with these three childlike activities in Vienna.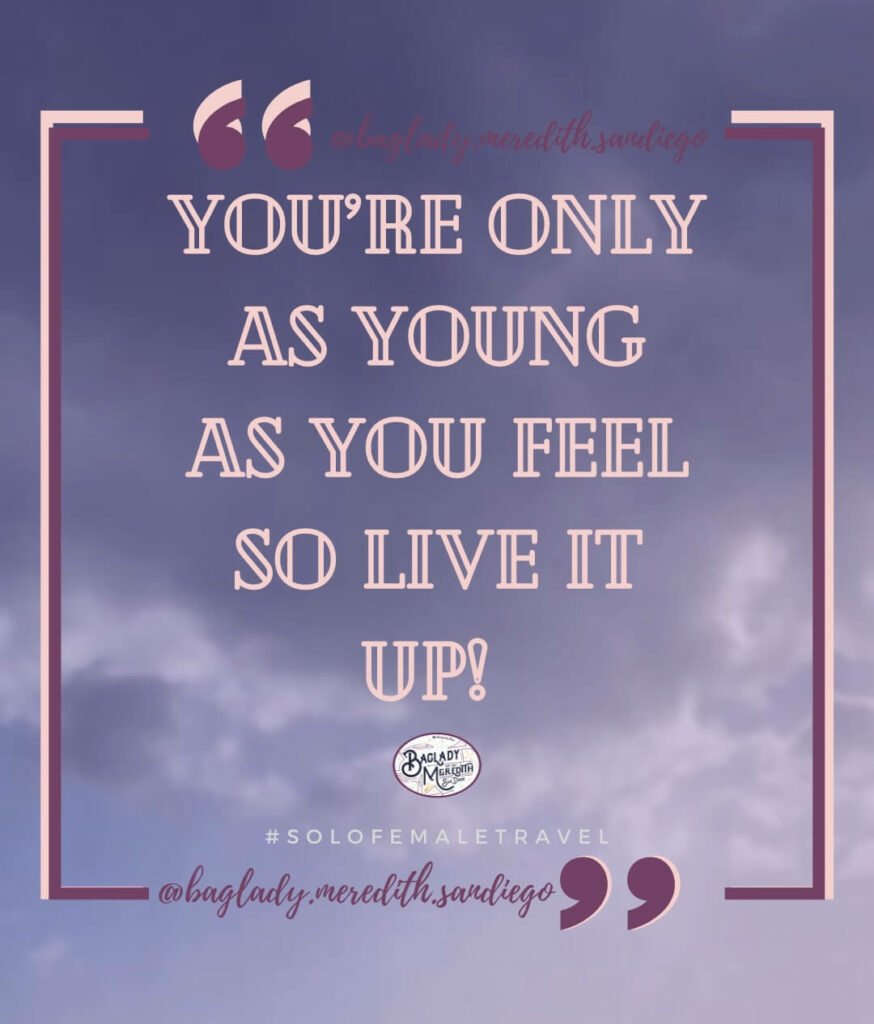 Childlike activities in Vienna for all ages
This blog highlights three fun activities to do in Vienna, but there are sure to be countless others. This post also features recommendations for activities that are inclusive for disabled persons as many sites offer wheelchair access and discounted entry. As a family-friendly destination, and one of the safest countries on the planet, Vienna won't disappoint avid or first-time travelers.
Of course, preferences of what to do/what to see will vary, but here are a few solid starting points.
Act like a kid in Vienna at the Haus des Meeres
The first and most unique of the three childlike experiences that had me feeling like a kid in Vienna was the Haus des Meeres. This is a 10-story aquarium (and zoo) in the heart of the city. It's something you need to see to believe and was mega enchanting.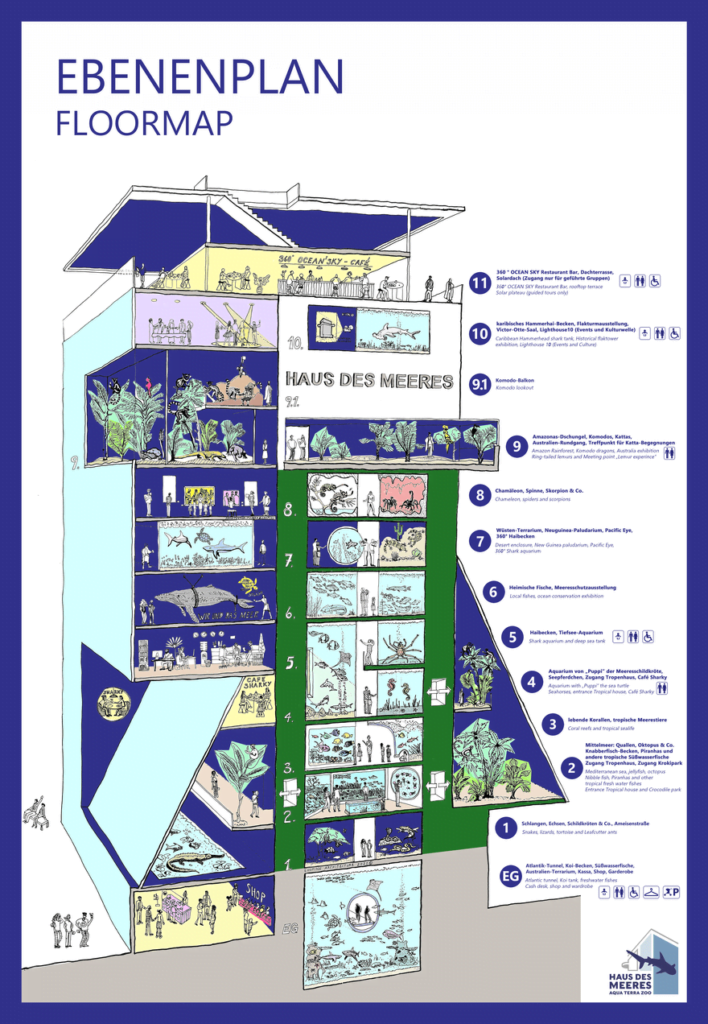 Open seven days a week from 09:00 until 20:00 (8p), adult tickets will set you back about $23 (22 Euros). Less for students, children, seniors, and those with disabilities— identification necessary for discounted entry. The latter also grants free access to an accompanying individual.
The ticket office closes thirty minutes before closing time, so don't leave this one for the last minute. Tickets can be purchased on-site, or reserved online ahead of your arrival. Use your Vienna City Card for a free DVD documentary about the building upon entry.
I recommend getting here early and taking the elevator to the top, then working your way down. The crowds can get intense quickly and there is a singular elevator in the building vying for everyone's attention. Wait time for the elevator varies, as a result.
Take care to peek around every corner to be sure you haven't missed anything. Then grab a refreshing beverage or some food at the restaurant on the rooftop and witness jaw-dropping panoramic views of Vienna while you're there.
While we're on the topic of animals…
Continue to act like a kid in Vienna with this second recommendation of visiting the oldest zoo in the world. The biggest appeal is that the Schönbrunn Zoo is the only place in the country to witness live Panda Bears. Located behind the popular Schönbrunn Palace and Gardens, this childlike activity in Vienna is a must.
For many people, zoos are obsolete and/or cruel. I respectfully disagree. Are wild animals enclosed in tiny spaces atrocious? Absolutely it is. Is wildlife conservation ridiculously important nowadays? Absolutely it is.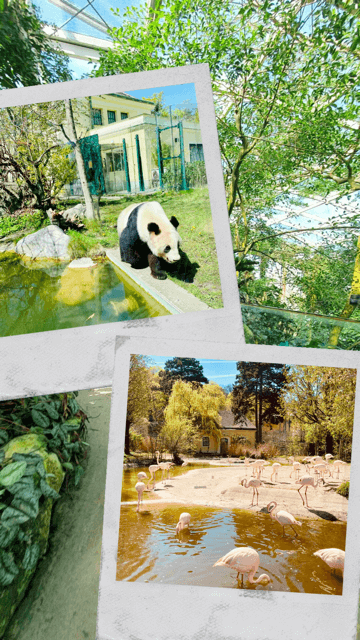 As a San Diego native, I grew up visiting one of the world's largest zoos regularly because it was in my hometown. San Diego has two zoos, in fact, both dedicated to the preservation, conservation, and rehabilitation of all wildlife species. I'm sort of an unapologetic zoo snob as a result. But this fact serves as a tiny preamble as to why visiting zoos while traveling is my thing.
All zoos are not created equal, however. And my snobbery often extends into advocacy when I find zoos ill-equipped to care for the animals there but are seeking monetization. Gratefully, the Schönbrunn Zoo is no such place and delivers memorable experience after memorable experience. With multiple temperature-controlled areas to house live bats, arachnids, and reptiles. The zoo does a great job of supporting and bringing awareness to several important ecosystems.
Opening at 09:00 the zoo closes at different times depending upon the season. Adult tickets cost $25 (24 euros). Discounted prices are available for children and disabled persons, and kids under the age of 6 are free. Tickets can be purchased online or as a bundle with your entry to the Palace and Gardens. I highly recommend the latter and using your Vienna City Card when you do for the extra savings.
Act like a kid in Vienna at Prater Park
This third shoutout is the most fun of the three recommendations of how to act like a kid in Vienna that I'll share. Prater Park is a landmark of the city and dates back to 1766 and is completely free to enter. What is it exactly? It's a pay-per-ride amusement park on the outskirts of Vienna.
Hours for rides vary and the park itself does close for major holidays. Be sure to check it's open and validate that your ride of choice is operational before making the jaunt. If visiting Vienna for the Holidays, consider visiting the park for the Winter Market. It's an entirely different Prater experience.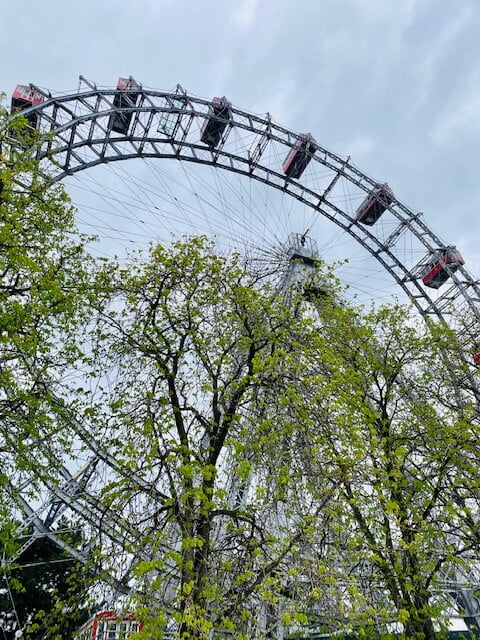 Each ride in the park carries an individual cost, the Giant Ferris Wheel is the most expensive of all. Prater is home to the popular Giant Ferris Wheel, which is a spectacular part of the Vienna cityscape. A whopping 13.50 Euros ($14) for a single adult ticket, I took a pass on riding it. Having had plenty of previous opportunities for breathtaking views of the city, which is what I know the cost truly buys.
I opted to stretch my cash and spend the same amount on 3-4 other rides, instead. This place is massive and has over 100 different rides to choose from. There are more than a few decent roller coasters, too. Another way to capture high-rise views of the cityscape, if brave enough to risk it with your recording device.
Will you choose to scream your head off on loopy-loop roller coasters? Or get soaked on the water rides? Perhaps get some whiplash on the bumper cars?
There's childlike fun for all ages in Vienna
Each destination in Vienna will bring out the inner child in anyone. This endeavoring list of childlike activities in Vienna gives that inner child an intense bear hug. Doesn't it feel marvelous?
As does gallivanting around a city as ancient as Vienna acting like a giant, big kid. But we all deserve those fleeting moments of pure joy, don't we? Don't you?
Where in the world is Meredith San Diego acting like a kid these days?
Bag Lady Meredith San Diego is always on the move! Want to know more details? Register for the Bag Lady Meredith San Diego Monthly Newsletter & stay in the know!