While solo living abroad these eight years, I have picked up a few practical sustainable living tips worth sharing. First. Let me say that living abroad in any capacity, solo or otherwise, is tough. And I salute those of you reading this blog who are already living this fact. I would be intrigued to know the various means of adaptation you have undergone along the way. Feel free to share a story or two in the comments when you're done.
For those of you who are new to solo living abroad or know someone who is, this blog is primarily for you.
My first experience living abroad was as a Volunteer in the US Peace Corps. I was in close quarters with a host family in a foreign land. Both a new language and culture were coming at me in full force and it was exquisite. I was in a tiny village of about 2,000 people, everyone knew everyone and everybody talked about everybody.
In the Osogov mountains, people's connection to nature was ever present. As was the desire to consume less to protect nature as we know it today. Living in this type of culture was the catalyst for my adopting a more minimal and sustainable approach to living. It took witnessing the possibilities through others first, then challenging myself to try it too. Slowly I began to incorporate a few things, discovering my own practical sustainable living tips and tricks along the way.
Does solo living abroad make this harder?
The short answer is, no. Solo living makes it that much easier to implement these practical sustainable living tips. There is just yourself to check the decision against. But that also means that there's only you to hold yourself accountable, too.
In a lot of ways adapting to a more sustainable life is fun. There's a ton of educational information out there and some of it will blow your mind. I am still flabbergasted by things I find out about what's hidden in our food or daily beauty products. And I was in the beauty industry for five years…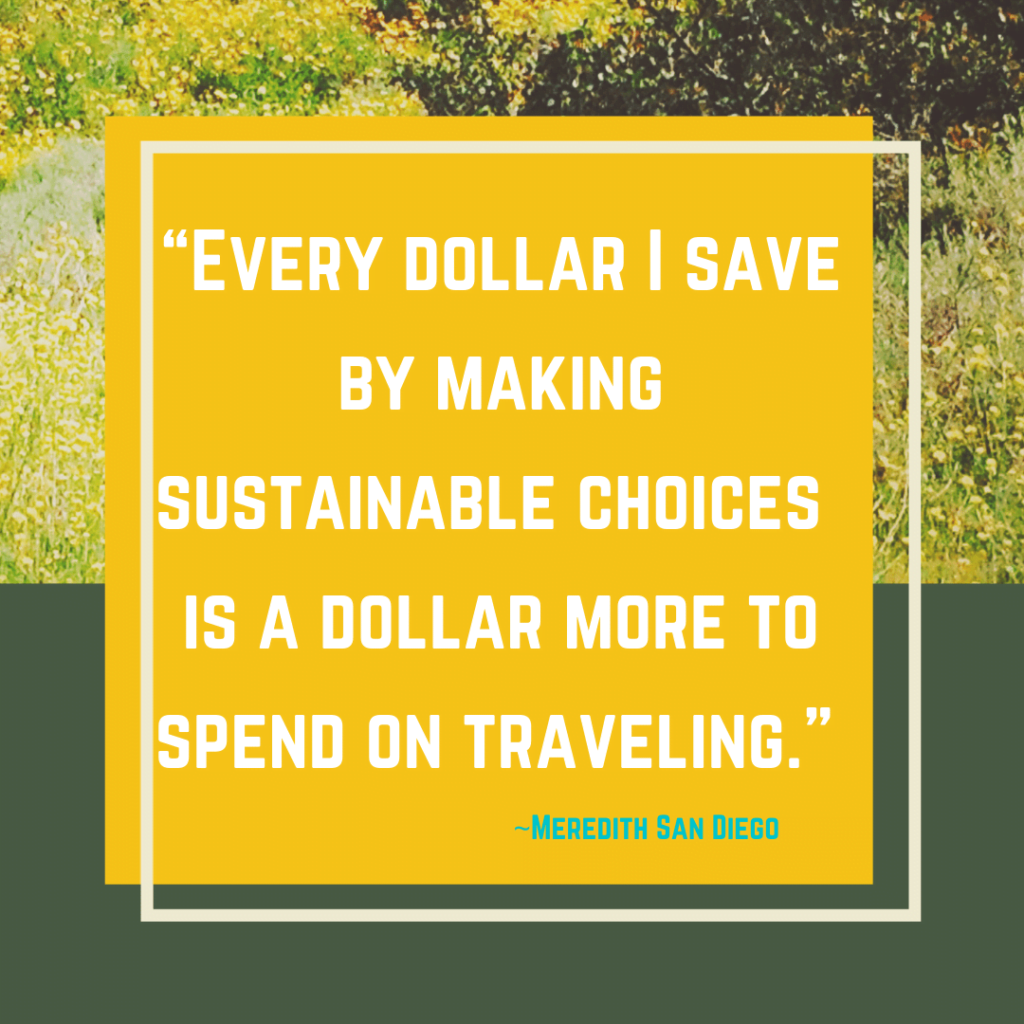 The adaptations I have made are only obvious when I have non-minimalistic house guests. They default to using paper towels for small spills vs one of the dozens of reusable rags around the kitchen. And they always use far too much toilet paper.
I realized I only had a singular bowl, tea mug, and body towel. And only yielded to purchasing additionals because I am a considerate hostess. I do make guests bring their own coffee though because I don't touch the stuff.
There are challenges to the lifestyle, though. Some of them are amplified for me living on an island in the middle of the Atlantic. But I am grateful that the island is equipped and participates in recycling. This isn't always the case everywhere around the world.
Sustainable setbacks of living abroad
Not every country is as eco-conscious as the next. That is to say that some countries don't participate in sustainable efforts much at all. A friend and fellow ex-pat once told me that she failed to think about checking into the country's sustainability efforts before moving. Needless to say, she was disappointed to find out how little the country did actually participate in any.
Her experience and story taught me to be more conscious of it too. As I hunt which nation I relocate to next, verifying their sustainability efforts is near the top of my list of things to do when researching. Most any place, though, will suit me fine as long as it isn't my home country, the USA.
Find that hard to believe? Consider how little most (North) Americans do on a daily basis to be sustainable. Then think about the access to the necessary infrastructures they have to do so, yet still don't. Now consider those developing nations that would love to be able to recycle glass and plastics, but cannot because they lack the infrastructure to do so.
That should shed some serious light on the privilege in the throw-away culture mentality that thrives there…
Whatever challenges I have and will face adapting to a more sustainable existence are worth it to me. Embracing an interconnected approach to life has given a different layer of depth and purpose to almost everything I do. Plus it serves as a catalyst to share all of this good information with all of you.
Practical sustainable living tips for solo living abroad
Do you like to eat hard-boiled eggs? The next time you're about to boil pasta, throw some eggs in the water too. This is a super practical way of "killing two birds with one stone", as they say. What's another none violent version of this colloquial, please? Someone tell me in the comments. Thanks in advance.
Save the ends of your bread in the freezer (in a bag) and defrost them to make salad croutons. This works with any piece of bread. Can't finish that piece of sourdough, or won't finish the everything bagel in the fridge? Throw it in the bread freezer bag to be made into croutons later.
Collect the dirty dishes in a large bowl or bucket. Then fill a separate small bowl with a little warm water, your sponge/brush, and cleaning bar/soap. Soap up everything using a small amount of water then rinse everything afterward quickly in a running stream. This action is a practical way to conserve water.
Buy items in glass containers vs plastic whenever possible. Then reuse the glass container around the house for storage. For those items unavoidably in plastic, consider saving various sizes of them to reuse as Tupperware/storage containers. This is an easy adaptation to living more sustainably as an ex-pat.
Wash your clothes less often. Re-wear those jeans a few times, or partner the top you wore a few hours the other day with a different pair of shorts. These practical sustainable living tips help save water and extend the longevity of your clothing. Bonus tip: consider using a laundry ball to eliminate a non-recyclable plastic item from your home. Remember to add a teaspoon of baking powder to each load for deeper cleaning.
Bonus practical sustainable living tips for solo living abroad
If those handful of hearty tips weren't enough for you, try these additional goodies.
Repurpose food scraps as often as possible. Save lemon rinds to make your own disinfectant. Soak that organic banana peel in water overnight then use the mineral-infused water for the plant babies. I get a ton of great ideas like this from my favorite female eco-duo at Permacrafters.
You don't need that much toilet paper. Read it again in the first person, please. Every time a guest comes to stay I am alarmed by the amount of paper they shove down the toilet bowl. What's the big deal with paper? It sits in landfills as breeding grounds for bacteria. Then when it breaks down into the soil, it takes the poison of the bacteria with it as it makes its way into our waterways.
Personally, I've taken to repurposing my old cloth scraps to reduce my paper towel usage. With the number of times per day that I and this tiny bladder of mine visit the premises, it saves me a ton financially and I know I'm reducing my personal paper waste.
Another easy adaptation is to rinse produce in a caldron placed over a bowl half full of water. The dirt is heavy and will sink to the bottom of the bowl. You can rinse and dry multiple pieces this way while conserving water.
Ready to start living more sustainably?
If you're looking for a one-stop shop to give you a variety of sustainable products to replace your plastic items, I recommend The Sustainable Tomorrow. Sustainably made items from sustainably sourced materials that are great for the kitchen, bathroom, and travel. Use code MEREDITHSAVES10 at checkout to save 10% on your first order. You're welcome!
Remember to take this journey one step at a time. I began going from room to room, starting with my bathroom. I chose the bathroom because it was the room that had the most amount of plastic in it. Eliminating shampoo and lotion bottles with bars, getting a natural loofah vs one lined with plastic. Most are did you know?
Then I made my way to the kitchen, and so on and so forth. There's never an end to this journey either. There is always something more to learn or that inspires your resourceful side. It's in there, it just needs to be coaxed to come out and play. I came face to face with mine in the Peace Corps and I'm grateful for it daily.
Here's hoping sharing this information motivates you to try and adopt a more sustainable approach to solo living abroad, too. We all have to start somewhere. How will you begin to live more sustainably?