I know what you're thinking? Why on earth would someone who openly claims to despise the cold decide to travel to the Land of Fire & Ice? Aka Iceland, a Scandinavian actively volcanic island sitting in the North Atlantic separating the European and North American continents. The geological border that this island is centered upon makes for breathtaking scenery, but teeth-chattering temps. How was it surviving 9 action-packed days in an Icelandic winter wonderland? Challenging, to say the least, but also delightful, educational, and majorly empowering.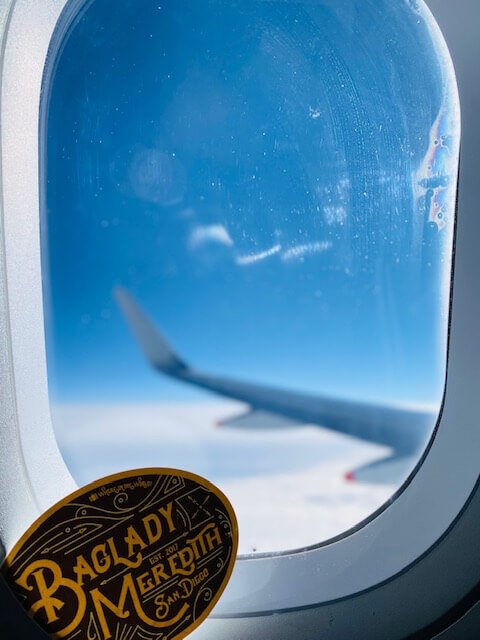 After gallivanting the globe (pre-Covid) as a solo backpacker for years, I've arguably seen a lot of places. I say that to say that my travel bucket list has been written and rewritten from passport stamp to passport stamp, region to region. Approaching my 40th birthday, I configured a brand new top 5, Iceland sat near the top of that fresh list.
Ultimately, I settled on the destination as a means of challenging my comfort zone. But it also won out because:
There was no time zone change, which means no jet lag to battle
It's geographically closer to my current "home" in Spain
As a teacher, my travel times are fitted around school holidays
With over two weeks off for winter break, and for the reasons listed above, Iceland easily won out. Besides, with that amount of time, I could prioritize trying to witness as much of the unique archipelago as I could.
I knew that wintertime is a favorite for visitors to the island, but that the weather could be unpredictable. With this in mind, I set out to prepare for my trip leaning heavily on my travel savvy.
Preparing for the trip
The first step to my preparation process is to youTube the heck out of the country I plan to visit. Take care to search for the destination and the month of travel for a more accurate depiction of what awaits. This also allows you to observe the gear (winter clothing) needed for surviving in an Icelandic winter wonderland. Take close inventory of what's needed then order, buy, or borrow accordingly. Using Instagram tags to discover eateries and off-the-beaten-path spots helped outline a spending budget. And, of course, reading existing blogs by fellow solo female travelers that have been to the destination.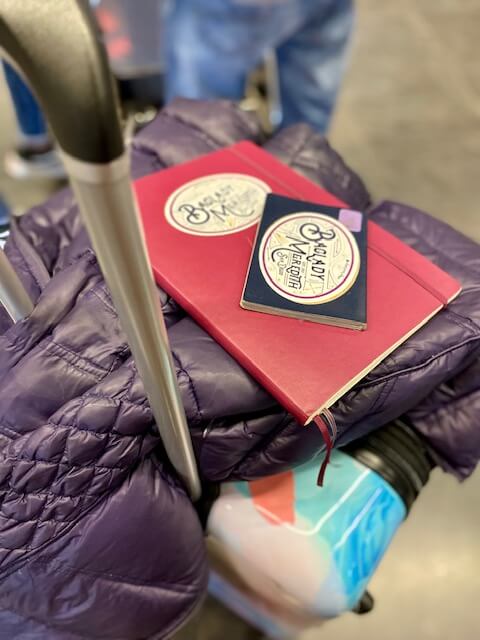 After visiting the Tube, I hop onto Tourradar.com to begin comparing small group tour options. I enjoy traveling solo, but these days I enjoy a healthy combo of small group tours and solo travel. This allows me to make friends from other places in the world, lets me lean on others for photo taking, too. Cause that wind out there y'all… my tripod wouldn't have stood (pun intended) a chance.
On Tourradar I can type in the destination and see what results come up. Then I compare and contrast those tours for overlap. I read the reviews for each tour that catches my eye, then do independent research on the areas listed on the tour itinerary. If it all looks good, I check departure dates and availability. Only then do I begin to scout flight and accommodation prices, if not included in the small group tour of interest, and then establish a budget.
Good morning Charlie
It didn't take me long to find Charlie's tour on the website. Listed as an adventure-packed trip across the island in only 9-days, I was intrigued. Having never heard of Charlie The Traveler before, I dove headfirst into the itinerary. Don't make that same mistake. Instead, be sure to reach out and contact Charlie first. The reason for this is that Charlie's tours are hella flexible and with the Iceland tour, weather dependent.
I have purchased many tours from Tourradar in the past. Following the listed itinerary to a T each time. So it came as a shock to me when Charlie was shook at the fact that I had already scouted and booked my flights based on the itinerary provided. Handling it like the pro he is, he carefully explained that everything listed isn't necessarily in order or available during the winter months. On top of that, some of the tour companies in the lineup suffered greatly during the pandemic and unfortunately, didn't survive.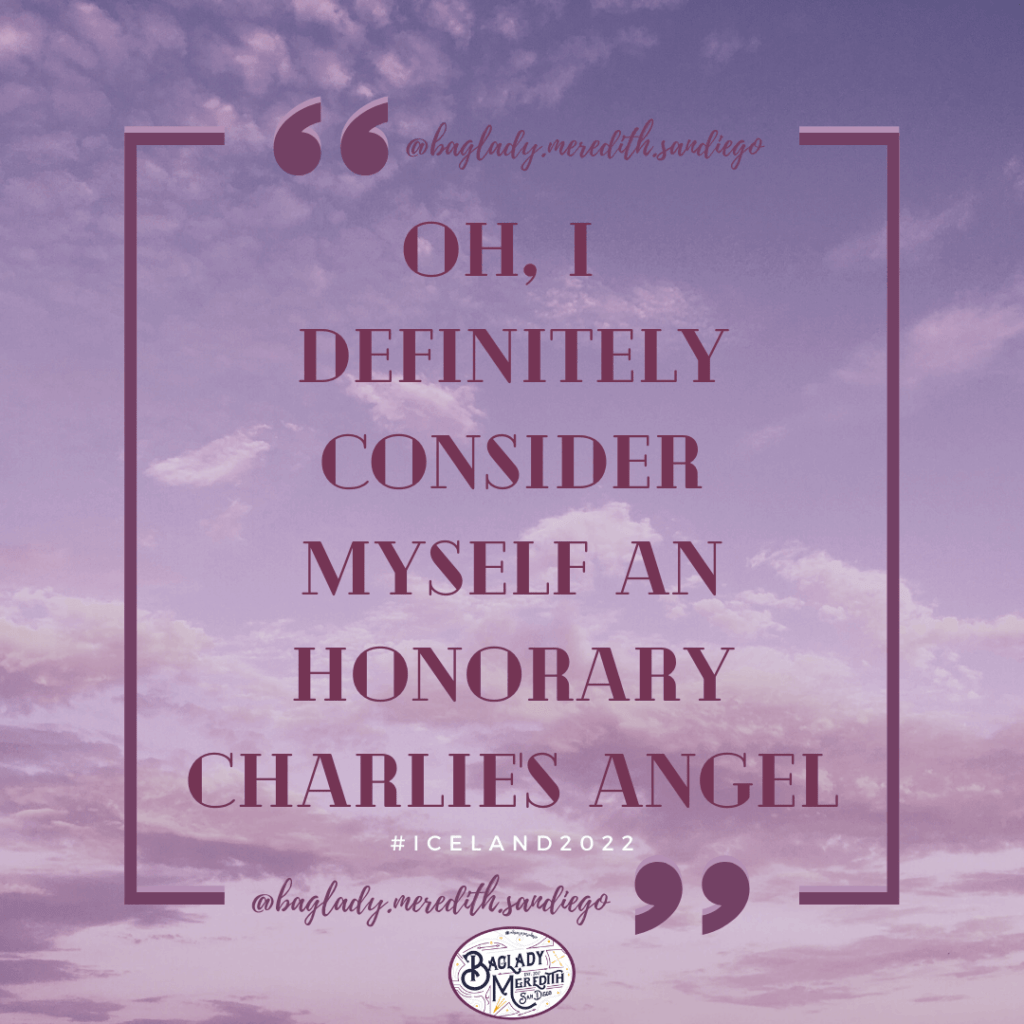 My inexperience in collaborating with travel agencies must've been as transparent as they come. Regardless, Charlie helped me modify my existing plans to fit what was available for the tour. Even made suggestions of hotels to stay to make pick-ups and drop-offs as seamless as possible. He even assigned a personal concierge (in Iceland) and helped set up my PCR testing for my return flight. VVIP status y'all!
So what was the settled itinerary? Allow me to break it down for you.
9-day breakdown
I landed in Keflavik (KEF) and then transferred to the domestic airport via Flybus. After landing in Akureyri, located in the North of the island, a private taxi was waiting to take me to my hotel. Keep in mind that in December, the sun is awake for four hours on average. Sunrise happens around 11:30a and sunset takes place by 4p. This last sentence is another prime example of why speaking with Charlie about the tour should come first.
The learning curve, though, was all part of surviving in an Icelandic winter wonderland.
My arrival time in the north got me there pretty close to sunset. This meant a day tour of any kind was out of the question. Driving through town to my hotel it was evident that many businesses were also closed for the day. Some of this was Omicron-related restrictions and some of it wasn't. I was grateful to have eaten at the airport and that I had snacks and water with me. Luckily, the restaurant attached to my hotel was open, albeit until 9:30p. Because of my late arrival time, Charlie set my first date of the tour to start the day after I arrived in the country.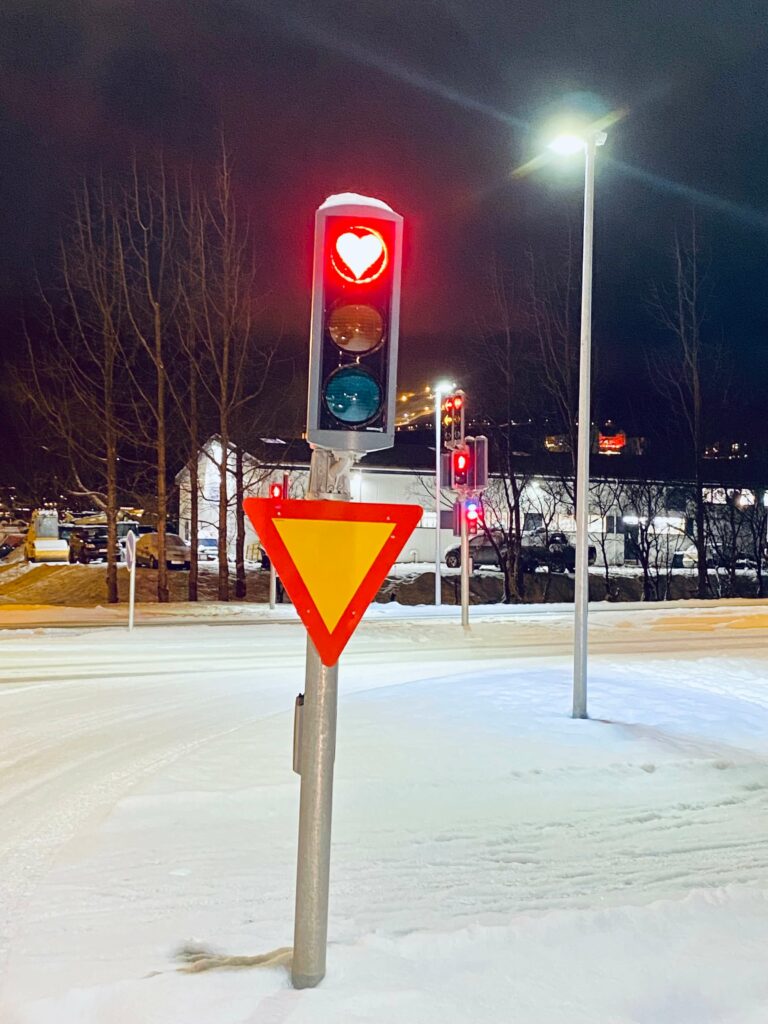 Day 1
I would say bright and early, but the sun wasn't up yet. But at 9a I was ready and waiting in the lobby of my hotel for my first of nine adventure day tours. This one was organized by IceAk Super Jeep Tour and to my surprise, I was solo for this one. Despite the darkness of the morning, my guide and I set out on our 44-inch tires to explore the north.
I dressed appropriately before even getting into the vehicle with my water-resistant pants, boots, and heavily insulated snow jacket. My day pack was my old water pack purchased while visiting the Philippebs three years earlier. There were at least two waterfalls on the agenda and didn't know how close I might actually get to one. Better safe (and dry) than sorry I deduced. On this tour, I witnessed the following: Detifoss, Godafoss, Lake Myvatn, and Hverir. Say any of those names three times fast, I dare you.
I'm inclined to highlight that because it was just me and my guide, time was on our side. This allowed us to visit more than a few places not listed on the itinerary. I won't say exactly where we went as not to mislead the actual tour's itinerary. But it included plenty of GOT filmed areas, natural hot springs not on any map, and "snownuts" in the jeep. Majorly fun day.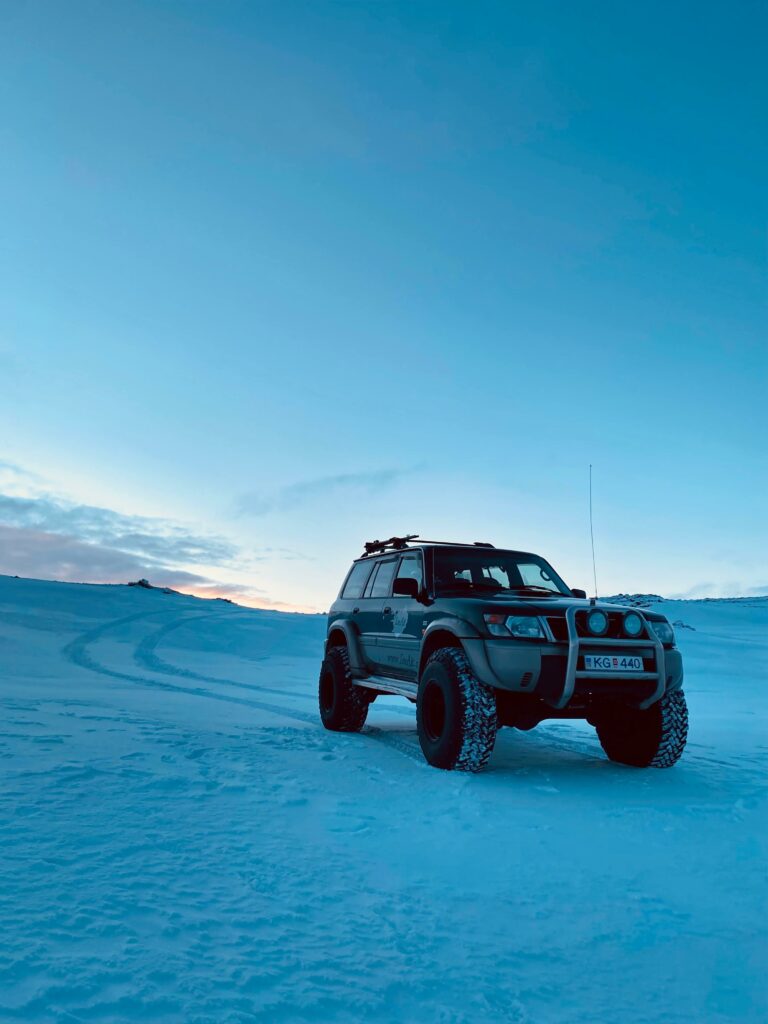 Day 2
My second day begins by waking up in Reykjavik. The friendly IceAk tour guide dropped me at the domestic airport at the close of day 1. By this point, my ego was full Prima Donna thanks to my second VIP private taxi pick up at the airport. That's the Charlie experience though- wink * wink. I could have found another way of surviving in an Icelandic winter wonderland, but lest we forget, this trip was for my birthday.
A city walking tour of downtown Smokey Bay (the Viking translation of Reykjavik) and a whale watching tour are on the agenda for the day. With a 10a (aka before sunrise) meet-up time for the walking tour in place, I set out a tad early. On foot from my hotel, it took about 15 minutes. Nice and layered up for the day, I took my time heading to the meeting point. This is a personal tradition when in a new place. Allowing me to mindfully introduce myself to the city at my own pace.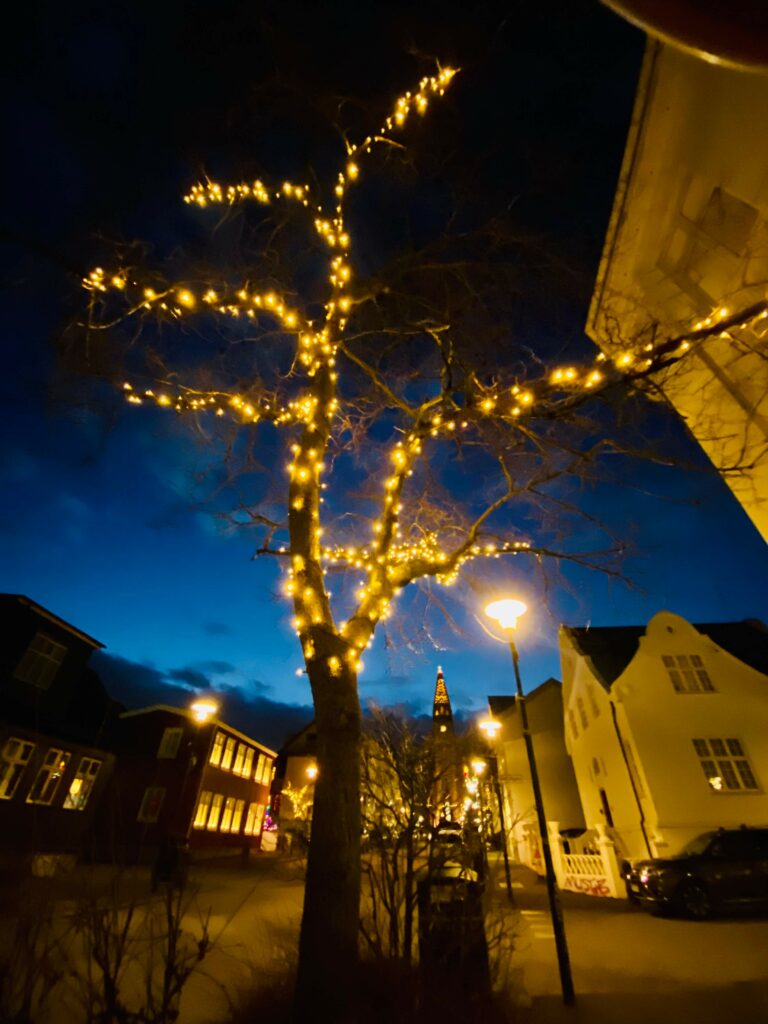 Toward the end of the tour, I got a text from my concierge. High winds in the open sea have canceled the whale watching tour. This was the first of a few scenarios like this that played out throughout the trip. The weather out here is brutal and can flip on its head in a matter of hours.
Day 3
Well-rested from the downtime the canceled tour brought me on day 2, I was excited to check out and head East. Today's tour was hosted by Activity Iceland and takes the small group into the heart of the country via van. Glaciers, Iced over waterfalls and more GOT filming areas in the Thorsmork Valley were on the day's agenda. While clamps were provided for me on my first-day tour in the north, they were not provided for the duration. I highly recommend packing a pair. This part of the island is where tons of the adventure begins, but that means gallivanting in the snow and ice.
Not to mention that the areas directly around and leading up to the best viewpoints for the falls are completely iced over. They can be dangerous to attempt to walk on without them. When adventuring on the glaciers, however, serious ice climbing cleats will be provided.
Day 3 was a lot of driving, which meant a lot of napping for me. I adore a good long-distance bus ride. Now might be a good time to point out that bathroom breaks are few on these trips.
So for those with a tiny bladder (raises hand) these day tours were may prove to be tough. I woke early and pounded a liter and a half of water each day ahead of the tours. This allowed me plenty of time to pee it out when a bathroom was accessible. On the road, there are few bathroom breaks so take advantage of them when they happen. Limit liquid intake during the day and then pounded liters when back in the hotel room.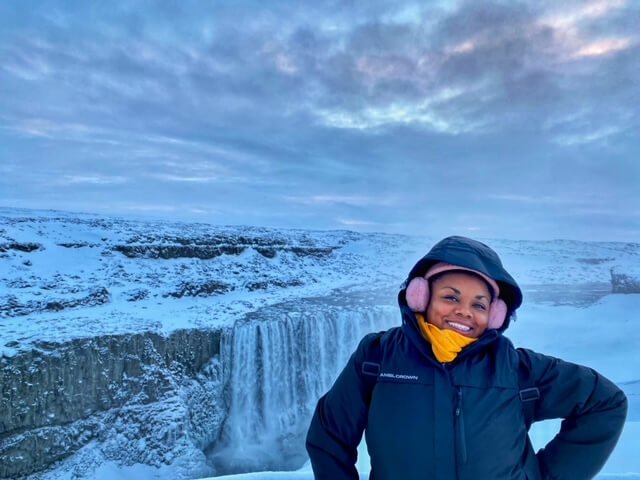 Day 4
Sticking in the East, today's adventures play out on a 2-day tour package by Troll Expeditions. The enchanting Diamond, but deadly Black Sand beaches, the Skafatell Nature Reserve, and, you guessed it, waterfalls are up today. This was another day heavy on van rides. I know what you're thinking: but the island isn't that big! It's actually close in size to England despite its appearance on maps.
The most memorable part of today was the tour guide. Carl. Carl was an older gentleman and Icelandic through and through. When Carl came around the van to help me with my luggage, I couldn't stop staring… At his feet. My man had on open-toed sandals without socks in the snow. Now you know, I had opinions on the matter. So I asked him once tentatively, "Hey Carl, where are your socks?" He shrugged and replied begrudgingly, "These are my warm winter sandals."
Needless to say, I side-eyed sockless Carl all day as he walked straight through snow and over slippery ice unscathed. Meanwhile, my foot warmers were handling business keeping my feet -with wool socks on- warm enough the both of us.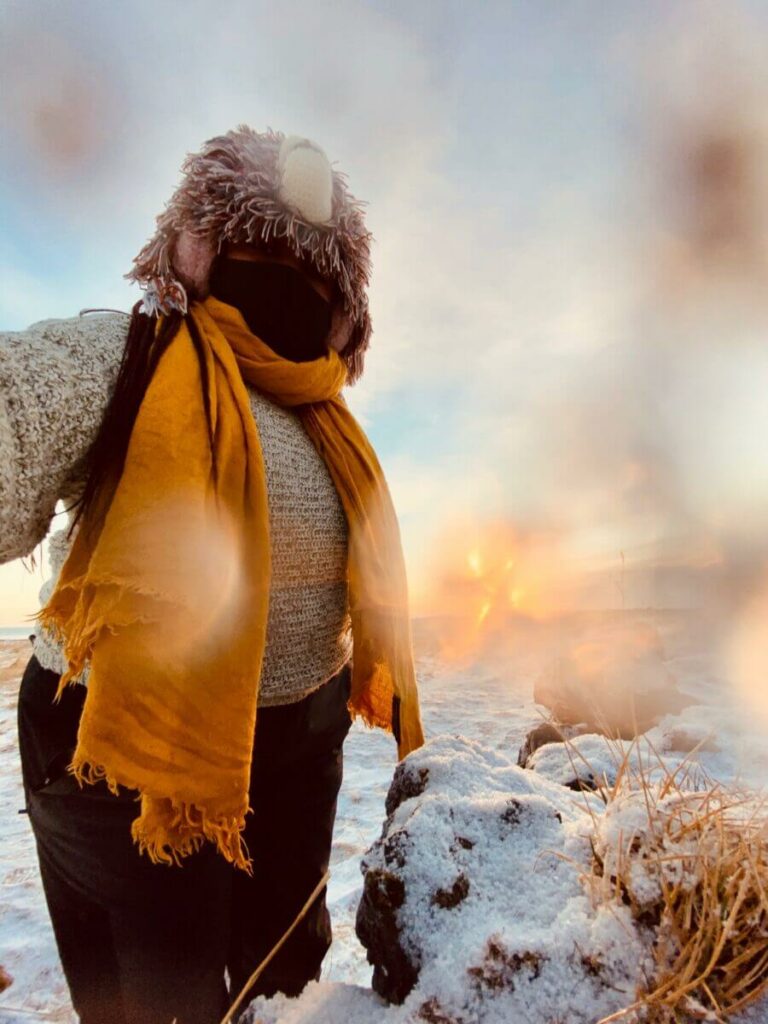 Day 5
After a good night's sleep, the group reconvened at the breakfast hall where we were reunited with sockless Carl. This accommodation being the singular one to provide us breakfast with our reservation, we all took full advantage. Getting properly full and packing the fruits leftover for snacks during the day.
Having two days to bond with the small group was special. Two women were from a neighboring island in the Canaries, and an entire family, Grandparents too, vacationing together. Finishing up the two-day tour battling harsh winds, we got word that a massive storm was on its way. I was thankful to be heading away from the storm and back to the city where the storm wouldn't affect me. So I thought.
Day 6
Weather cancels the day's tour to the Golden Circle and to hunt Aurora Borealis. A true and profound adventure bucket list item. When a cyclone is passing through, though, it's easy not to get too upset about being indoors and cozy. Having extended my trip a solid five days past the tour itinerary, I hoped for the chance to reschedule.
I will reiterate the need for flexibility when visiting this island during the winter. These road conditions are no joke. We saw at least two cars (that day) that had slipped past a turn and wound up in a ravine. If you opt to drive yourself around, pay close attention to weather advisories. Do not assume you can handle it and do not overlook getting liability insurance on the vehicle. Part of surviving in an Icelandic winter wonderland is to respect its nature.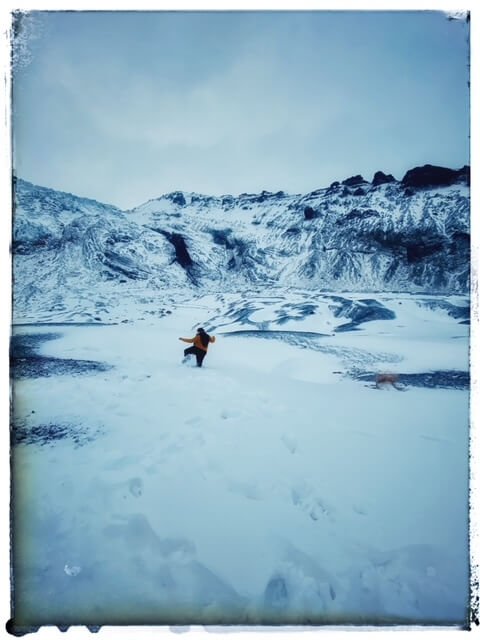 Day 7
Ready for adventure with Nice Travel Company, day seven took me to the Reykjanes Peninsula. I stood near to and on a lava field, hiked the base of an active volcano, and witnessed jaw-dropping scenery. And the close of the day would have me pampered in the Blue Lagoon and chasing down natural wonders.
This day, though jampacked with adventure, was another brutally cold day for me. The winds would whip you so hard it felt like it slapped you. At one point it was strong enough to support my entire body weight. Being so layered up was part of the problem. I felt heavy with all that material on, plus the terrain was uneven and that wind…
I was all too pleased to be soaking in the Blue Lagoon, trying mineral masks, and defrosting my bones. Well deserved, if I do say so myself. This day I jumped from one tour to the next but welcomed the crazy after such a solace one the day before. After getting dropped off from the Blue Lagoon, I was on the next tour to hunt Aurora down. There are apps that can be downloaded to know which nights and times are best for your hunt. My concierge handled it for me (flips hair over shoulder).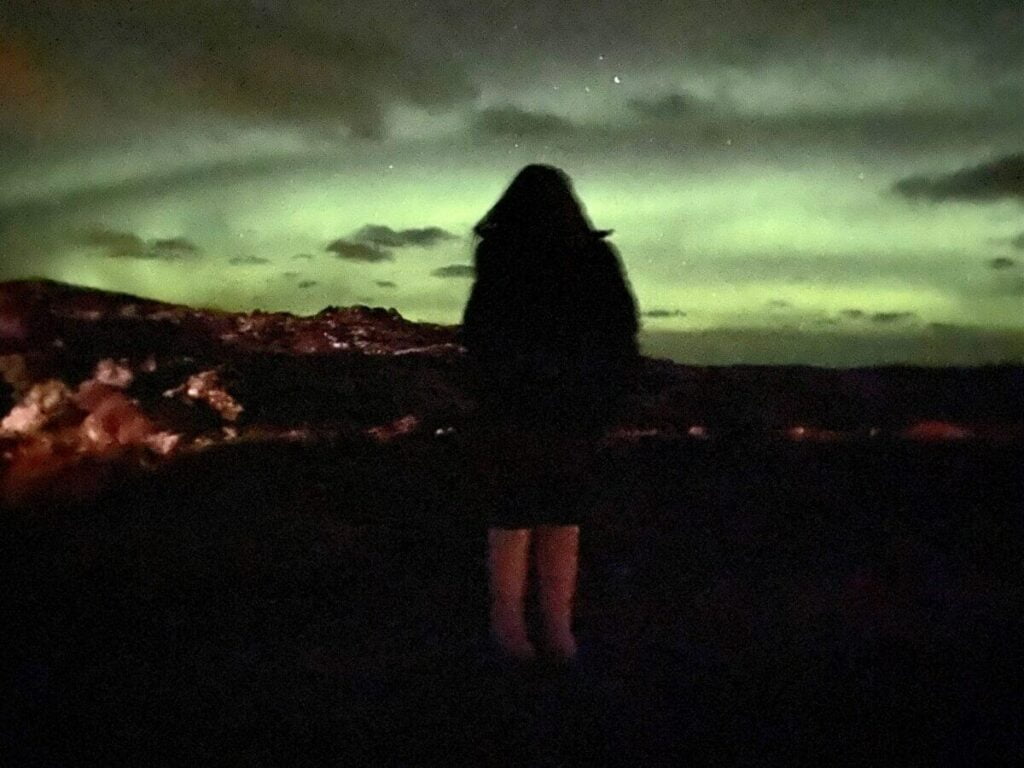 Day 8
Definitely one of two standout highlights from the trip, the Sky Lagoon should not be skipped. As the newest tourist attraction on the island, this place rivals the popular Blue Lagoon. Unlike the Blue Lagoon, the Sky Lagoon is more of a spa experience. The seven-step ritual was spiritually moving, the vista (view) breathtaking.
This day was charming and the most memorable because I met so many amazing solo traveling females. These places are heavy on the couple's action, and I assumed that per usual, I would be the only solo chick there. I was so wrong, and candidly happy to admit that fact. Instead, I befriended a traveling widow in her 60's and another digital entrepreneur in her 30's. We love to see it, don't we ladies?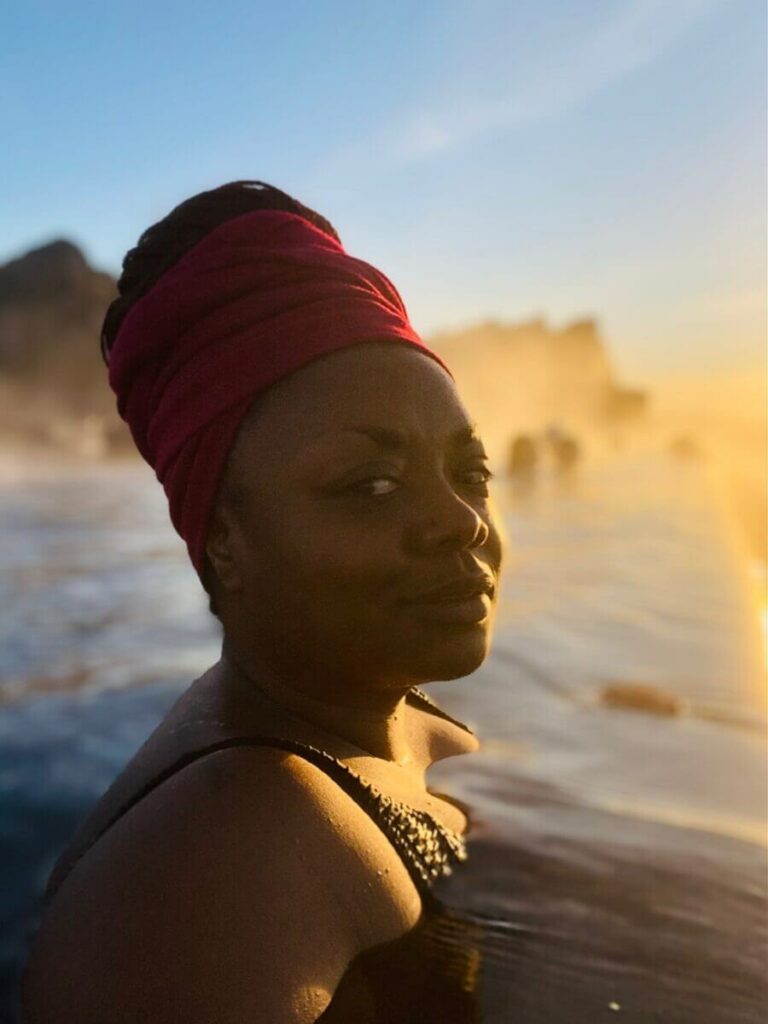 Day 9
With day 8 dripping (pun intended) with good memories, my heart was wide open for more adventure on day 9. I was not ready for the large crowds, though. Today's route was the Golden Circle, the most visited circuit on the island. Having been spoiled with private or small group tours for the duration, this tour was the opposite of that. With the added stresses of traveling during a pandemic comes pre-boarding negative antigen tests to accompany my vaccination certificate.
Being on a fully loaded bus for the day wasn't my cup of tea. Neither was the weather which was sleeting the majority of the day. It was so dark at the time we got to the first stop I could barely even see anything let alone snap a photo of it. I was also exhausted, hyper-aware, and therefore annoyed at the amount of clothing on my body. Still, seeing the geyser saved the day. And the icy views of one of the island's largest waterfalls cascade despite these temps was inspiring.
**If you'd like the full and more detailed itinerary for Charlie's 9-day tour in Iceland, check it out on Tourradar.com.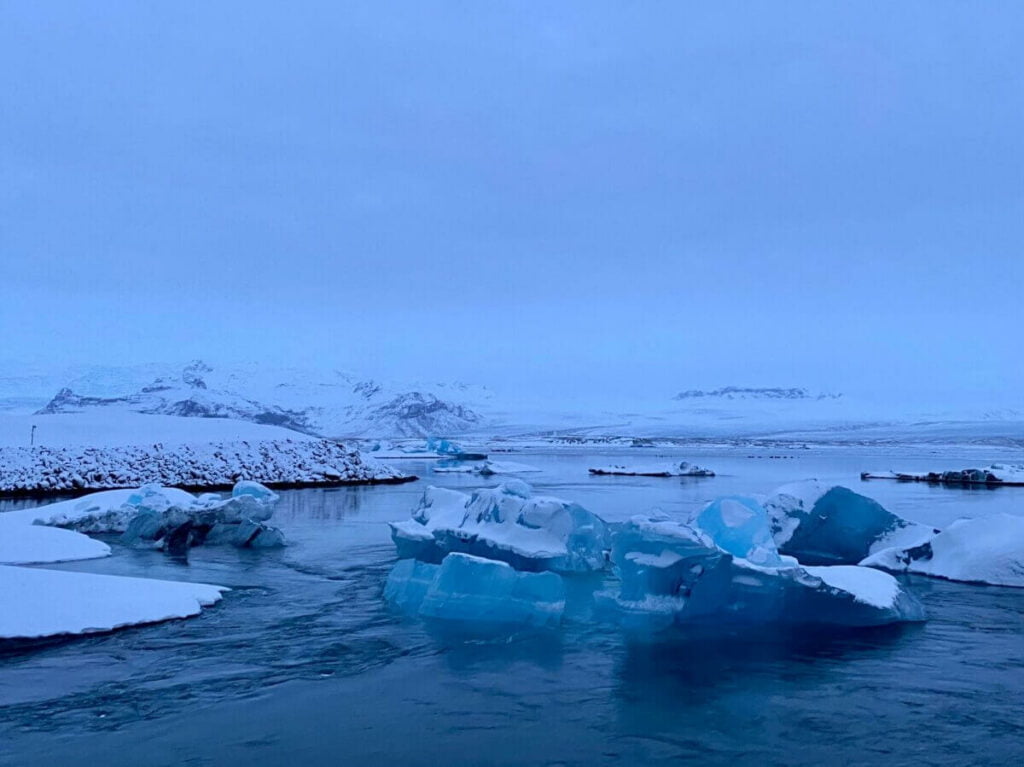 After the tour
After the tour concluded, I hung around Reykjavik for a handful of days feeding myself and indulging in glacier fresh water. I edited and organized my content and wrote up all the reviews for the hotels, tour companies & businesses I encountered. I do so graciously because I am travel addicted and genuinely appreciate their being there. The tourism industry here struggled greatly during the pandemic and supporting these businesses is important.
I, like many of you, have read that tipping is shunned on the island. The tour guides and restaurant staff begged me to be one of those that call out this falsity. They welcome, want, and need your tips so don't be shy.
Land of Fire, but mostly Ice, I will remember you always. Truly a 40th birthday for the books. The geothermal technology and resourcefulness of your people were enlightening, to say the least. The nature here reminds you how truly insignificant you are on this giant Blue Rock. The melting glaciers cemented the need for continued advocacy for the Pachamama. And once again, I am grateful to have witnessed places on this planet that most might not. And to touch elements of the world that within my lifetime will have vanished.