I've been loaned an extra sleeping bag in addition to the down baby blanket and an extra pair of sweatpants purchased in the last town for night two. I've set myself up for success tonight by taking my sleeping pills along with the fresh mound of spaghetti and bolognese dinner prepared by our rambunctious tour guide. 

The stars tonight are even more breathtaking than last night's selection having traveled deeper into the open outback along the Oodnadatta trail. Slowly, but surely, we are making our way toward Uluru and Kata Tjuta as our final stop of this journey. Our campsite tonight is in Wills Creek—which has a whopping population of eight.
We're the only ones at the campsite so everyone is much more lax with their swag spacing. I've positioned myself away from the lot of the group with hopes of a quieter experience. Finding the right placement not too lumpy or smack in the middle of an ant trail forces me to camp closer to the group than planned. I slide into my swag, monster flap open, and stare up at the clear, star-filled sky. I drift into a deep sleep finally contented in nature.
Onward to Uluru and Kata Tjuta
The morning finds me groggy yet delighted having had more sleep. A quick shower, a bite to eat and we're back on the bus and off towards opal mining country. Manmade ant holes line the roadside into Cooper Pedy; dunes created by 'blowers' drilling for opals. This once booming opal mining town wrestled up my first encounter with the native aboriginal people.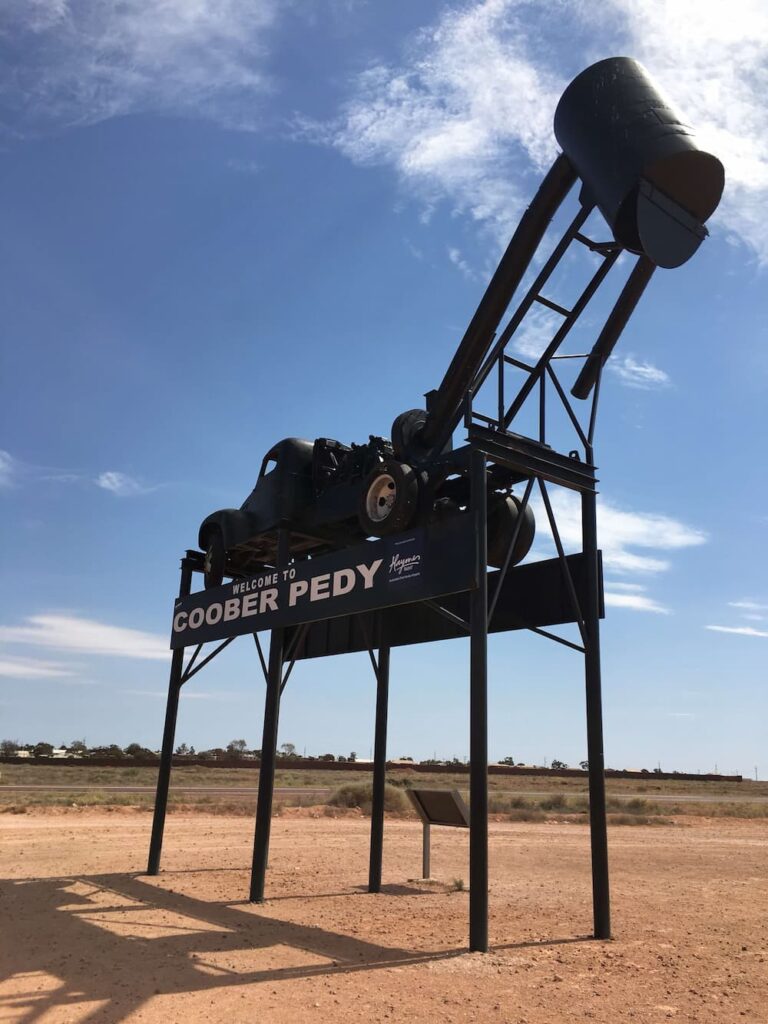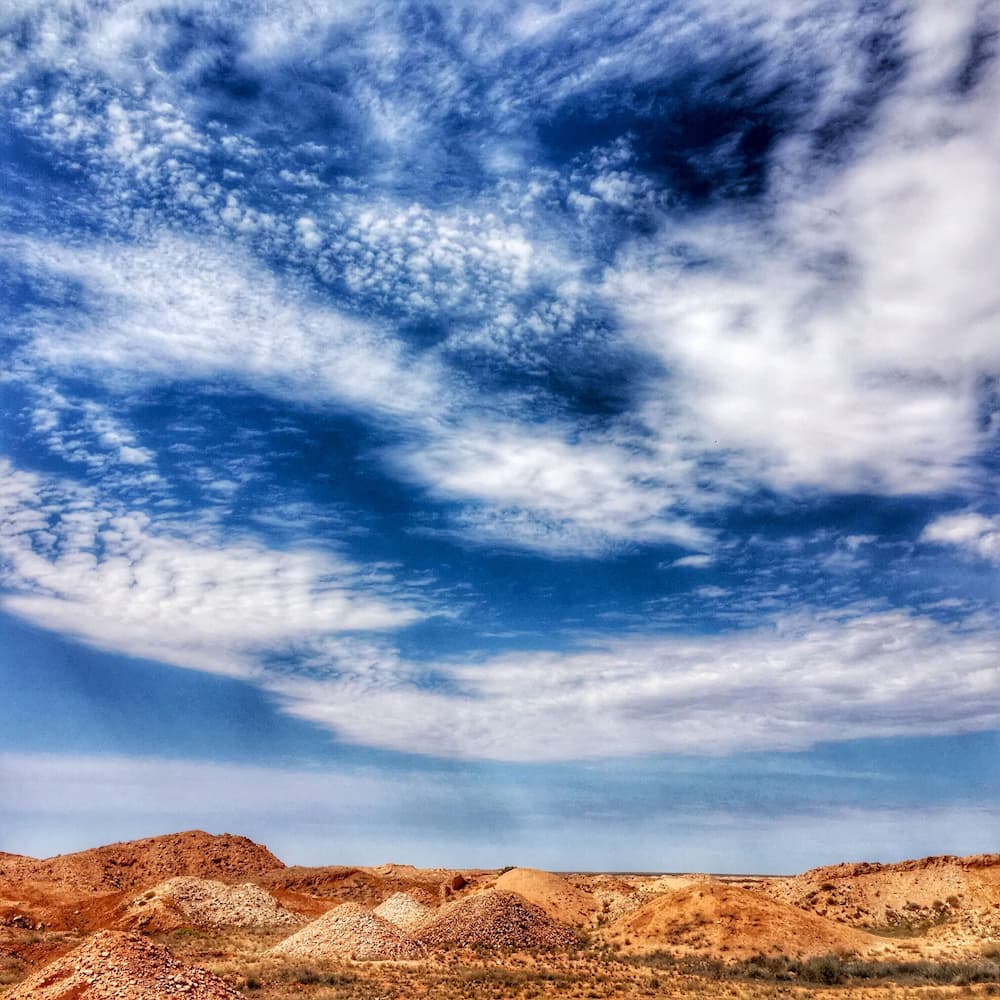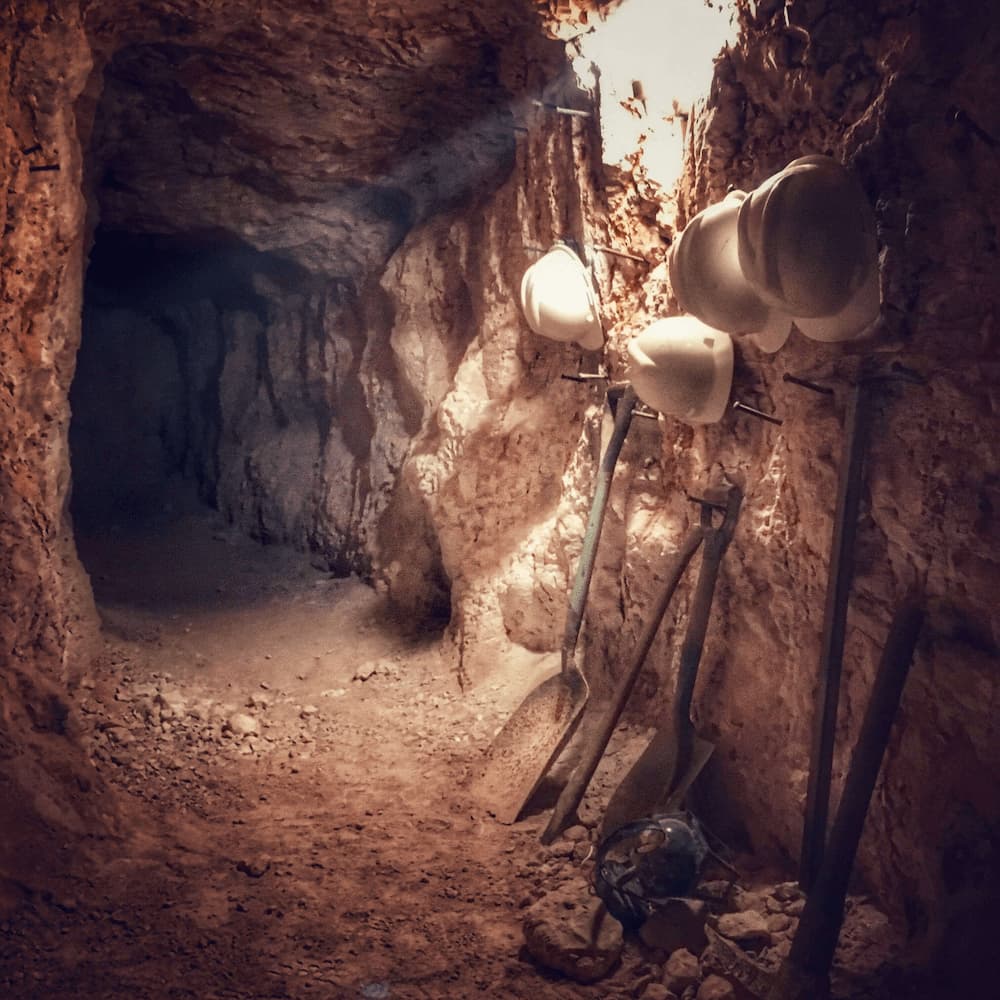 I walked to find the bottle shop in this "dry" zone and some decent wifi—had been off the grid for days—gave one friendly (and extremely inebriated) local the opportunity to inquire after my heritage. Fascinated by my hair she is joyful and full of questions. When she discovers that I am indeed American vs. from an African country, she dares further and asks to touch my hair.
A few members in my immediate company are physically turned off to her presence, but I'm all too eager to chat her up and listen to her slurred stories, more like warnings, of freshies—Australian slang for tourists—led astray by drunken men in the area. I wrap up some emails while we share a few more laughs before she's on her way and so are we.
It's ten hours on the road, eight hundred kilometers broken up by four stops. When we arrive at our next camp we unload our things and begin preparations for dinner.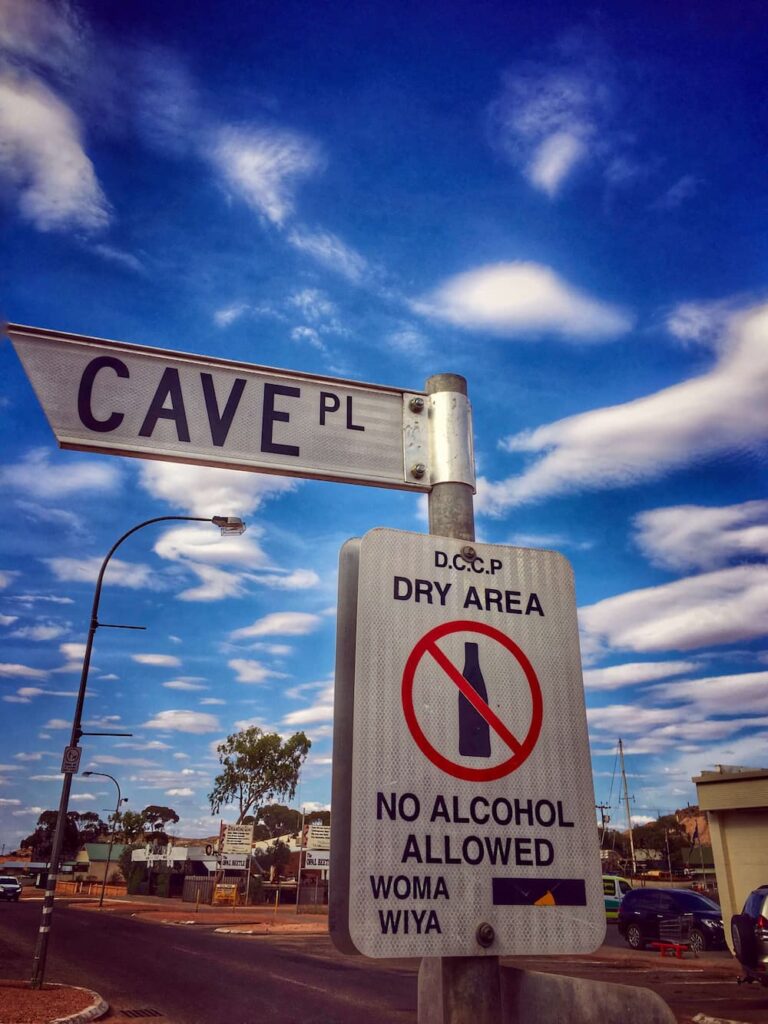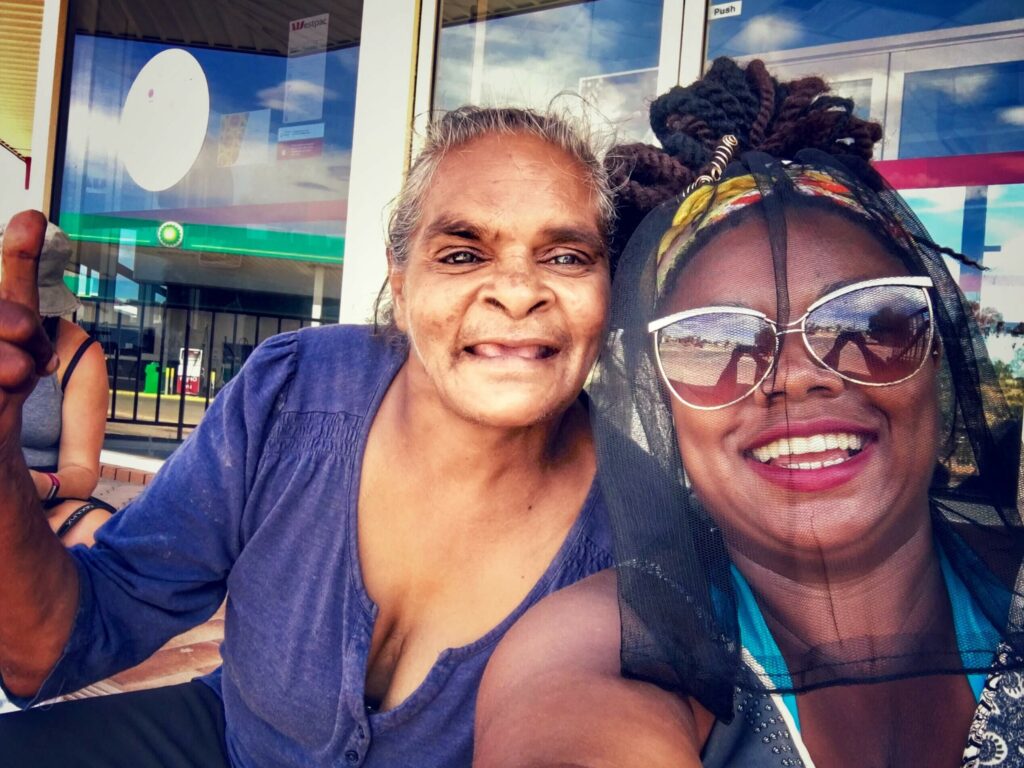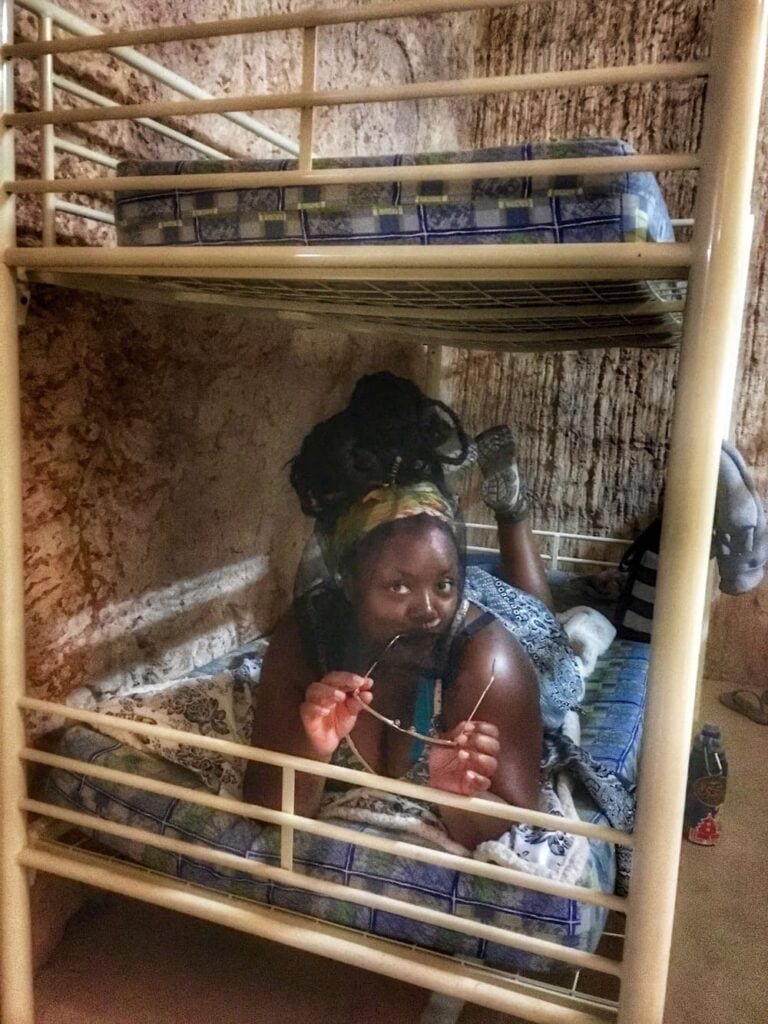 Another early morning wake-up call, welcomed this time, considering today we get to the highlight of our journey through the Australian Outback; Uluru and Kata Tjuta. We've come through Southern Australia into the Northern Territory to experience this ancient aboriginal spiritual ground; once at sunset and again at sunrise.
At the lookout point just outside of camp, my eyes welcome the return of greenery on the landscape. The rusted red Uluru sits in the distance, magnanimous and humming with energy. The massive piece of earth with its deep crevasses resembles a brain or fat grub. I can imagine it slinking its rippled skin from the tail to the head, inching its way across the surface of the Australian red sands of its birth.
Sunrise at Uluru and Kata Tjuta
The opportunity of watching the sun rise over this sacred place has my spirit riveted and childlike. This 348 meters high, sandstone mass is known as the Aboriginal Mecca. Up close animal shapes in the erosion titillate my imagination. Every kilometer surrounding this place has energy, from the rocky red pathway to the bristling tips of the cypress pines.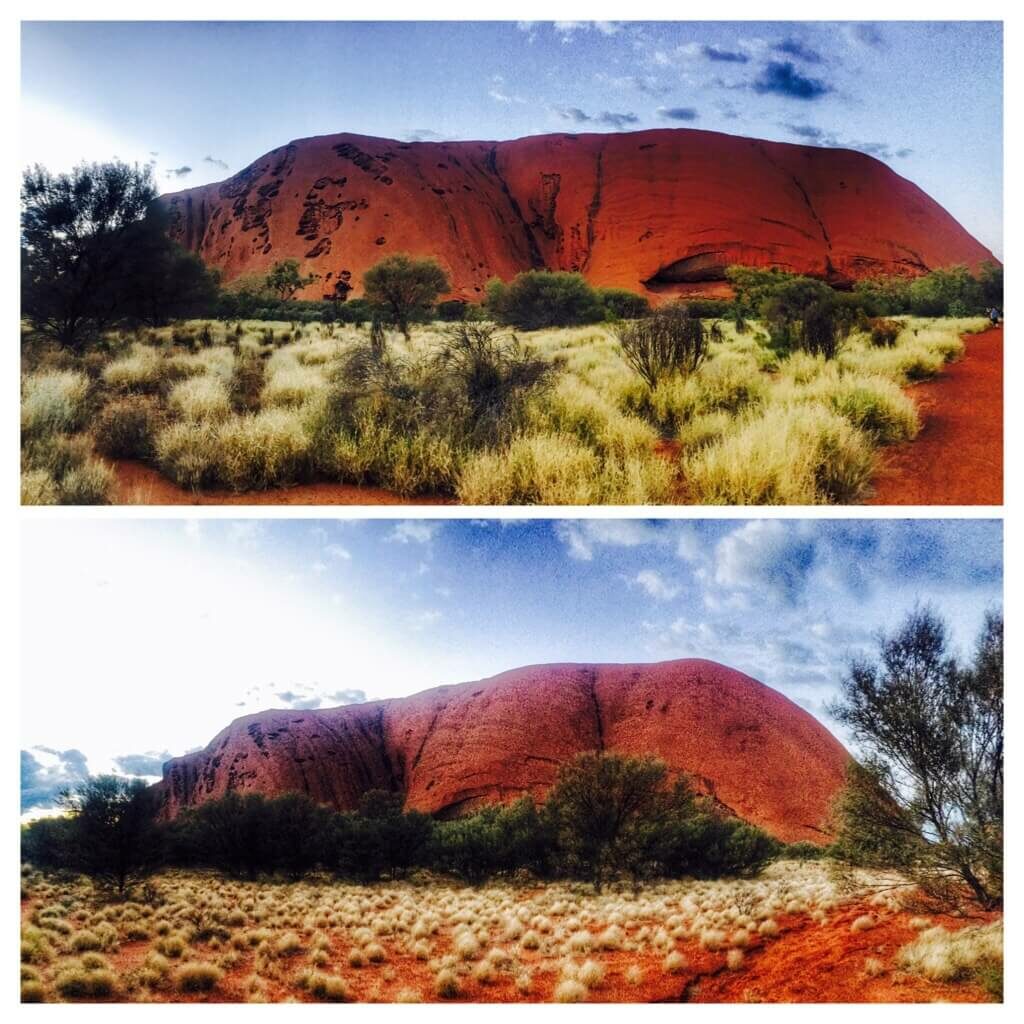 The erosion morphs into alien shapes as I trek its base as if something or someone has bumped against the sandstone, dragging an object with sharp edges and creating scars across the surface. As I walk the energy triggers my emotions in an unexpectedly profound manner. My heart calls out to my Mother and I reach down for her hand on the wind. I weep as I walk alone along the red sands mesmerized by the majesty and magic of this moment.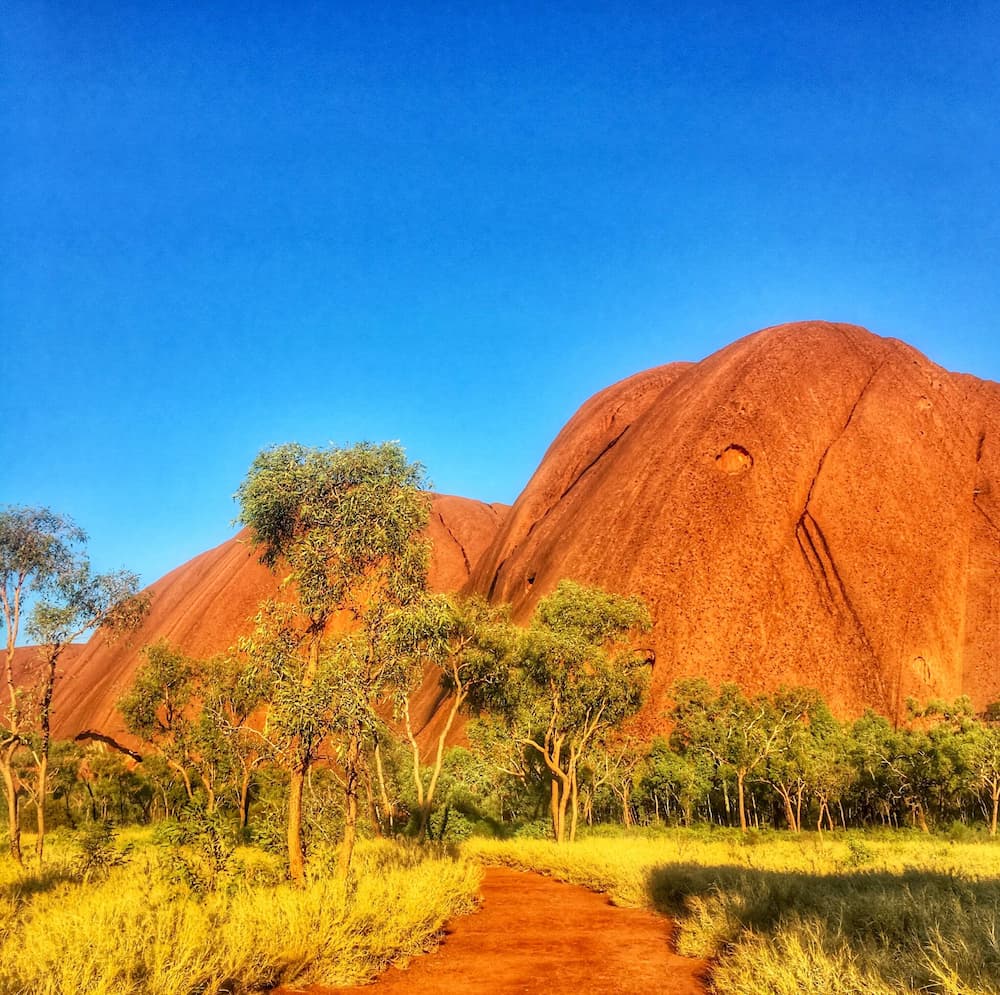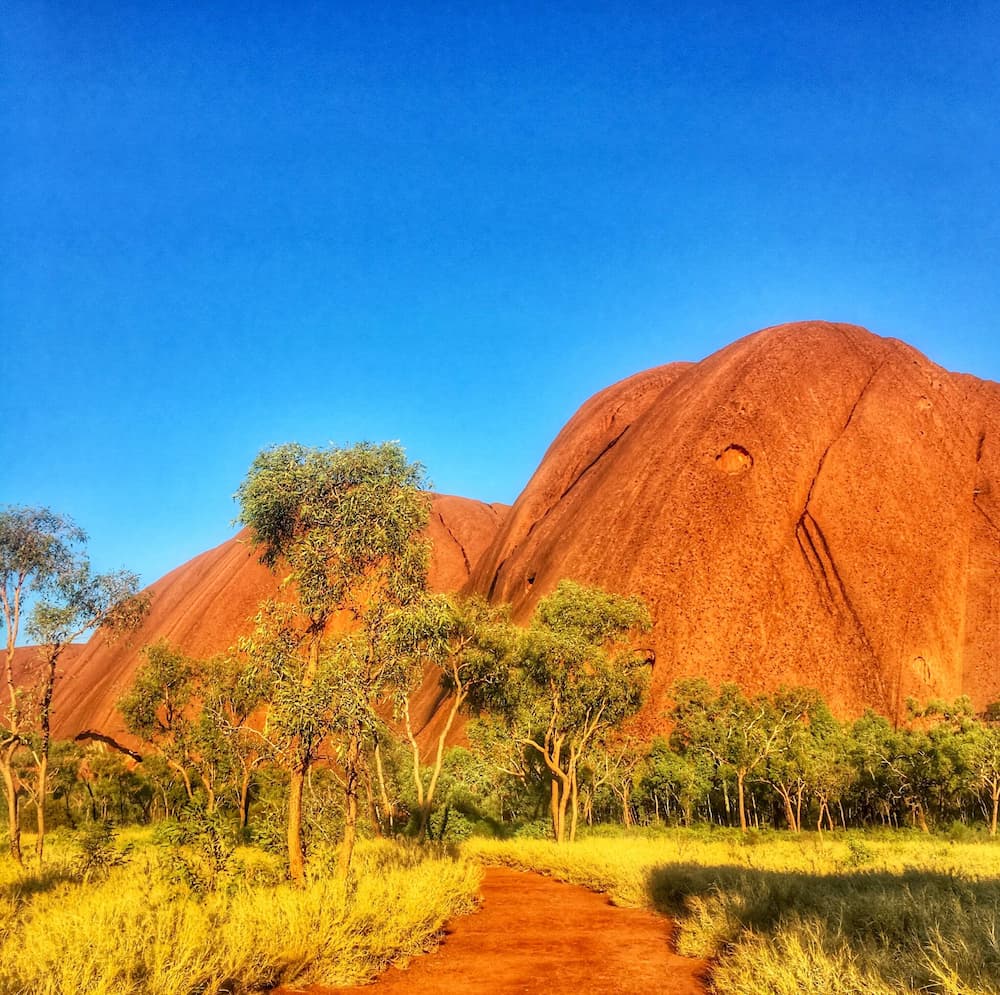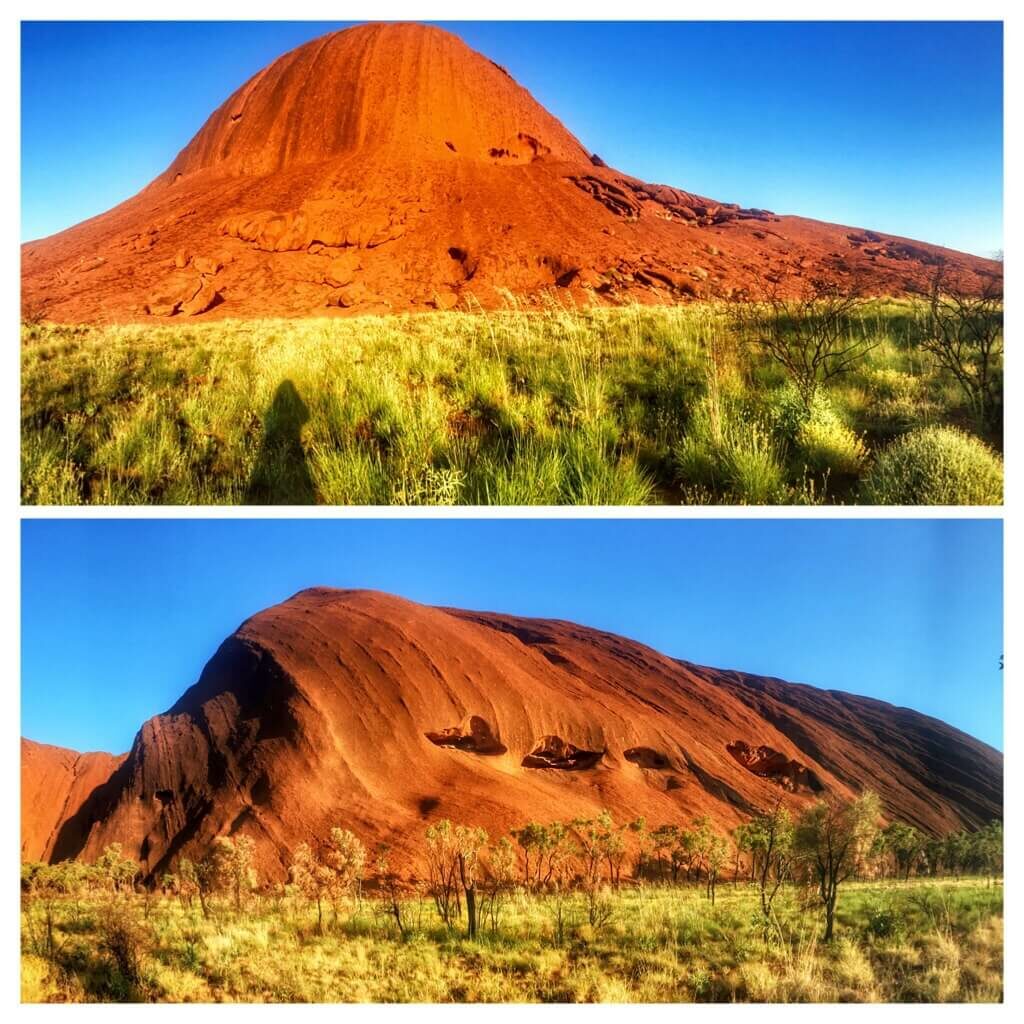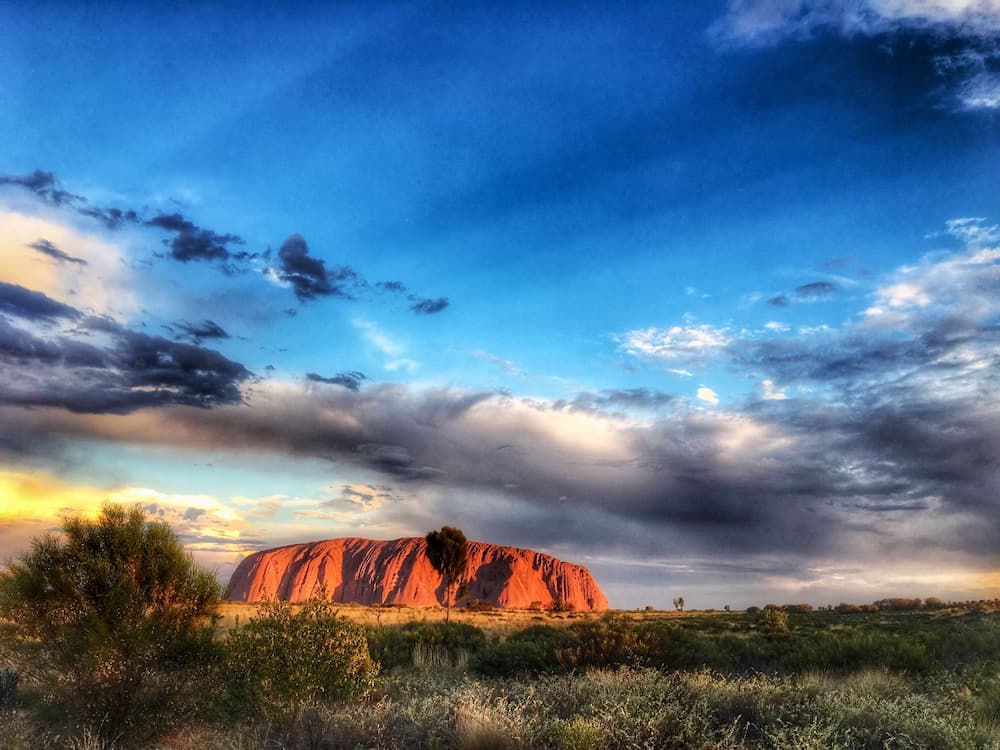 Sharing the national park and not to be ignored is Kata Tjuta, meaning many heads, lies to the west. Standing 546 meters above the desert ground the round rocky lumps of this site clump together making a monument to behold. Aboriginal natives keep the ancient dream time stories and the modern-day relevance of this place to themselves. Science, a more willing storyteller, provides us with much more.
Gondwana land as it was known 800 millions of years ago, included Australia, Antarctica, New Zealand, Africa, South America, India, and parts of South East Asia. Land bridges that existed between portions of Southeast Asia and the portion of Gondwana that is now Australia are how the aboriginal people (and dingos) migrated before it was divided once more.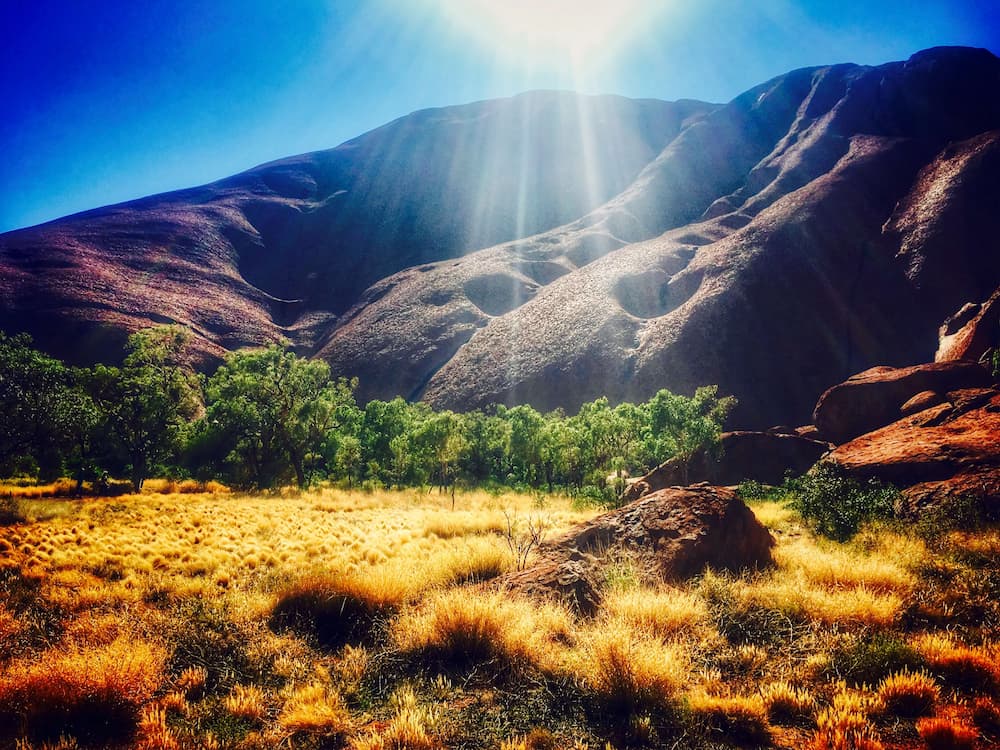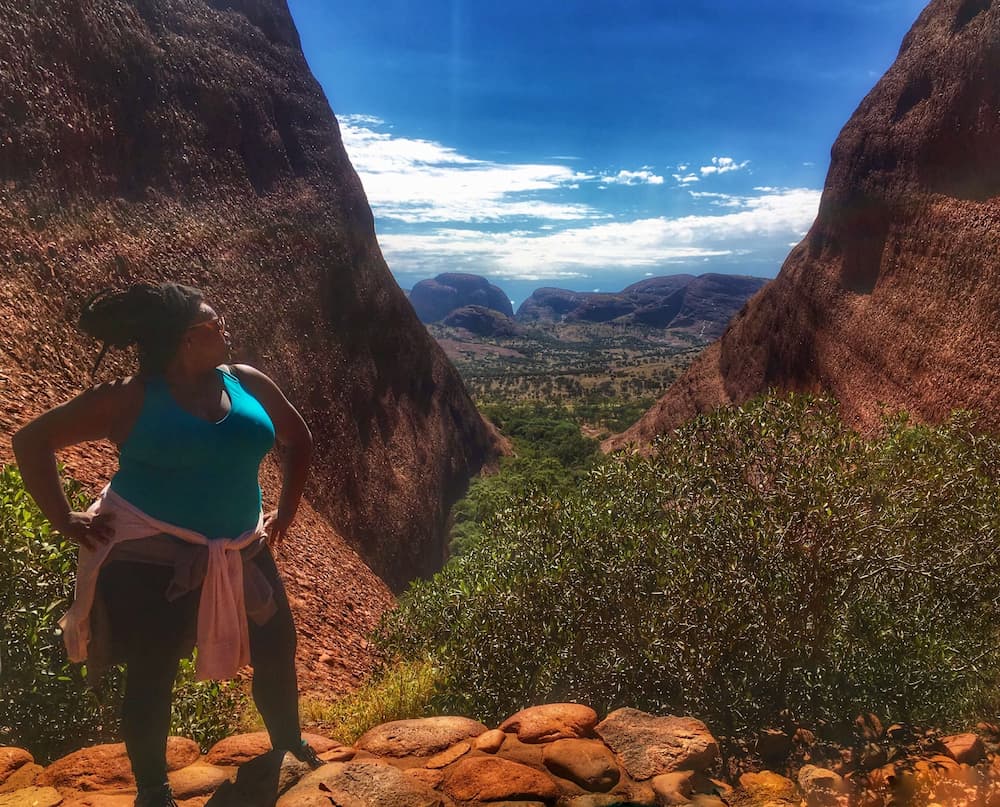 An estimated 600 million years ago these two sacred landmarks were pushed up from the ground by the seismic land collision. Melting glaciers eroded the mass on either side carrying rocks and debris into the lowlands. Compressed by the inland sea (now known as the salt flats of Lake Eyre) the pebbles and debris were compacted into solid rock once more.
The tectonic movement that followed forced the solid rocks onto their sides creating both Uluru and Kata Tjuta as we know them today.
Want to Experience Uluru and Kata Tjuta?
Check out the Meredith San Diego Youtube channel and #SUBSCRIBE for more videos! #whereintheworld #bagladymeredithsandiego
Can't Get Enough of Meredith's Travel Writing?
Find more engaging travel stories from Bag Lady's early days of travel journaling by searching for Castle Tales & the Lares Trek! Caste Tales is a three-part series about Meredith's time living in a co-working mansion on the island of Koh Samui in Thailand. The Lares Trek is another 3-part series documenting Meredith's experience hiking the famous trail up to Machu Picchu in Peru.