Beeping horns and loud chatter on the streets outside my hotel window keeps me awake. To me, the intonations of this language seem like made up sounds strung together. Admittedly, big city life no longer suits me. Everyone busying themselves by screaming or spitting as they force their way down to the constricted roadways to an unknown destination. The big cities in Vietnam, I've noticed, are comprised of narrow (almost railroad-like) homes that grow upwards to accommodate the millions of bodies that overpopulate this place. Most of the structures are bright, having had a fresh coat of paint in the last handful of years, the others remind me of the decaying buildings in Malaysia with mold and/or algae growing down the sides.
I dart across the road to buy a dinner sandwich from the street cart just outside of the hotel. I've got about ten minutes before the travel company hired to transport me from Hanoi to Cat Ba Town should arrive and I want to have some real food with me for the four-hour journey. First I'll travel by bus to the coast, then a ferry ride to the island, then a final bus ride to the doorstep of my next hotel. When the guide gathers me and my things he shows me to the bus. The undercarriage is overly full leaving zero space for my pack under the bus. The guide, instead, throws my bags onto a vacant seat near the front of the bus and gestures for me to climb on and find a seat towards the back. The aisle way is not made for hips (or someone carrying two, day packs; bag lady) so I apologize as I graze the seated passengers with my rump, faining apologies and nervous giggles as I go. I take my seat and let out what I hope is a silent exhale.
Twenty minutes into the ride the bus swerves violently to the right startling everyone on board. Another bus tried to overtake us and collided with our bus in the process. There doesn't seem to be any damage, but the driver pulls over to assess it anyway. The guide fetches a box of Oreos from the overhead and begins to hand everyone a packet each (an attempt at an apology I assume). Back on board, the driver smiles wide and waves frantically at everyone before taking his seat, turning the engine and getting back on the road. When we arrive at the port everyone is shuffled off and out to the pier. The ferry is inbound it's belly full of passengers. The boat ride lasts only five minutes (if that) and after disembarking we're back on a different bus, this one smaller than the last. The road on the island is bumpy and the cliffs edge dangerously close, but I'm easily distracted by the beauty that is the sparkling sea, the jagged peaks of limestone islands, and the uneven, jungle-filled mountains. When night falls, the jungle treetops are bathed in fluorescent lights from the city.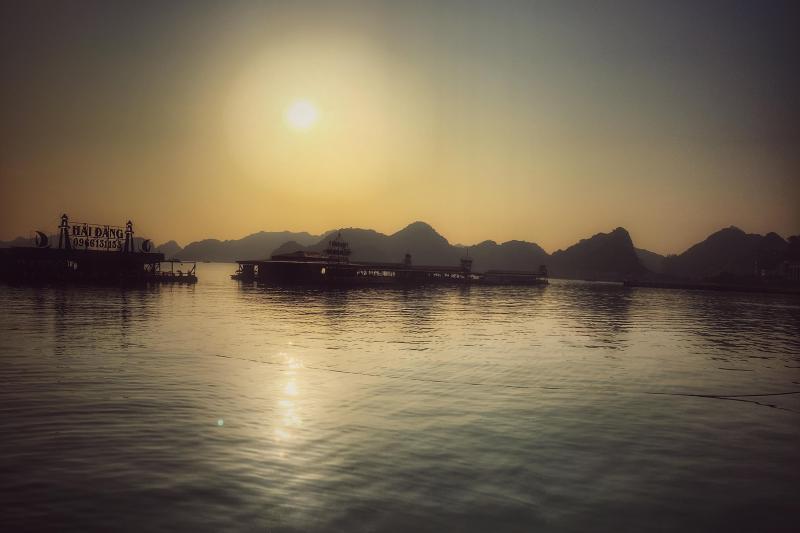 The cold water glides from the paddle to my hand then slithers further down my arm, soaking my top. I'm struggling to coordinate with my partner, whom I just met, on how to move forward in this kayak. I fear we'll continue to float in circles on the surface of the clear waters of
Halong Bay 
if we are unable to work together. For a moment I stop entirely while he realizes that paddling so deeply moves the outrigger unnecessarily and at too sharp an angle. I distract myself with thoughts of gratitude. I've dreamed of being in this place, surrounded by these very limestone rock islands. Each island juts out from the sea, commanding the fresh air and its place in it. Jagged lines create formations in the rocks reminding me of the deep wrinkles on my Grandmother's face; a sign of a life well lived. The sea here is a deep shade of teal and is dense at first glance but you can clearly see the rocks and fish that thrive there through the surface. Sporadic pieces of rubbish float by as we glide through the water. I collect a few and place them inside the boat as we go.
After being stuffed, literally stuffed, and grossly mistreated on a paid shuttle bus to transfer me from Cat Ba back to Hanoi, I arrive in the city to find the hotel I've reserved has been closed down…a month ago. A tangible downside of preplanning travel, I tease myself. The new hotel has no record of my booking and is full up for the evening and therefore cannot help me. They do, however, let me utilize the WiFi signal in order to reserve a new room that's twenty minutes (on foot with about 35 kilos of extra weight) away. I'm no stranger to unexpected shit happening while on the road, but my tolerance for inconveniences such as this is extremely low. On the way to this new hotel, a dozen rickshaws follow me demanding I climb in despite mine having declined, politely at first, then gradually not so politely the second through sixth time.
I'm reaching my threshold with the unwanted attention, poor customer service and consistent language barrier in this country. You'd think I'd be used to it by now, but I'm not. The blatant stares, pointing while laughing or (my favorite) the looks of terror worn by locals when they see me have profoundly aggravated me during my time in Vietnam. No, I don't want to take a random photograph with you and no, you cannot touch or play with my hair. The novelty of having to explain why these behaviors are offensive has long left me. I am a human being, not an animal on display at a zoo intended to entertain or appease you. I didn't spring from a ufo that you watched hover then land or a Hollywood monster designed to frighten. No, I'm not from Kenya, or Uganda or Zimbabwe or anywhere else on the continent of Africa. I'm from the United States of America where diversity shapes the construct of my nation.
As upset as this all makes me I have to check myself twice more than a few times. Firstly, to remind myself I came to this country and secondly, that as probably the first (and maybe only) Black person these people will meet face-to-face, I am responsible for the kind of impression I leave them with.
**Slideshow: Me on Cat Ba Island, Cai Beo floating village, the snack lady (on a boat) of Halong Bay, Hospital Cave on Cat Ba, Sapa valley rice paddies, and some young children from the Flower H'Mong tribes of the area. **
I arrive at the newly booked hotel and I'm dripping sweat. I stood there, frozen in place when the receptionist explained they've no room for me either and are confused as to how I was able to make a reservation online in the first place. Sensing my chagrin, the receptionist comes from behind the counter, relieves me of my pack and flips the switch on a fan pointed solely in my direction and apologizes profusely. He offers to assist me in locating a hotel that can take me in at the same price of which I reserved the room at his establishment AND have his staff help carry my things the five minutes walk to get there. I'm grateful and on the verge of tears at the display of kindness and accept his offer. He brings me a bottle of water as he discusses the situation with another hotel on the other end of the phone; negotiating on my behalf. He's extremely animated during this phone call, rolling his eyes or smiling proudly in my direction giving me a thumbs up. When he disconnects the call he explains that his friend's hotel, 20 meters from here, has agreed and is waiting for me. I thank him repeatedly and ask if he can secure me a room here four nights from now when I return to Hanoi for a night before catching my flight into Laos. He can and does and we part ways as friends.
A lovely nights sleep, assisted by the two stiff drinks had with my dinner earlier that evening, has me clumsy the next morning. I'm bounding to and fro, getting dressed and gathering my things after being told my driver—heading north to Sapa—has arrived. The five and a half hour drive will expose me to some of the beautiful jungle and rice paddies this country is topographically recognized for. I'm desperate for the nature to alter my mood as finding positives has been difficult the last few days.
The menus I read on every corner of the central square in Sapa town feature poorly translated items like "cat in butter stew" or "roasted beef discharge" (the latter makes me giggle). The curious eyes of children I pass while deciding which restaurant to dine begin to annoy me. I side eye the group of them has begun to follow me and adjust my posture. It's not long before I soften my resolve, cave and pose for the photos they're miming they would like to snap. I give them bunny ears or make strange faces in each capture and they erupt in laughter. I've only three nights left in Vietnam before crossing into Laos, then Myanmar and finally back to Europe in time for summer weddings and celebrations. I give thanks to the impending closure of these seven months in South East Asia and smile to myself as I continue walking. I'm no closer to knowing which country in the region I may choose to settle in, but I'm certain I'll be eliminating this one.