I unwrap the plastic packaging of the Snickers bar he left in my purse with a grin on my face. It's noisy in the airport flight gate area and the crinkling noises produced are swallowed up quickly. This candy bar will forever remind me of you. My skin sticks from sweating the better part of the morning and my body aches from the hangover of last nights fun. These last few days have been a whirlwind, to say the least. Sneaking in time to bid farewell to those in this country closest to me. Nurturing these relationships is my priority and the presence of each one in my life is priceless to me. Ergo, I'm more than a little tired as I check emails and execute last minute logistics while I wait for the plane to begin boarding.
Back on the road after two months of perks of being still, not having to pack up and carry everything with me for example, has me anxious. I fall back into the swing of things relatively quickly and get ahead of work-related tasks while I wait. I remind myself of the new ring I forgot in the bathroom of a friends house and the neck pillow that I walked off without from my last connecting flight, but giggle knowing I'm making far fewer mistakes now than the early days; you live and learn. My heart remains nostalgic about this country (Macedonia) and the people in it are motivation enough for my inevitable return. Two months wasn't enough but were also just right. Downtime, however, is imminent with this quick stopover in Budapest for my connecting flight—tomorrow morning—into Morocco. It'll give me an opportunity to grab a decent nights sleep (loud roomies and bed bug possibilities depending) before leaving Europe and heading back into Northern Africa.
Budget airlines continue to impress me in all the wrong ways; a complete lack of customer service and communication skills, long queues for check-in and boarding and, of course, fees for every little thing. Arriving two hours before check-in, as requested, I'm forced to wait an hour and a half of that to check in despite having had to print my boarding pass prior to my arrival. Another 40 minutes in line for passport control I clear security to discover the flight is delayed two hours. I'm so drunk on life and overly tired from the week's events I can barely hold my own head up to care. I careen my neck past the crowd of bodies to find an open chair with a plug in order to charge my device. Sitting there in the uncomfortable seat I slouch in an attempt to find a suitable way to rest my neck while I daydream of mosaics and spice-filled air.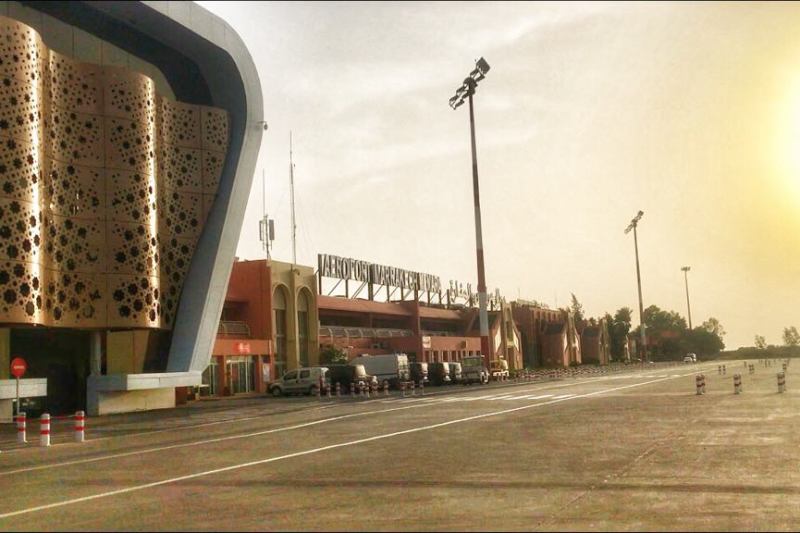 Spit sprinkles my right forearm when he speaks, his breath heavy with the scent of the lasagna he devoured five minutes prior. The woman to my right, the aim of his conversation, insisted she takes my aisle seat because she is "afraid of flying" (I didn't see her flinch once during turbulence), but has now obligated herself to talk over me now stuck in her middle seat. They pass food and bottles of soda and water over my chest and elevate the volume of their conversation just as I attempt to nod off to sleep. My eyes can't get any further towards the back of my head as this continues on for hours on the flight. They seem to oblivious to my body language—I wipe my arm for the fifth time. How I manage to find myself in these trying situations while I travel is beside the point, how I react when they find me is more important to me.
Same song and dance through passport control and customs. My sebum is on overdrive having not properly washed my face (or my body for that matter) for two days now. It's easiest to not unpack when staying someplace for a day so this usually means I don't prioritize hygiene on travel/transition days. I raise my arm to stretch my shoulder—an old injury flares when I have to carry B (my pack) for long periods of time—and retch at my own body funk. I have six priorities: ATM, toilet, water refill, a taxi, hotel check-in, then shower.
The area for waiting taxis is across the street from the main exit and in the parking lot reserved for those drivers eager enough to get to the airport early, securing a place in the coveted section. As we drive out of the lot my driver points out the second, much bigger lot that's overrun with yellow painted Volvo's. Isham, my driver, explains that each driver is allowed to take two trips a day. I'm unsure how true any of this is, but it explains to me why he's asked for 200 Durham claiming it's an amazing price. When I question him on it he volleys by playing the ethnicity card pointing at our skin saying "same, same! I give you good price my sister!" I'm too tired to launch into this so I smile and shake his hand before he pops the trunk to stash my belongings for the ride to the hotel.
[embedyt] https://youtube.com/watch?v=pJaFQ-_T82k[/embedyt]
**This blog post contains affiliate links.