I'm exasperated at the notion of returning to Thailand. My previous jaunt fell just prior to my departure for Macedonia; almost four years ago now. I spent one month visiting Thailand and Indonesia to utilize the four-month stint of time between when I was supposed to ship out to serve in the U.S. Peace Corps vs. when I'd go. I recall missing my mother so deeply in Bali that I cried alone at a bar over my dinner. I was counting down the days to see her smiling face and hearing her wild, hysterical laughter.
When I finally did get home she ran to the door when she heard the jingle of my keys against the metal screen door and we embraced and held each other. She wouldn't let me past the front door, just held me there in the entryway and cried. This memory, as vivid as the first time I tasted the street food in Chiang Mai, is stuck in my mind as the driver swerves on the hurried, tourist-filled streets of Koh Samui.
Koh (meaning island) Samui will be my home for two months as I learn new skill sets and hone those I was born with as a resident in a one-of-a-kind business model where residents write and deliver copywriting content, research articles, or ghostwritten material in exchange for accommodation and food. I've committed to two months in this jungle paradise and I've been anticipating finally arriving at this stage of my travel path. The opportunity to be still for two months is my backpacking version of a wet dream. To be back in Southeast Asia, Thailand specifically, equally so.
I'm elated to be around like-minded creatives, and writers with similar aspirations, but from a dozen different walks of life. The shared taxi van stops at another resort in a tourist beach town and then raises his arm, his fingers in the shape of a hand-shaped pistol; thumb up and pointer finger aimed right at me. He pulls the trigger and winks and says, "Last one" and then slams the door. I can't help but giggle at his candid demeanor and the swelling in my chest at the weight of the excitement of the next chapter of my adventure waiting for me at the next, well, last stop.
My bedroom at the Castle is bigger than the one I expected to receive; noisier, too as it faces the street. My bedsheets are pink and the tulle draperies are sheer and in cool tones of blue and pink. I'm exhausted, per usual on long travel days. I want to wait to unpack the next morning, but I know I'll sleep better and longer if I can get unpacked enough to put in a load of laundry before going to bed. The balcony on the third floor is enchanting. Three hammocks swing in the wind and the statue of the Chinese War God, Guan Yu, is lit in the distance.
I press start on the washing machine and take a seat in one of the hammocks. I face the moon and just swing there. The palm trees serenade me on this quiet evening. I'm swinging on the covered balcony thinking about nothing at all. My thoughts turn to the fondest of memories at this realization, each reflection taking flight on the heavy winds blowing in from the North; the crescendo of swaying leaves persists.
I open my eyes to two tiny birds landing on the security bars of my window. In complete unison, they land and then stretch their wings. They tap on the windowpane with their stubby beaks as if to tell me it's time to wake up. I lay there a while longer just watching the two of them flutter about. I pretend for a moment it's both my Mom and my Grandmother, gone within two years of each other, hounding me together, the way they used to.
I huff at this and run the list of things to do through my head and decide to start the morning retrieving my laundry while it's cool enough to venture outdoors without sunscreen and the door to the back balcony, which is attached to a resident's room, is open. The ground of the balcony is flooded with rainwater; the downpour I heard in and out of a deep sleep last night. I shuffle through the water barefoot and am distracted by a rustling sound.
The overgrown yard, belonging to the neighbor, is being ravished by a pack of oxen. Feasting on the tall grass and sucking leaves from the banana trees their hooves stomp in the fresh mud as they prance to and fro. I pause and watch them, silently creating my reverie surrounded by jungle and nature.
My days are filled with writing, editing, organizing, deadlines, and far more structure than I've become accustomed to as of late. I'm learning more than I thought possible in such a short time and am eager to improve in more ways than one. I, like most artists, tend to take my work seriously and therefore can overreact from time to time when I receive my cross-edits. Adapting my methods of writing, tonality, and style is only the tip of the iceberg when it comes to what I have learned while trying to swim in this sea of brand new at this writer's residency.
I go back and forth between feeling like I belong here and wondering how in the hell I made the cut in the first place. Despite this, I hold my head high and do my best to navigate my way through the growing piles of deadlines and rookie mistakes. I play off of my roommates' strengths and share a few of my own with them daily all while challenging myself with new experiences like driving a motorbike or daring to walk around the island in the midday heat.
This residency came upon me by way of a friend who had seen an ad for it on her Instagram account and then forwarded it to me. Researching the concept further I came to discover that the house is the first of its kind and is in its first year of existence. Advertised as a haven for writers of all backgrounds I was more intrigued by its location on an island in the south of Thailand. At the time I was sleeping on a mattress on a friend's floor of her jungle home in Hawaii and loving having morning tea (or fresh smoothies) and quiet time on the cliffside first thing in the morning or exploring hidden gems only known by locals for swimming or hiking.
Island life suits me (the weather does too) and I was courageous enough to think I could be talented enough to try–so I did. Fast forward two and a half months and I am swaying in a hammock staring out at the jungle behind the house as protected by the Chinese God of War, Guan Yu, who towers in the forefront of my view.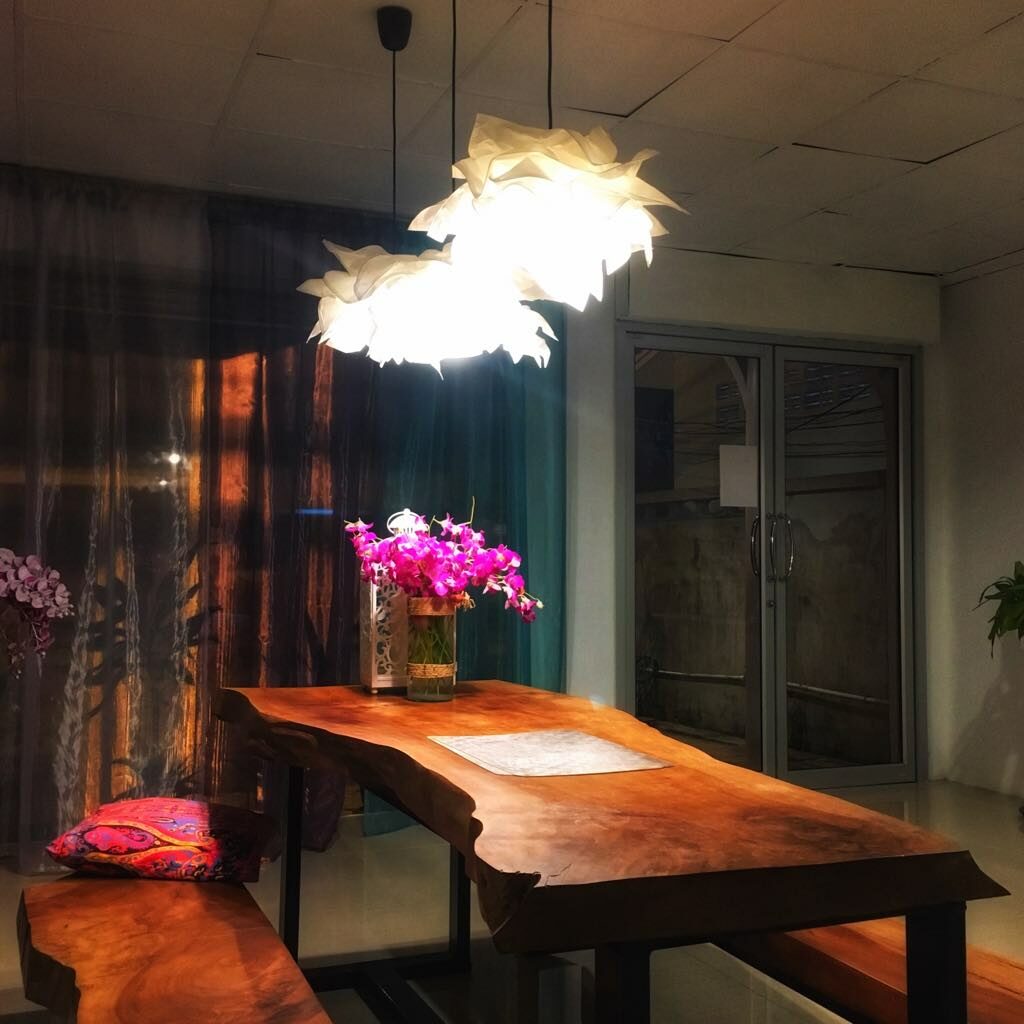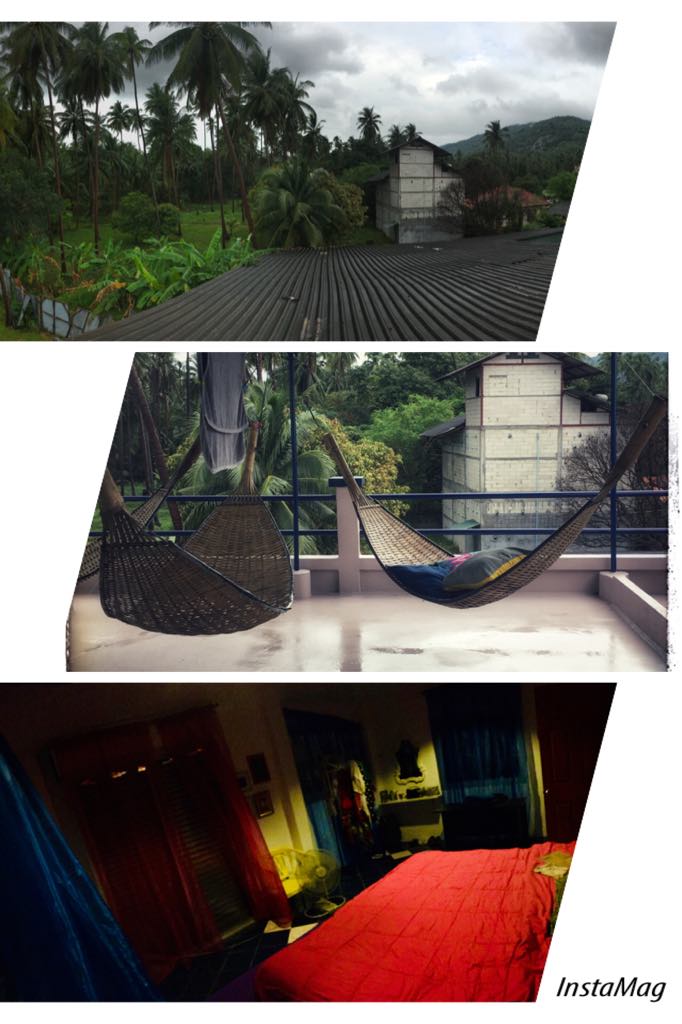 I watched a wasp battle a jungle spider on a bamboo bench while taking in some fresh air and daylight on the balcony of my new room. The egress is just outside my bedroom door so I frequent it and relish the peace of mind I find in the solitude standing on it gifts me. This day began like the others; glued to my laptop screen for hours finishing edits, researching content, and giggling about nothing from delirium with my roommates. The characters this house brings together are refreshing. Similar to tour groups, individuals otherwise unlikely to cross paths are brought together, but different entirely in that these characters are now forced to live together.
The impressions and quirks humans are likely to present as themselves first— knowing typically (on a tour) you'll only be around these strangers for days, a week, or two even—get ample time to disintegrate. True faces and behavioral traits that are only learned while existing in a shared space for at least a month are animate instead. You learn habits, good and bad, people test boundaries, and pet peeves are amplified. All of the above magnify my strengths and weaknesses of mine own as time passes. The water is out again—island life—and I'm in a hurry to shower.
The pressure is decent enough in the first-floor bathroom so I hop in. The newest resident arrives this afternoon, but no one knows exactly what time. I hear his voice in the kitchen just outside of the bathroom as I step out of the shower. I'm forced to greet him in my towel and dripping water on the tile. I tell him where his room is and go back to dry off. I have to pass him a second time as I go upstairs to get to my room to change and we share an awkward glance as I do.
Today, for the first time since arriving, I finally felt I was living on an island in Thailand. Tackled a few deadlines and worked ahead on a piece with an impending deadline, a little domestication followed by some more work and then some lunch. After lunch, the girls and I escape the confines and monotony of the house and go to grab some drinks at our favorite place for affordable cocktails (89 THB or USD 2.85) two doors down from the house.
We will follow that up with a few hours swimming in the sea (across the street) or laying out in the warm sand soaking in the relentless sun and thinking about nothing at all; least of all pending assignments. This little bite in the shoreline is full of crabs, one even clawed my knee pretty good once when I was too close to its hole (not on purpose obviously, and yes, it did hurt). The local groundsmen for the guest houses lining the section of the beach where we swim are watching our every move. They giggle at us foreigners swimming in this section of beach, but we are not.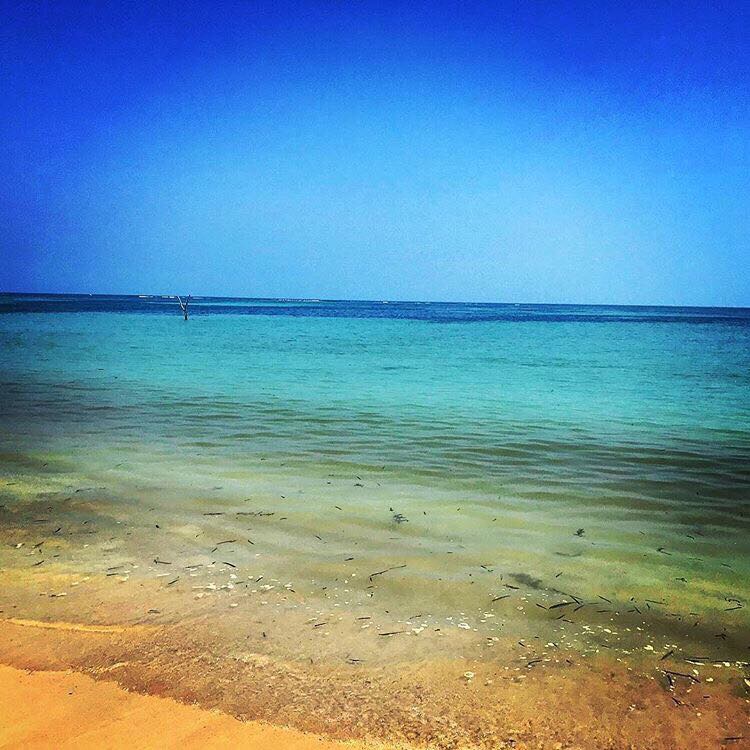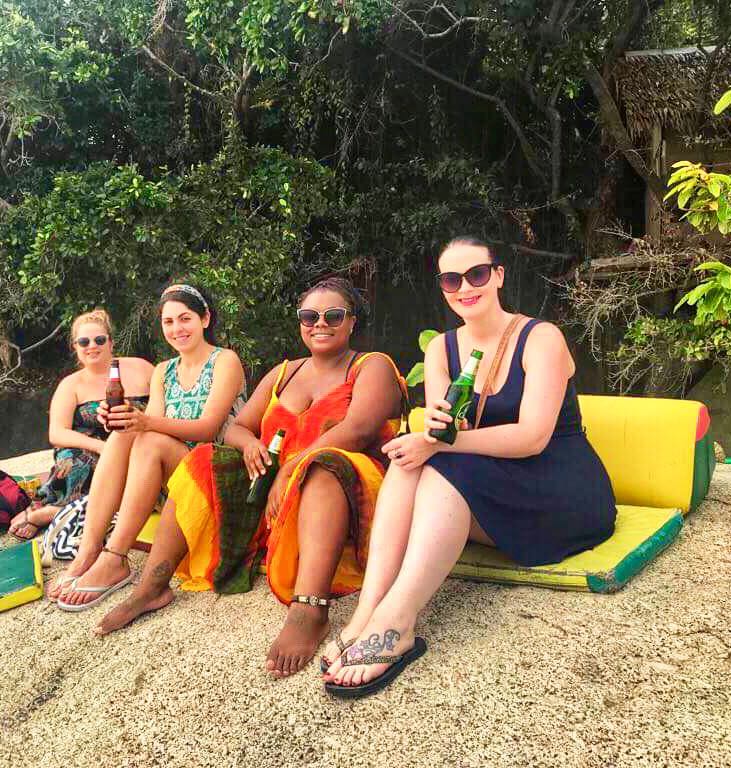 This cove is what has truly become our writers' haven here on Samui; this space away from the pressures and crazy of the house where the girls and I can bounce ridiculous and hilarious ideas for screenplays or TV series, that will likely never come to be, but are fun to discuss nonetheless, off of one another in gleeful bliss. We've all bonded over quite a long list of unfortunate events in the last month; having arrived one week after each other, me arriving first, then Jess, then Mel. It's been the three of us the majority of the time and we take full responsibility for our roles in what we have deemed "the revolution" in the house.
The "revolution" began when our house manager (and special being who had become a real friend to us girls) and fellow resident left rather quickly (but not for quick reasoning) leaving the three of us gals to stand up for and be held accountable for positive changes put into effect as a result. The house, being a brand new business model, asked for our patience during its fluctuating design on more than one occasion. To be expected, to a certain extent, but at times the level of crazy going on while under the ridiculous amounts of stress was beyond reproach.
It's a super blue blood moon tonight and Thailand is in full bloom in anticipation. The house is in a smaller fisherman's town near the south of the island and it has a large Chinese-Thai presence. Guan Yu is decorated with hanging lanterns in rows by the dozen and fancy chair placements have been set in front of a stage to welcome performers and guests to share the small space.
The drummer is in full swing, pounding away on the hide as if his life depended on it. People are leaving the mainland in large groups by the dozen on packed boats to get to Koh Phangan, an island well known for its full moon parties to celebrate.
Most full moon parties, I've been warned by the owner and founder of the house who's lived in Phangan for almost six years, are tourist traps—as if I couldn't have guessed it. Buckets full of something that they're passing off as alcohol result in people puking and/or having some sort of tantric experience on the beaches (where the moon is most visible) leaving the shorelines littered with rubbish once it's concluded.
One of the roomies updates the group via our running WhatsApp group chat that the party is revving up at the shrine down the street. The girls and I decided to take a brain break for the day and that some 89 THB cocktails were in order before heading down there.
Once we get to the party we realize more chairs have been set up in the sand facing the sea. While the others are fascinated by the trinkets and tunics for sale I point out that there's a 90 THB cocktail station in the corner of the parking lot. This takes their attention immediately giving me the chance to break away from the group for a walk down to the sea. I want to be away from conversational chatter and be with my thoughts by the water's edge. Under the cotton-candy cloud-dotted sky, the eclipse has begun to recede showing a sliver of what is the silver moonlight.
The tide is low, the stars bright and I'm sitting under Orion's prominent belt in the sky. Sitting there in the calm I own having been emotionally ambivalent as of late. Guilty of forcing the edges of a puzzle together that aren't meant to fit, I vacillate with myself. Heart and mind pinned against each other.
In the stolen time I press play on some music and write. I express myself to make sense of it all; to clear the fuzz and embrace the too-real grey area that lives inside my head. I confront what I know to be certain vs. what I assume to be true about the situation and make a conscious effort to let go of what I cannot control. I remind myself of all the good stuff I am made of and then I close my eyes to meditate for a moment on this mantra.