It was six hours north on the bus from Kuala Lumpur to the island of Penang. The rusted roofs and molding paint on the structures haven't changed from that which I saw much of in the city, but the faces and the overall vibe has. Clearly, an expat haven, Georgetown, has me intrigued by its one-way streets, colorful bikes for rent, and the smell of the salty sea breeze. The taxi driver gets lost trying to find my hostel and dumps me out on the side of the one-way road he believes the building to be located on. Begrudgingly I thank and pay him as I exit the vehicle and begin to wander up the street. I stop to inquire after the location of the hostel I am looking for, My Hostel Muntri, in a retail shop that points me in the opposite direction. Of course, I think to myself. I swivel and head back outside and make my way down the street with both of my packs; one strapped to my back, the other to my chest.
I pass the same corner store for the third time and a kind (and cute) Italian transplant on an electric blue bike (carrying a pink fan) skids to a stop to ask if I need help locating something or someone; he adds the last bit at the end of his sentence casually. I smile and thank him for his kindness and show him the address of the hostel I'm looking for. He admits to having no idea, but goes on to explain that a girl was looking for the same place just last week—I arch my eyebrow at that detail, prejudging his intentions with this information. A frail Indian man approaches us waving at me hysterically screaming the name of the hostel I'm searching for. He's abrasive and I hesitate and the attentive Italian reads my body language then looks me dead in the face and asks if I'd like him to come with me, strength in numbers I suppose, plus he wants to know for himself where this mystery hostel is located.
The caustic Indian man is insulted at the suggestion insisting he is from the hostel and works the reception desk. I put my hand up, palm out trying to calm him as we follow him; the Italian waddling on the bike pushing it along with his feet vs peddling. The hostel entrance was unmarked, but matched the address on my reservation and was much closer than either of us (the Italian and I considering the Indian man knew exactly where it was the whole time) had anticipated. In the absence of a lift, I'm slowly making my way up the second flight of stairs—my archenemies. The Indian man does indeed work for the hostel at the reception desk and discusses this in length (twice) while checking me in before showing me how to operate the security key, where to find my bunk in the shared dorm I reserved, the shared bathrooms down the hall, and the filtered water station.
I vacillate on taking a shower, finishing up some edits on my newly written piece, taking a nap or heading out to explore. I manage a combo of all, save one, the shower. I put on shorts for the first time in a week having slipped my way through most of Malaysia in the rain and by default, in cooler temperatures than normal for this time of year, but the sun is high in the sky and my skin is eager to be kissed by its rays. I round the narrow corner and a woman shouts out to notify me that massages can be had in her establishment. I jump at the unexpected audible stimulus, which makes her giggle. I wonder if she does this often and on purpose as I wave at her and giggle at myself as I head down the street.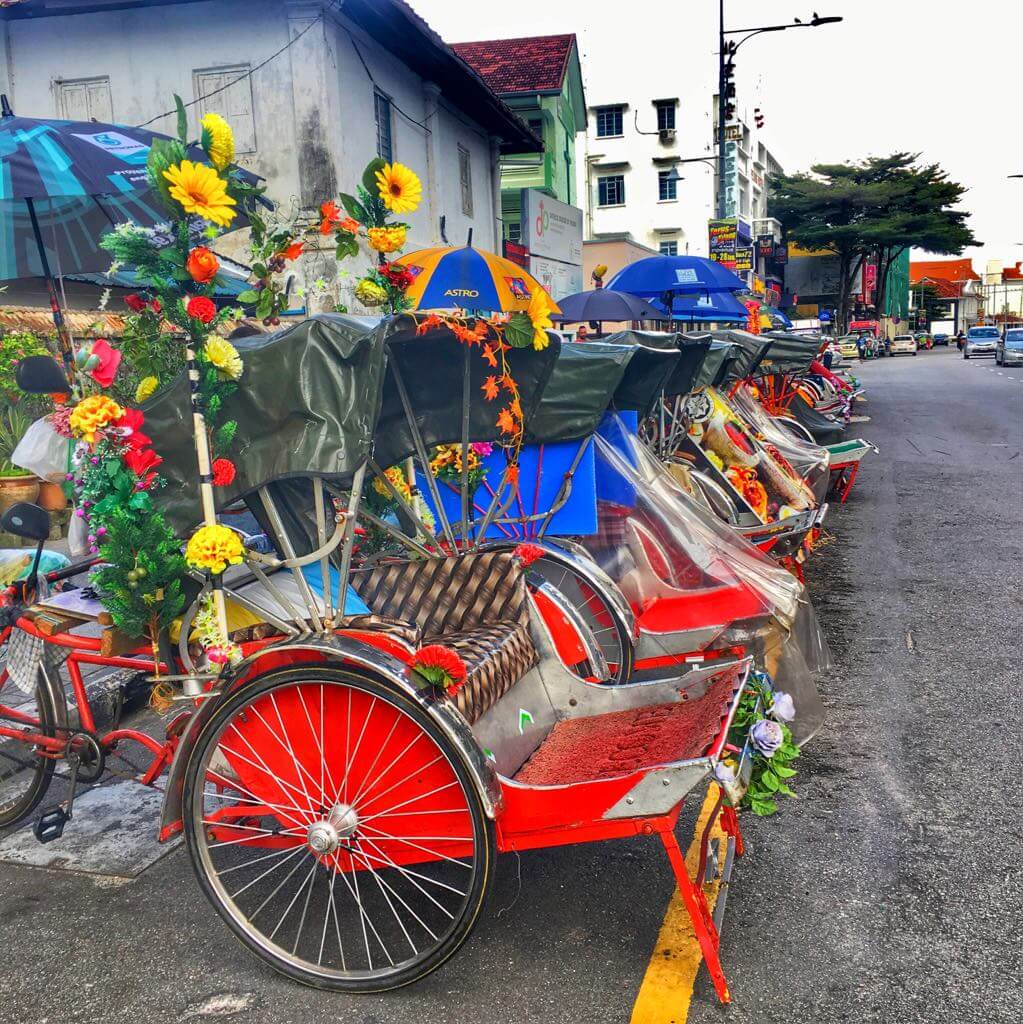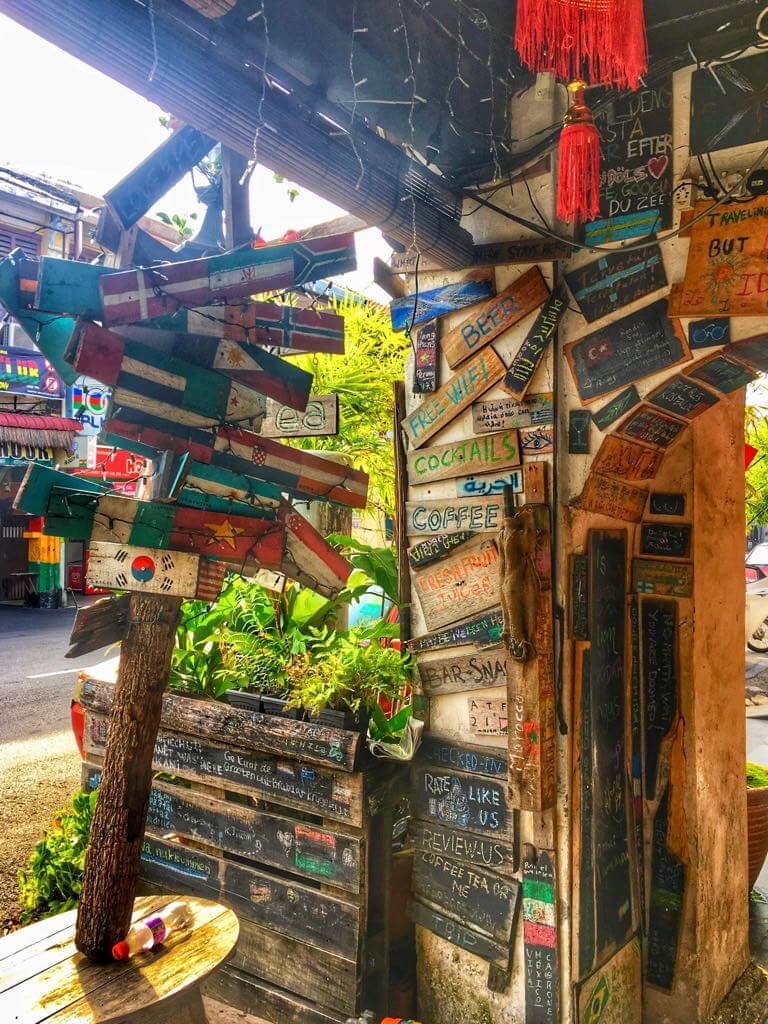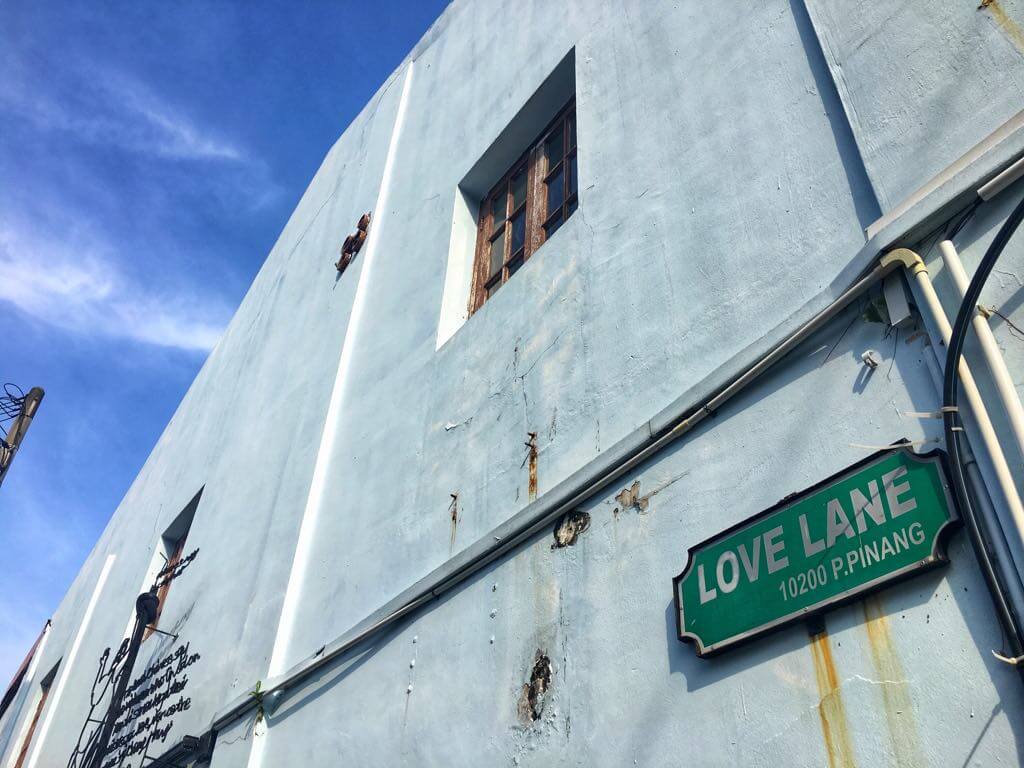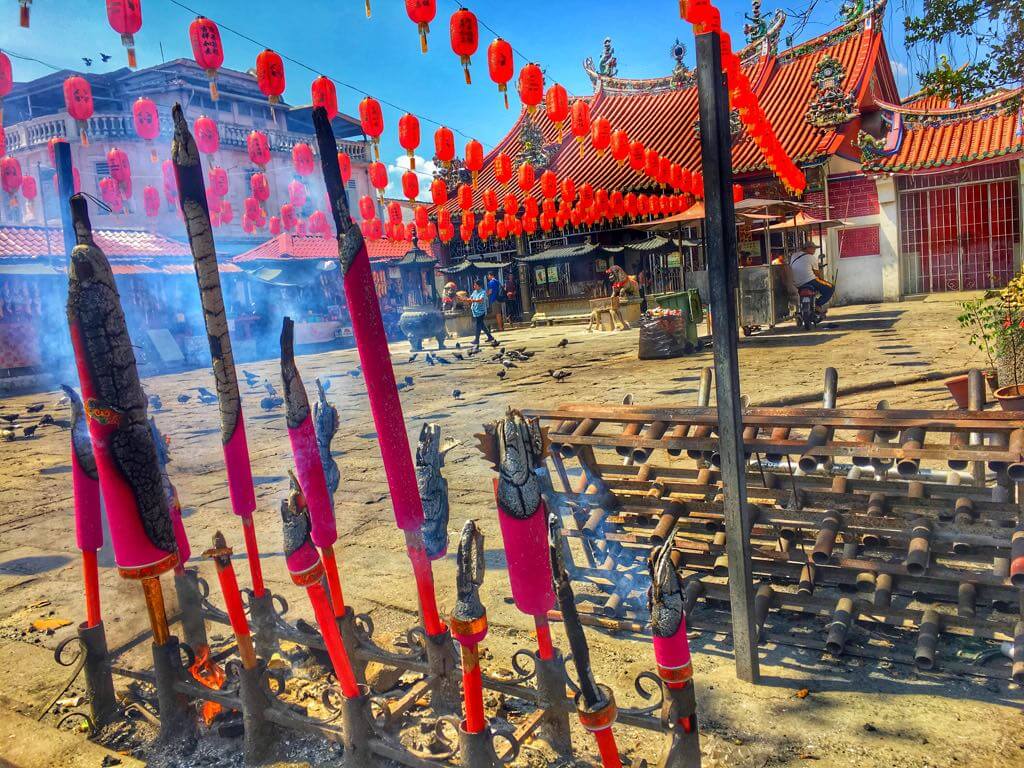 A wood fire pizza joint entices my olfactory as I cruise the sidewalk. A genuine pepperoni pizza comes with a free a beer—sold. I chat with the owner, an Aussie native of Chinese descent, while I wait for the greasy, carb-loaded deliciousness to bake. He describes the town to me simply yet with passion. He points out a few places to check out, but all I want is to see the sea. I take his advice, however, contented in the knowledge that soon I'd be surrounded by that salty siren when I arrive in the southern islands of Thailand in a handful of days and wander the streets to take in some culture. It's a lovely 89 degrees Fahrenheit and about 83 percent humidity; my idea of weather heaven.
I pop into a bar for a cold drink after an hour and a half of roaming, hoping I'd run into the Italian whose name I failed to capture. Instead, I chat with the bartender, a German woman here for three weeks before heading off to India solo. I connect her with a few solo female travelers networks in hopes she can secure some company on her trip should she desire it. We swoon over Jaipur images and I share my own stories of adventure from my time in the royal capital not long ago. There's a tally of 'shot leaders' on the wall that tracks how many shots guests take in the representation of their country; the USA is in the lead, naturally. Of course, I comply! One shot turns into two then a third and an equal amount of trips to the leu having had plenty of liquids during the course of my day. I head back to the hostel for a nap having promised the German girl that I would come back to the bar later that evening for free drinks as they celebrate 'Women Wednesdays'.
When I get back to the hostel I nap hard for a few hours and wake in a dizzying state of mind. I chug some water and sit upright for a few minutes before getting dressed to head back out. I deduce it's best to eat something before I take in any more alcohol and I double back to a Mexican food place not far from the pizza joint I indulged in earlier. There's a live band playing reggae music at the Mexican restaurant when I arrive. I snicker at the combination, but it's a welcome switch up. It looks as if every table is taken when I find an open seat at a table with a couple from New Zealand just finishing their meal and inquire after the chairs availability. They welcome my company and motion for me to sit down. I flag their accent and they praise me for not assuming their Australian first; an easy and common mistake that I myself am quite guilty of.
We chat for hours about my Kiwi adventures recapping my excitement to see Hobbiton, the failed attempts in hunting for Lorde's home outside of Auckland, being nauseous from the sulfur in the air in Rotorua, bungee jumping in Taupo, and the glittering beauty that is Queenstown. They give me some tips for traveling around this island, what to see, what to skip and about their recent adventures through Cambodia and Vietnam. I'm loving every second of our exchange. This town is full of people from everywhere else; whether just passing through or hunkering down here to make a life. I forget all about 'Women Wednesday' and end the night with a slow stroll in the rain (sans umbrella) my mind racing with wonder.
***
BLMSD Penang travel tips
*buses to Penang from Kuala Lumpur are frequent from the hour of 8a-11a then space out by two-hour chunks.
*buses depart the TBS, takes 6 hours and has two toilet stops along the way at your 2 and hour 3.5.
*Georgetown is small and is best if you rent a bike to get around. You can overpay by renting at a rental shop or download the app called and pay 2-3 ringgit per hour. Better still, you can walk 🙂
***
Ready for some mouthwatering food porn!! Here's a slideshow of the delicious eats I got to experience while in Malaysia and Singapore.
In order of appearance:
Udon noodles with pork
Singaporean chili crab; crab boiled and served in a thick sweet and spicy chili sauce
Lok-Lok (hot pot); various uncooked meats, vegetables and breaded cheeses on a stick that are boiled. You select, boil and serve yourself as each stick is marked with a colored marker on the bottom to identify pricing, which is totaled up when you're done
Broccoli and quinoa salad with avocado and feta cheese
Popiah; Fujian influenced spring roll stuffed with chicken, rice, egg and lettuce (as tried in Singapore in the Maxwell Food Center)
Laksa; traditional Malaysian noodle dish made with rice noodles and meat (this image features chicken) in a sour curry (Assam) paste
Hainanese chicken and rice; boiled chicken with rice as adapted from the Chinese province of Hainan (as tried in Singapore in the Maxwell Food Center)
Steamed pork leg; served while still boiling in a clay pot